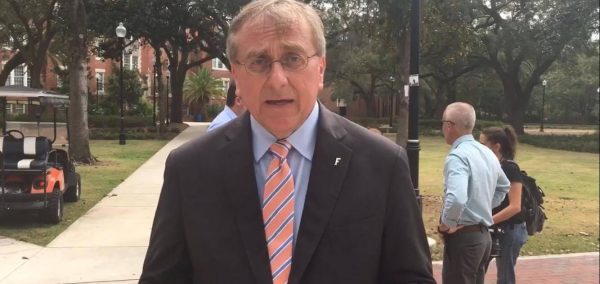 President Fuchs says Richard Spencer is a Jew-hating racist who has no place on our campus
'He is contrary to everything this university represents'
President Kent Fuchs is on campus today, speaking at Plaza of The Americas about white supremacist Richard Spencer. He gave The Tab an on the spot interview, where he spoke out against Spencer's "genodical" beliefs.
President Fuchs, what are your opinions on Richard Spencer and the various protests going on today?
This individual, whose name I don't even want to say, actually has a message that is antithetical, it is contrary to everything this university represents, that I represent. Actually, I believe it is anti-American. He is an individual that proposes ethnic cleansing, which, from what I see, can only lead to genocide. Secondly, he is an individual that is anti-Semitic, anti-Jewish. This university has one of the very largest Jewish populations in the entire nation, maybe number one, according to Hillel. We support all individuals from all religions, individuals of all skin color, and he does not. I refute his message, and I refuse to be part of his shenanigans where he's giving his speech. Instead we're out here celebrating all of our community and what we really represent.
Do you think any UF students should fear for their safety?
If you stay away from his supporters and you stay away from those that may be violent protesting him, this campus is going to be one of the safest places in this entire year, because of all the police that are on this campus today. I'm not going to breaking any speeding laws, I'm not going to be parking in any wrong places cause there are too many police around here. I'm going to behave myself as I'm sure all of us will.