The best things about being in a sorority
There's a lot of food and a lot of fun
Sororities often have a reputation in today's society. From what we see in movies to what we hear in life, there's so many ways to look at it.
But when I think and reflect on my sorority, I think about the amazing sisterhood I have joined.
Here's some of the best things you get when you are part of a sorority:
The apparel
Whatever type of sorority swag you want, you name it. T-shirts, yoga pants, hats, sweatbands, ponytail holders, fanny packs, socks. You can never get enough.
In fact, don't be surprised if by the end of the year, all you are wearing is sorority stuff.
Food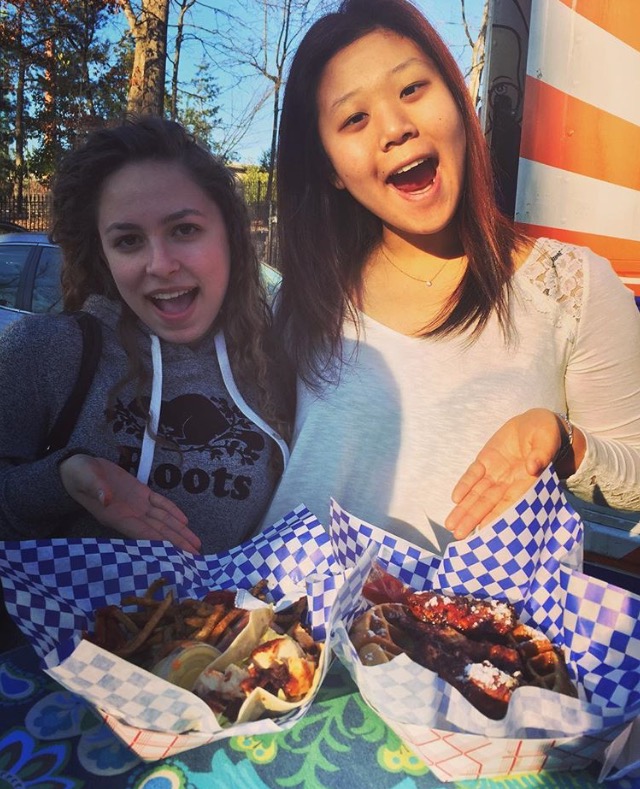 Who doesn't love food? And who doesn't love having free food? Food with your sorority is the best – Chipotle? Food trucks? Catered food? BRUNCH? What's better than that?
You can always count that there will be food opportunities somewhere around you.
You have another squad
In addition to your friend groups, you now have about 150 sisters to add to your list of friends. Not only does it make for an awesome squad, it also gives you another support system.
Need advice? Need help? Need a friend? Your sisters got your back.
Philanthropies

You have the opportunity to participate in amazing philanthropies that your sorority partakes in.
You really get the opportunity to help communities around you and do so with your sisters.
You get good photo-ops
You always get an opportunity to look cute – whether it is at Bid Day or at brunches or at formals or mixers, there's always good events going on for a good photo opportunity.
And you get the chance to make a cheesy and cute caption with your Greek letters.
Study buddies
With so many sisters, there's bound to be at least one in your classes. It's awesome to have another friend you can turn to, especially if you need help studying. It gives you a good team to turn to for help on understanding material, for reviewing notes, or even for just studying for a final together.
Lib dates are great when you have your sisters with you.
A full calendar
Being in a sorority gives you lots of events to attend. Whether it is a mixer or a fundraiser or formal or even just chapter, it fills your calendar. It makes you feel more involved when you're helping out on the weekend to raise money for your philanthropy or it makes you happy when you're going to somewhere like SkyZone to bond with your sisters.
A new meaning of Sisterhood
Having a group of sisters you can turn to, really changes your view on sisterhood and really makes you admire what amazing people, support, and advice givers you can turn to at any time. Sisterhood is a big part in sororities and it happens when a group of amazing girls are brought together and work together in so many aspects.
To have a group of sisters is like having a lifeline that you can always count on when you need them most.
You get a family
Yes, your sorority sisters do become your family, but you get a real family as well. The Big-Little dynamic is one of my favorite parts about being in a sorority. You get a family you can look up to. You get a group of people you can personally turn to. And you get to be part of their lives and let them be a part of yours.
Your family is your brunch dates, your advice givers, and the people who you can share personal things with. Of course your sorority will always be there for you, but your family will be too.
You wear your letters with pride 
Once you join a sorority, wear your letters, find your family and your sisters, you have so much pride and love for your sorority. Honestly, I can say that personally, joining a sorority has been one of the best decisions I have made at Emory. And now, whenever I walk around campus, I wear my letters with pride.
Being in a sorority opens up a whole other door. It gives more opportunities to get involved and become a leader, such as helping out with a philanthropy event. It gives you a great support system made up of unique and amazing individuals, all different in their own way. It gives you more ways to get to know upperclassmen or lowerclassmen better.
And above all, it gives you a wonderful, amazing, and great group of sisters that always have your back.
Image Source: Maggie McMahon, Isabelle Lesh, Lucy Hansen, Arooj Khalid, Hope Housman, Claire Mahon, and Emory DPhiE Tumblr