Student groups embroiled in Israel-Palestine 'propaganda' war
Several groups on campus have put up demonstrations in response to each other and the ongoing conflict in the region
Conflict in the Middle East has well and truly come to Georgia this week as two rival student groups attempt to one-up each other with campus displays of political anguish.
Emory Students for Justice in Palestine put up a wall outside the DUC late Sunday night to show their support for Palestinian human rights.
In response, Emory Jewish organization Hillel posted a display in the Coca-Cola commons that has since been defaced with a "propaganda" label from an anonymous source.
Anaïs Hussung, spokesperson for ESJP, said: "The purpose of the wall is to raise awareness and inspire action against the real wall in the West Bank, which was ruled illegal by the International Court of Justice (ICJ) since it was build by Israel but runs primarily side of Palestinian territory rather than along the border between Israel and the West Bank, essentially annexing a large portion of the West Bank (which is internationally recognized as Palestinian land).
"The construction of the wall destroyed Palestinian homes and businesses that were in its path, and the continuing existence of the wall hinders Palestinian freedom of movement and weakens their economy. In the bigger picture, the wall is an extension and solidification of Israel's military occupation of the West Bank".
In response to this wall, Hillel posted this display in the Coca-Cola Commons:
President of Hillel, Andrew Alter, said: "Hillel is committed to open discussion regarding Israel. When ESJP put up their "annexation wall", we wanted to share with campus a different narrative about the state many of our members care so much about.
"We hoped that those interested would read both organizations' displays, as well as attend other events related to the issue this week, and arrive at an informed opinion".
ESJP's reaction to these posters was as follows:
"Hillel's "response" was frustrating because it wasn't actually a response to the wall. The posters in the DUC were pre-made by an outside organization and don't address any of what we said, and much of the mass emails I've seen from Hillel and other pro-Israel groups on campus again fail to respond to our message.

"They spend most of their time talking about why they believe comparing Israel to South Africa under apartheid is wrong, however we don't make that claim anywhere on the wall or in any of our other content connected to the wall this year. They're responding to their preconceived idea of the wall without actually looking at what we're saying, which is disingenuous and makes it impossible to move forward."
Most recently a new anonymous group has put up a new poster next to the Hillel ones in the DUC: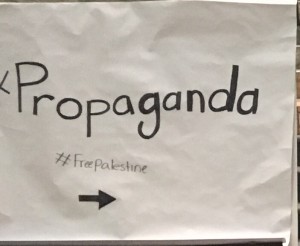 Andrew said: "While we respect Emory's free speech policy, we are saddened that the "propaganda" sign was put next to our posters. The sign provides no reasons why our information is propaganda.
"Merely asking people to ignore the displays prevents understanding and knowledgeable communication. We have tried to respect ESJP's wall and freedom to share their beliefs, and we would like the same opportunity."
According to the ESJP mission statement, "The organization aims to raise awareness of the Palestinian plight in order to mobilize our community behind the pursuit of justice with respect to international law and basic human rights. The Emory SJP seeks to educate Emory University and the greater community about the requisites of a sustainable and just peace while acknowledging the United States' pivotal role in this conflict."
Anaïs continued: "ESJP continues that as members of the international community, we [Emory students] have an obligation to promote human rights everywhere. The ICJ ruling specifically called on the international community to pressure Israel to dismantle The Wall.
"As a university located in the US we have an obligation to engage with issues like the occupation of Palestine since the US government gives more than $3.1 billion per year from US in military aid to Israel. This aid functions like a blank check and allows Israel to maintain illegal projects such as The Wall and the occupation and human rights violations more generally".
If you're interested in hearing more about what other students have to say on the matter, ESJP is hosting a town hall in White Hall Rm 103 tonight at 6pm.
Additionally, Dr. Jeff Halper, a political activist and co-founder and Director of the Israeli Committee Against House Demolitions (ICAHD) will be speaking on Friday, same place, same time.