There was a free Dance Dance Brooklyn Revolution party in Red Hook yesterday
And it had free empanadas
Last night I had the pleasure of attending Dance Dance Brooklyn Revolution (DDBR), a free party organized by Atlas: DIY.
Atlas is a non-profit organization which serves as a youth center providing legal services, developmental programs and learning opportunities to immigrant youth.
DDBR was held at Pioneer Works, a stunning art center in the heart of Red Hook, Brooklyn.
Whether you were showing off your moves on the dance floor, studying art pieces throughout the gallery, exploring the mini-library or grabbing a snack, you were surrounded by fellow members of the community.
I strolled by an arts and crafts table. Laid out were at least two dozen crayola markers and paper hearts cut from different colored construction paper. The idea was to write something positive on a heart to pin upon yourself or something else.
Looking around, I saw a vibrant crowd with paper hearts attached to collars, jean pockets and sleeves. Wherever you looked, someone was dancing, laughing, chatting or snacking. There were beach balls bouncing along the crowd, face-painting, and an empanada truck parked outside offering free empanadas.
New York City Council-member Carlos Menchaca was also in attendance. Menchaca, who works closely with Atlas, is a chair on the Committee of Immigration. He also helped secure funding for the largest public defender program for undocumented immigrants in the nation. Menchaca was socializing and dancing with the crowd throughout the night.
I spoke with Lauren Burke, founder and Executive Director of Atlas: DIY about the formation of DDBR. "I was hanging out with my friend Jordan who runs a nonprofit called Drive Change, and we were talking about how a lot of [negative] stuff has been going on in our communities, from depression and seasonal affective disorder and all the ICE raids that are happening, and we were like 'everything has to have a purpose! Why does everything have to have a purpose! We should just have fun and just throw a party!' Then I posted on Facebook that we wanted to throw this party and people got really excited and it went from there."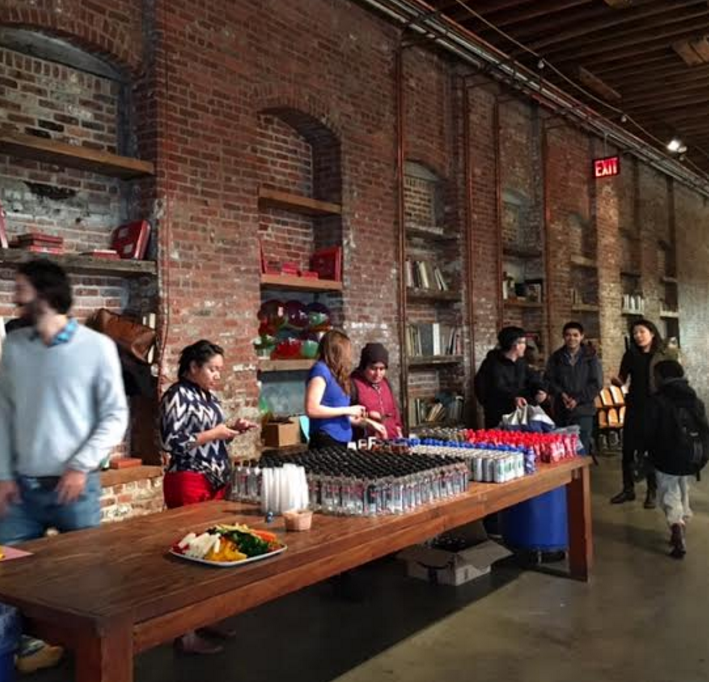 Is this Atlas' first time organizing or hosting an event like this?
Yeah! Atlas really believes in having events that are just about joy and community, this is our first time having an external event of this nature.
What has been the most difficult aspect of this process?
One of the most difficult aspects of this process is that we're working with a lot of communities that aren't used to being celebrated. And that aren't used to taking the time away to care for and celebrate themselves – so weirdly it can be hard to convince people to take some hours off to come and celebrate and enjoy and love…We're really trying to change the mindset also to make everyone believe they're worthy of having a party thrown for them.
What are you expectations for tonight?
I just really hope that everybody has an amazing time I wanna see a lot of people on the dance floor shaking their booties! I'm really excited to paint people's faces I love face-painting and there's going to be tons of kids. I'm also excited that our City Councilmember Carlos Menchaca is going to be there to dance and be with the community that he does a great job supporting.
Dance Dance Brooklyn Revolution reminded us all of the power community holds. In the midst of work, personal commitments and the struggles of city life – it's important to take some time for yourself. DDBR allowed a night filled with food, fun and fondness of community.