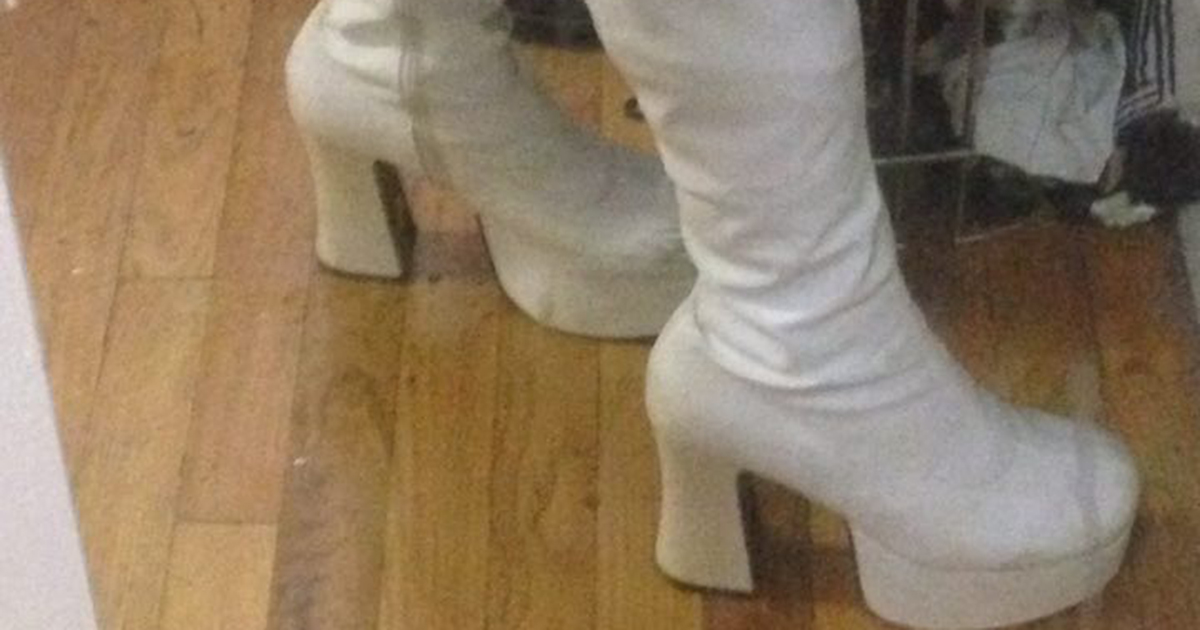 My Craigslist quest for free platform boots in NYC
What's a guy gotta do to get a free pair of heels around here
I am not a person that is good at sticking to a daily routine, but if there is one religious law I keep it is to check Craigslist under the free section everyday. What? I'm broke and am studying full time, I need to find books, artwork, clothes, sex, (scratch the last part) to provide me what I need. As someone who recently came out as genderqueer, it has been hard for me as an anatomical male to explore my female identity and feminine side. Besides trying to convert men's sizes into women's and getting makeup on right, I'm still very limited in the clothing and accessories I have to make me feel and appear in public in the way I want to identify.
So I was pretty excited when I came across these beautiful six inch white leather boots on Craigslist for FREE. The ad had said, "waiting to be taken" "looking for a new owner" I was more than happy to adopt the pair of lonely boots. I immediately emailed the owner, and within five minutes I got a response "They are on the porch" with the address in Brooklyn. I ended up going to pick them up on a Saturday night. It didn't start well. The Q train from Atlantic to Brooklyn wasn't working so I had to take the N train to Atlantic Avenue where from there was a free shuttle to my destination. I thought wow you see a sign from above to get my pair of heels and go home. Not so fast… I was on the shuttle that was towards Kings Highway. My stop was half way from Kings Highway. As any ADHD person, after 10 minutes of fidgeting in my seat, another 20 minutes of feeling uncomfortable, I finally got up and asked the bus driver when I would get to Church Avenue. That's when he told me there were no Q trains going back. I was stuck. So I pulled out my Bible (Google maps) to guide me.
A nice young African American mother with her kid directed me towards the train station. She had said it was a quite a walk, and I was too naive to believe her, so I started walking through three feet of snow for over a half hour. Let me just say that I was walking in three inch heels that were not made for the snow. My feet were freezing, and though I could have turned back I thought screw that, I am getting a pair of FUCKING free heels if it kills me. I'm a sucker for good free stuff and heels are a guy's new best friend, at least mine.
After a half hour, in the dark and through mountains of snow, rivers of slush, and creepy people around me, I got to the train station only to realize it was out of service. Luckily there was a bus stop not far from the train station that would drop me right by the house. As I waited for the bus close to a half hour in the cold, dying to pee but not wanting to go because all around me were open stores and mosques. I kept reminding myself to suck it up, because soon we will be wearing a pair of nice heels.
After waiting 30 mins, the B68 shows up and takes me swiftly to Beverly Road.  I asked a family unpacking groceries from their car for directions and they told me to keep heading east. I started to notice the apartment number of the buildings were increasing, when the address that I needed was much lower than what I was passing. I kept walking regardless, until after 10 mins my ADHD kicked in and I got frustrated and wanted an answer. By now, I had been searching for hours. My iPhone was at two per cent and my reception was really bad to use Google maps. I typed in the address, and realized I was supposed to go west. Sometimes when people give you directions in New York you wonder if they truly know their surroundings or they are sending you to a dead end.
As I started heading west, I kept checking my phone that I read my messages right and have the right address. The owner had messages me "I am not home, you can take the shoes off the porch." The idea of going onto someone's property in the middle of the night to take something that was once theirs really bothered me. I had to compulsively tell myself "I am not stealing, the owner said it was fine." I can't even imagine what type of mantra an actual thief tells themselves to lower their anxiety. When I got to the address, I felt I was like Jack in the beanstalk climbing up the beanstalk and finally seeing with amazement the castle in the clouds that is filled with wonders. I had finally made it, from now on I thought it would be easy. I didn't reckon for the neighbor's watchdog barking like crazy.
When I got to the end of the steps, I saw from 10 feet away, these knee length white shiny leather boots in a clear bag. I felt like I was Indiana Jones finding "The Lost Ark" after my long journey. From there the rest was history, I messaged the owner, that I got the pair of boots and "what a journey it was to find them" but all I got back was "I am glad you got it."
When I finally got home later that night, I took out all the paper stuffing that was inside like a kid ripping open a newly wrapped gift. I unzipped and slipped them on. I felt the leather rubbing on my skin and I had this sensation of power that comes from my femininity. I couldn't believe how light these boots were, and I was so happy to walk around in them 12 in the morning, I felt like super woman in the night. So was it worth it, travelling all the way across the city for some freebies? Hell yeah it was.
And if you've never met me, at least now you know how to find me when walking around Hunter.