A 'Kafka-esque monstrosity of an institution' and other nice ways Yelp reviewers describe Hunter
'This school is so terrible I had to rate it'
Ah, Yelp. It's a haven for disgruntled New Yorkers — a way for them to use the power of the pen (er, keyboard) to voice their opinions, and the opinions are plentiful.
The people of Yelp are thorough, dedicated to their reviews and certainly do not hold back their thoughts on Hunter College.
While some Yelpers definitely raise valid points in their criticisms or praises of Hunter, there are certainly some that are just bizarre.
While the average rating for Hunter is three stars, I would guess that's because there are a bunch of fives… and even more ones.
This one might take the cake.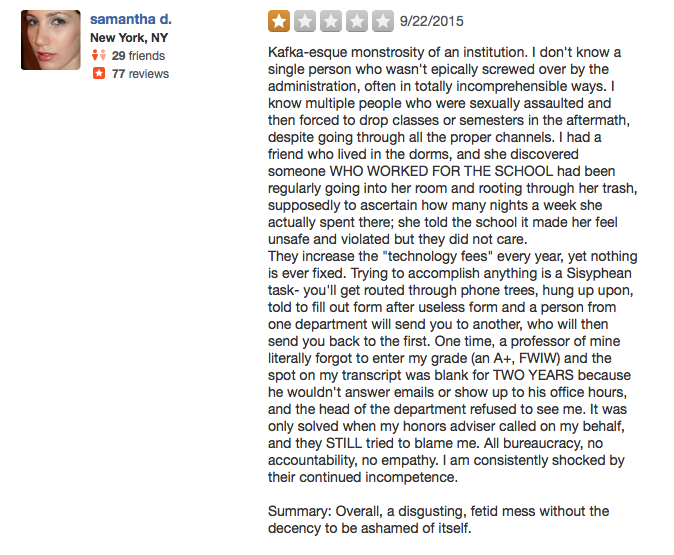 A thoroughly-deserved average rating.

A "remarkable" low. Yeesh.

"She doesn't even go here."

Wow! (Are you sure you're talking about Hunter…?)

There are no words for you, Tito.

The real question is, is this guy an English major or a Religion major?

And worst of all, the transfer to Baruch.

To make matters worse, the Hunter College High School has significantly better reviews than, you know, the actual college.

A whole star higher, and while there are less reviews, they certainly don't have any 1s or 2s. A Hunter building that the student body actually likes and appreciates… imagine that!