Hunter stuns Baruch in sweeping volleyball victory
In a sweeping win over arch-rival Baruch Bearcats, the Hunter Hawks defended their CUNYAC championship title, winning it all for the second year in a row.
Hunter, which came into the game as the two seed, stunned top-seeded Baruch, winning in what quickly became a Bearcat massacre.
After a thrilling victory in the first set, 29-27, the Hawks cruised through the second and third sets -winning 25-16 and 25-14- to hand Baruch a loss for the second year in a row.
"It was just crazy," said Samantha Barrett, a senior middle blocker. "It was just a huge team effort, everyone played their position and played it really well. We really put our hearts out there."
Captains Julia Connolly and Samantha Barrett led the team, with Connolly winning Player of the Year and Most Valuable Plater for CUNY's conference.
"It's an amazing feeling to win this again, especially since we lost to them in the beginning of the year" said Connolly, a sophomore outside hitter. "We worked our asses off, and got it done."
The athletic rivalry between Hunter and Baruch was livelier than ever on Friday night in the Hunter Sportsplex.
Fans from both sides came to loudly support their teams, in a rivalry that has faced off in the championship game each year since 2010.
The men's' volleyball teams, sitting on opposite sides of the gymnasium, went back and forth throughout the game taunting each other as well as the opposing teams.
"Let's go Bearcats" was quickly followed by "what's a Bearcat" or "talk it over" when the ball fell on the Baruch side. The rattling of bleachers deafened the crowd with each point.
This young team, which only had three returning players this season, has much to celebrate in the off season.
As for team captain Sam Barrett, she sees the end of her collegiate career in the best possible way: back-to-back championship wins.
And this one, in grand style.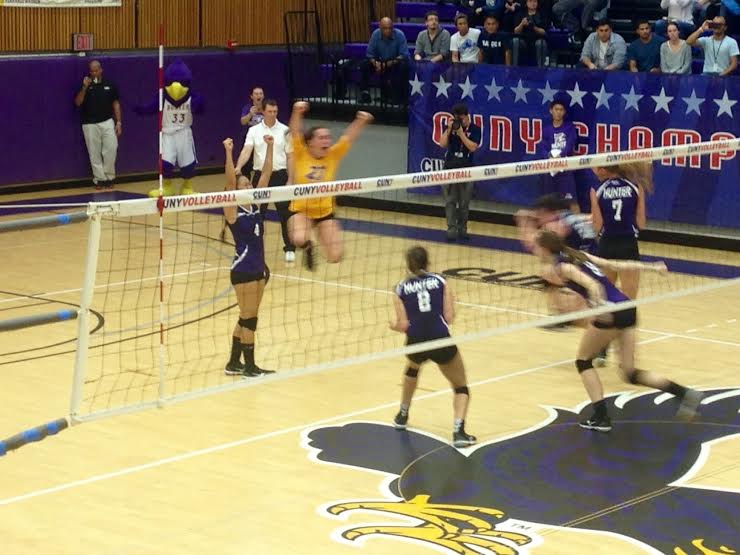 "My team works so hard in practice," Barrett said.
"It was definitely going to be a good game, I knew that much going into it, but we didn't think it'd be in three. That was totally unexpected."