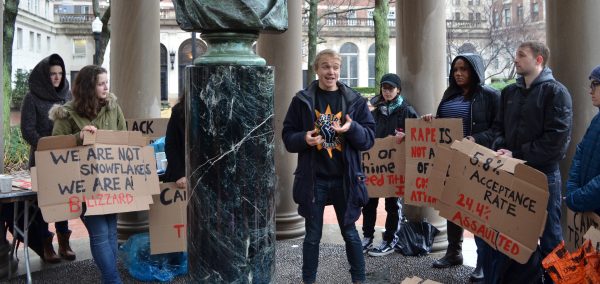 No Red Tape holds rally in support of Title IX at Columbia
'Columbia is not doing enough to protect survivors'
Early this afternoon, more than a dozen students gathered in front of Hartley Hall to voice their discontent at the administration's handling of sexual assault cases and the respect of Title IX.
The No Red Tape group advocates for survivors of sexual assault on campus. Some of their demands for the university administration include more psychological and legal resources for those affected and a 24 hours rape crisis center.
Amelia, a Columbia undergraduate, spoke about the difficulties sexual assault survivors have to gain credibility in this milieu.
She referred to online comments made about her own experience including "real victims go to the police" and "she made it all up". She underlined the importance of recognizing her personhood rather than her victimhood.
Emma, Columbia undergraduate student
"Survivors' rights on campus matter and Columbia is not doing enough right now to protect them. My main goal for the university is that they have more resources on campus like a 24 hours rape crisis center, 24 hours medical services, 24 hour mental health services, as well as that they believe survivors when they come forward and that they don't automatically dismiss survivors' stories."
Brandee, Columbia Law student
"I'm here because I am a survivor myself at Columbia. I realize after going through various parts of the Columbia system of investigation and adjudication that their mental health offices and all the other various offices that a survivor might touch in the wake of a sexual assault that there are major systemic issues in the way survivors are treated. When I reported to the law school in April 2015 the first response I got from an administrator there was 'don't worry about getting a few Bs' and 'I'll walk you to class'. I ended up having to report my assault twice more before my assailant stopped talking to me. After having those hard experiences pretty much on my own, I realized that I needed the support of fellow students if I needed to make it at Columbia. We want to make sure that schools like Columbia don't go backwards."