Meet Cameron McMahon: Columbia's tattooed veteran and eco-warrior
'I'm building a medieval style village with a castle'
Columbia is known as one of the most diverse Ivy League schools. Some say that's due to the people who are drawn to living in New York, but others point out the diversity within the undergrad schools.
The School of General Studies is the undergrad school for non-traditional Columbia students. To even apply, a prospective student must have taken at least a year off from traditional education. Among the student body of GS there are artists, musicians, professional athletes, models, and dancers to name a few. But one of the most prominent GS groups are the military veterans – the Mil Vets.
After only a semester Cameron McMahon has stood out as a friendly, hardworking and goal-oriented addition to the GS family.
We spoke to him about his life before Columbia and his plans to use what he learns to help build an eco-village in northern Vermont.
Let's start out with some quick background information: your name, age, year and major.
My name is Cameron McMahon, age 30, Sustainable Development.
One of your noticeable features is that you have lots of tattoos. Which one was the first that you got? What is your inspiration for them?
The first one that I got is my family code of arms on my right shoulder which my brother and I both got. I got mine when I was eighteen. Inspiration for the others draw from a variety of things. The left side of my body is inspired by Japanese influences; the right is Celtic and European.
You served in the military before coming to Columbia. Can you tell us a bit about when you joined, why and what your job was?
I joined in 2008. I served actively until 2012. My job was an 0352 TOW gunner so basically my job was to blow up armored vehicles. That was what I was trained as but the job I ended up doing was primarily a turret gunner, and I also served as a team leader and a vehicle commander in Afghanistan. The short answer [as to why I joined] would be that I felt it was something I needed to do.
How did your family and friends react when you decided to join?
I didn't have any friends or close relatives who were in the military. Me joining was not a decision that my family understood necessarily, but I think they have tried to be supportive even though there have been a number of communication and cultural barriers around the issue. My dad for example was a conscientious objector during Vietnam, and did two years of community service due to moral objections to the war. I respect his decision, and I think he tries to respect that my path went the polar opposite direction. Mostly it is just something we don't talk about.
What is it like being a veteran at Columbia?
It's been really good overall. I think that having as large of a veteran community as we do on campus has been really good. One of my buddies from my platoon had been here for a few years and that's how I heard about the school. I was automatically coming into a community when I came here which really helped with the transition to living in the city. I had heard some things about how it was for veterans on campus even five or 10 years ago and it's improved a lot since then. In general, there have been a lot of strides and improvements in terms of people being more aware of veteran's issues.
Right when I first got here, I ended up being hooked up with places to stay while I was figuring out my housing situation. I was couch surfing for a bit with people I had met at orientation. I did a four block veteran professional development program in the spring semester which was something that I heard about through people on campus.
What were you doing before coming to Columbia?
I was attending the Yestermorrow Design/Build School in Vermont for about two and a half years studying ecological design, woodworking, natural building and most of all some sustainable agriculture related topics and fields. Basically learning how to build and grow things.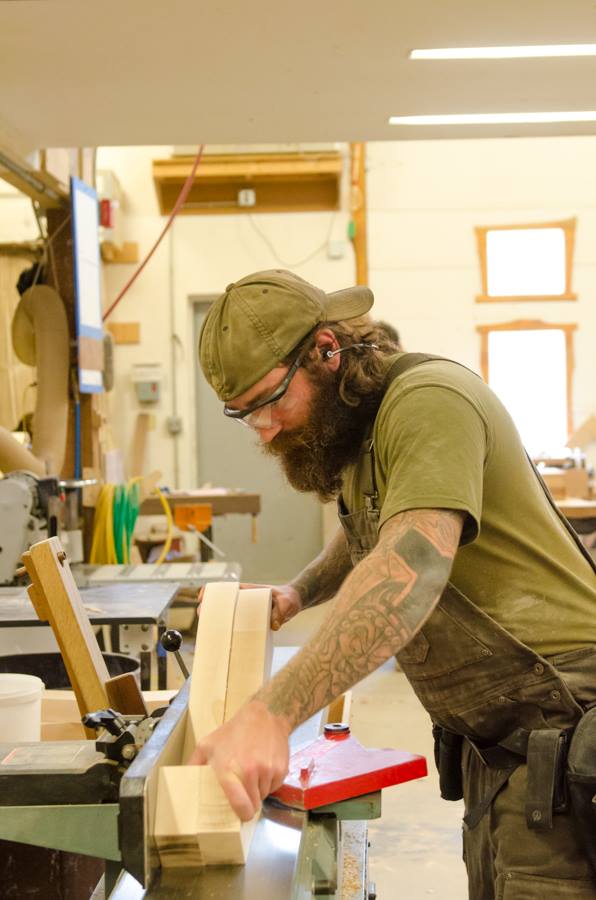 After graduation you want to build an eco-village. Tell us a bit about that. How long have you been working on the project? What are some of your goals for the eco-village?
I had the original idea about 11 years ago but I wasn't really in a position to be able to do it full time until after I got out of the marine corps primarily for financial reasons. That was really why I started studying at Yestermorrow and it's also why I'm here. The elevator pitch version is that I'm designing a community for 300-400 residents with a full range of community services: everything from prenatal care to funerary services provided on site. As well as being a regional resource and planning for things like climate refugees. The original aspect of the plan, which is still a large part of the tourism and wedding draw, is that part of the property is going to be a medieval style village with a castle that utilizes ecological design and modern systems where appropriate.