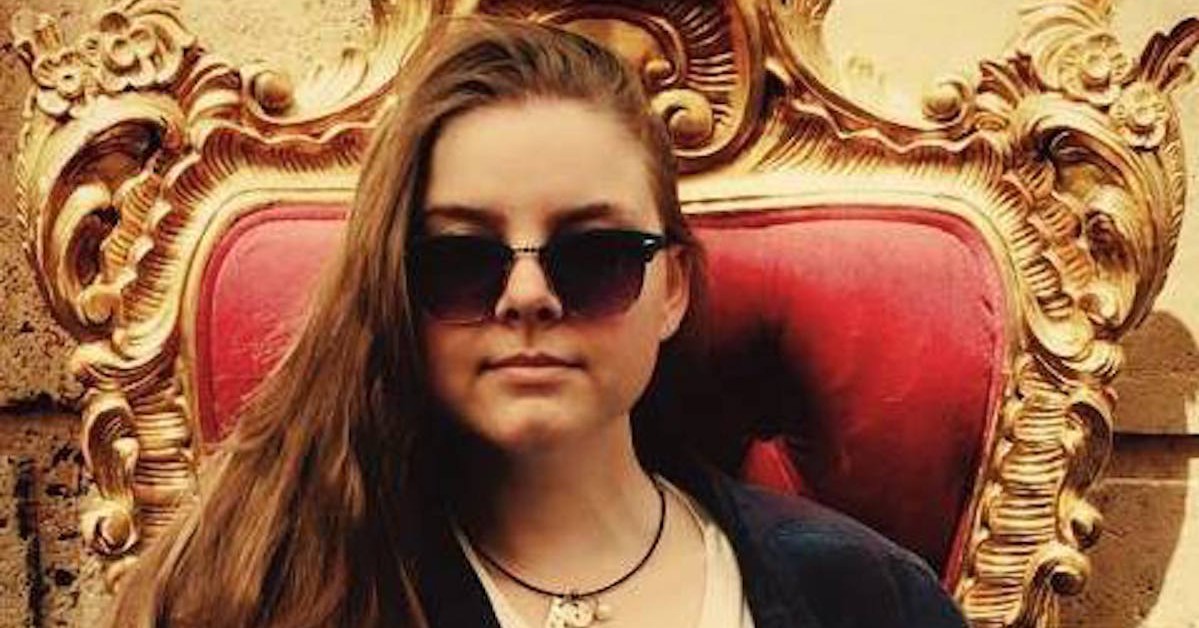 Meet Sydne Wheeler Larsen and her project to change the music industry
'Would a dude come up to a male DJ and be like, 'Hey, take your tits out and play Top 40 hits'? Does that happen to guys? I don't think so…'
After the "Gigg On, Girl" music festival last Saturday, we interviewed its founder Sydne Larsen.
Sydne is driven and full of energy. She is ready to respond before I even finish my question.
We met up a few days after the festival took place in Barnard. When I arrived Sydne was working on her laptop. Apparently one needs good time management skills to keep grades and organize music festivals at the same time.
Sydne has a clear idea of what the place of women should be in the music industry. She knows what she wants to change and she is going for it 100%.
Meet Sydne, the Barnard senior who aims to foster women's presence in the music industry.
Can you tell us a little bit about yourself?
Sure. I'm from Utah. I joined a radio station there and that's how I first figured out some of the problems I have with the music industry. I went to many shows in the New York area, and I kept on seeing a lot of white boy rock. So I decided to expand what I was listening to. And now I've actually gotten to a point where I mainly go to shows that feature women bands, not because I'm being exclusive, but that's just what I'm interested in now. I'm a senior at Barnard and a Psychology and French double major. Originally, I started this project ("Gigg On, Girl") for the Athena Women and Leadership Program at Barnard.
Photo by Ken Grand-Pierre
So did you get any support from Barnard to create "Gigg On, Girl"?
Yes, I got some support from the Athena Center. I also got a lot of help from Barnard's Event Management. But in terms of financial support I had to do everything on on my own, which was challenging. Other events like WBAR's "Home On The Rave" are free because they get funding from the school. But unfortunately my event couldn't receive Barnard funding so I couldn't make it free.
Would you say that getting sponsorship was the most difficult part?
No, that was actually easy. There's a community out there that's really interested in helping women musicians. But the most difficult part was to create the event in such a short amount of time. I started in September, it happened in December, so I had two/three months.
How did you first come up with the specific idea of an all women music festival?
I had to do this social action project for the Athena Program, and I wanted to do something I was passionate about. For me, that's music and I want to increase women musicians' visibility in the industry. I wanted to have a two-fold event, including a reflective part with a panel for the artists to talk about what's wrong with the music industry, and an action part with the show itself.
For me, it was important to have both in conjunction. The panel primed the musicians, making them aware of the need for them and the community to support each other. When the show started, the space was intimate and everyone was really engaged with the music. I've been to a lot of shows in New York where the crowd was dead and boring. That's the opposite of what we saw at the festival, which was exciting.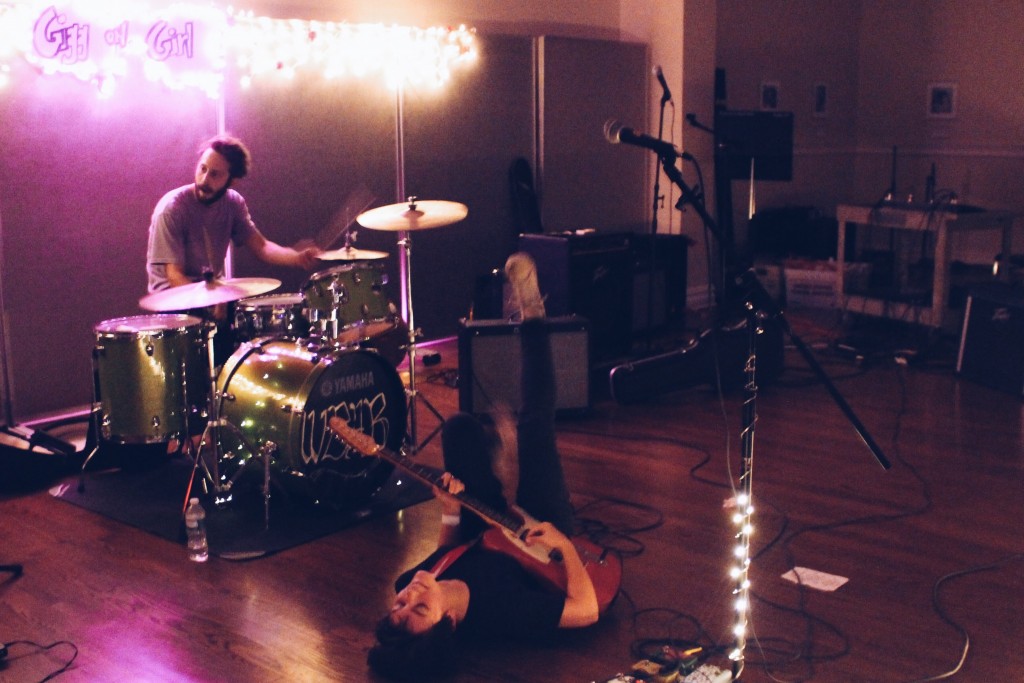 As you said, it was relatively easy to get sponsorship. Would you say that the community is already eager to see more women musicians performing, but the opportunities to do so are limited? Or do you think we still need more efforts to get people to realize that female musicians need more visibility?
Getting sponsors was also a two-fold process. There are people who are genuinely interested in helping women, and for other businesses this was an amazing opportunity to reach the female demographic. It's a win-win. I think the most exciting but also the most disappointing part was that everyone on campus loved the idea of this event. They started thinking why aren't we seeing more women musicians but, unfortunately, not that many people came. The turn out indicates that even if people are on board with the idea, they won't necessarily go support it, which is kinda heartbreaking. But it doesn't mean that we don't have the hope to change the future, with more time, funding and press push, people on campus will be able to wrap their head around this idea and actually turn up for one of these events.
Perhaps with more resources and support, more people will show up. Until they actually experience the festival, a lot of people might not realize they'd like to get involved.
Yes that's the challenge with festivals and most events and social movements for that matter: they take many years to get off the ground. The first festival is supposed to be for FOMO, the second one is to sell it out. The great thing is that people who came to the festival really enjoyed it.
How have your goals changed since the festival?
One of my goals was to call out the festival industry itself, and that's why I called this event "a festival". Look at Coachella: only 6 percent of the artists they booked in 2015 were female artists. That's the kind of industry I'm up against here. So I intentionally called it "a festival" and not "a show". This is a long-term goal: festivals are already announcing their line-ups for 2016, and it's going to take a while for them to start changing their mentality.
My other goal was to be able to actually organize the event. I've never done anything like this before, and it went pretty smoothly to be honest. During the concert, Deja was the first singer to perform and she stopped to fix some sound problems, but I think it was fine because it made the crowd aware that this was a very personal performance. The fact that the crowd was so patient about it made it even more special. We were all in this together.
Apparently some people were surprised by some of the things said during the panel, but to me it wasn't surprising at all. I'm not surprised that there are sound check guys that are dicks, as Bearcat mentioned . I'm not surprised that guys sexualize women who play the bass, like what happened with Natalie from Sharkmuffin .That's just the usual shit that happens all the time. The crowd just doesn't hear about those things so they don't know. Some people still come up to me saying that they really don't think it's that different for women in the music industry. Come on, would a dude come up to a male DJ and be like, "Hey, take your tits out and play Top 40 hits"? Is that the same? Does that happen to guys? I don't think so…
We have the same problems across genres, from rock to electronic. I want to get to a place where we don't hear those stories anymore, because it feels horrible to be denigrated and belittled. If I have to gather women at a panel to talk about these things and raise awareness, then I'll do it.
Photo by Ken Grand-Pierre
What are your future plans?
This project kind of split off into two directions. There is "Gigg On, Girl", which can be a brand, a blog and a social media platform. And there's "Gigg Fest", which is the festival that will happen occasionally while the "Gigg On, Girl" platform will remain active. For next year, I might be working with Barnard on some music related events that "Gigg On, Girl"would support.
Also, although I don't like that Bacchanal is more about getting fucked up than the actual music, I think it has the potential to become a great event. They could book women, such as the Discwoman, who are amazing and produce the kind of music that Bacchanal likes. Bacchanal is the biggest music event on campus and, by putting more women on its stage, it could contribute significantly to the inclusion of more female artists in the music industry.
How did you find these women musicians?
We approached a lot of musicians. I saw OSHUN perform at the Afropunk Battle of the Bands . I met Sharkmuffin in September and told them about the festival, and they thought it was a really cool idea and said they would love to be part of it. I heard about some press Deja Mal Devisa had done for CMJ, and I talked to her on the phone and realized that she'd be perfect for the panel. She has so many ideas. On the panel, she was talking about the politicized body, musicking, race dynamics… she has a lot of insights on heavy subjects. Diet Cig has played here at Barnard before. I wanted diverse genres and they were the pop-crossover artists of the festival. We had OSHUN for R&B, rock with Sharkmuffin, Deja as a singer and songwriter, and Discwoman DJs (HD & Bearcat). Almost all of them are from New York or the East coast. It was a great way to start friendships and a community of artists.
Is there anything you wanna say to Tab readers?
"Gigg On, Girl" is a community. Anyone is welcome, and it's not just for women. We created our own space because women have been continually marginalized in the music industry but it doesn't mean that men can't join and support the cause. I hope that this will have a larger impact down the road, and that people will feel invited to get involved and just have fun. I want to reach out to the community even more in the future, instead of just expecting them to come to me.