The Lion, the betch and the expensive wardrobe: Meet Serena Marron
'I'm excited to ride some diamond-covered camels'
You've seen her Instagram, read articles about her and her wealthy friends gallivanting in the exotic waters of Capri, and wondered who the fuck this girl actually is.  Does she even go here???
Yes, actually. She does.  I met up with 20-yeard-old Barnard sophomore and Art History major Serena Marron to talk about fame, #goals, and why she doesn't give one fuck about what any of you think of her.  That is, unless you're willing to get to know her and have a little fun.
It only takes five seconds after googling "The Baccarat Hotel" to know that my jeans and casual t-shirt was not going to cut it for the night. I had kind of assumed we'd get a frozen marg at the Heights, but I realized shortly after that my assumptions were foolish.
At the same time, looking at the exorbitant cocktail prices, I notice to my chagrin that the swanky venue Serena chose for our interview is way out of my price range. What I didn't know was that I couldn't even afford to drink water out of the glasses: as she tells me later, each glass is made out of "Baccarat crystal", and word has it that panic ensues amongst the staff every time one is broken. Clearly, I am about to get the Serena Marron experience in all its glory.
I'm highly amused.
I arrive and spot Serena and her boyfriend tucked into a corner booth. Her partner introduces himself as Christian, says a few words to her, and departs. We settle in and give a few brief introductions. She seems at ease, but intrigued.  This is her space.
So, Smaroon, your infamous Instagram…is this something you want to be known for?
No! No, I definitely don't want Insta-fame, but I do like a good Instagram.
What do you think a good Instagram does for the way you present yourself?
It doesn't hurt if your makeup is on point, and you look good, I love a really pretty setting as well. I love coming here, I love how the chandeliers look, there's beautiful art on the wall. I love a good art Instagram too. It's not entirely about how you look, you know, there's something else going on.
Is your Instagram really you or is it an image you're trying to put out?
Definitely me. If it were an image I was trying to cultivate, then I would be taking all of these dumb interviews people ask me to do. It's like whatever I think is cool. I don't put that much thought into my Instagram pictures. People sit there and they're like, "what should I caption" and like "what filter should I use". I'm sorta like "OK, cool picture" and then I just throw it out there. Not thinking too much about it would be my approach.
So have you had other requests to interview you?
Oh my God, yes. The New York Post was one.
And there was an interesting one by the Daily Mail, yes?
OH NO. Nooo, let's not bring that up. My dad murdered me about that article. That's exactly the kind of article that I'm trying to avoid. I'm trying to move away from photos of me on a yacht in a bathing suit, because when I did it, it was like, oh okay, I look good in this picture, let me throw it up there. But it just got, like, blown up, because people are the worst.
So these are the kinds of things that you want to avoid. Daily Mail type articles, RKOI (Rich Kids of Instagram), etc.?
I mean a lot of my friends love it but I think it's awful.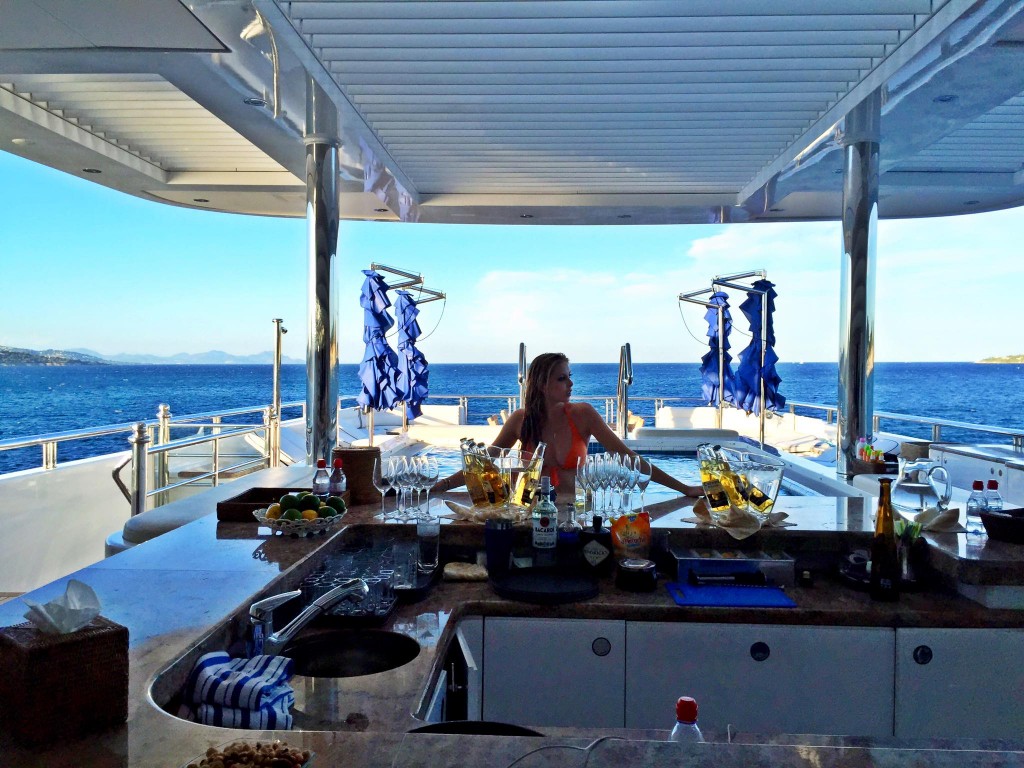 What are your aspirations?
I'm doing an Art History major, and I've been working at the MOMA every summer for like three years, because I want to curate once I'm done and get a Masters in Art History from Columbia and then hopefully become the head of the photography department at a contemporary museum. I'm thinking about moving to London or LA after college just to establish myself more, and then coming back and start doing something bigger. Maybe even owning my own museum, but that's stretching it.
And how did you get into art?
My dad used to be the head of the MOMA, so he got me into art really, really young. He's a lot older than me — he's 81. So it's nice that we have a common ground, because it makes the age gap a lot more manageable. I have a list of artists on my phone actually. Anytime I like anyone's work I'll write it down.
When I was working for the MOMA I would file photographs in the photography department, and I would write down the names of whoever was taking them and then do research on them online.
Do you see yourself as a normal 20-year-old? 
How can I answer this question without sounding like a raging douchebag… um… definitely not. I have a different perspective on things.
I've never had friends my own age. My good friends were always people older than me. I always enjoy doing different things than people my age. For example, when I was in eighth grade I would always want to go out and do something else, or go to some restaurant and people my own age wanted to do something else and I was like "eh".
How do you think that growing up privileged has molded your life?
I guess I'm lucky, exposed, aware, more accepting.
Aware…interesting. How?
I'm not a very judgmental person. People love to judge me, but I don't judge about anything. Most of my friends come to me with their most fucked up shit. I'm known as like the therapist of my group of friends. I've seen and experienced a lot of different things, so whatever anyone wants to come to the table with, I'm pretty chill when it comes to that. If I could say anything about growing up privileged, I'd say that it's just helped me relate to my friends better, and be a better friend to people.
Have you ever experienced the Columbia social scene?
Actually yeah, last year I did a bunch of senior nights. I thought about joining a sorority and then opted out, but I sort of knew that the college life wouldn't really be my thing. I looked at Georgetown, but being away from New York is too hard, and I just bought an apartment on the Upper West Side. I just wish we had a truly, legitimate Secret Society or something.
Like at Yale?
Yeah, like Skull and Bones, or something very legitimate, that accepted all four years of students, about twenty people total, and were evil about it. I'd love that challenge, like a true challenge. To be part of something "DL" and cool.
I went to some of St. As events and once did one of those speeches where they made you get up on the chairs.
Word. OK so switching directions, what is your favorite travel destination?
What season?
All of them.
In the summer, my favorite place to go is Capri. I've been going almost every summer since I was little, especially if you can be on a boat, so you can jump around to Positano, Portofino, Elba. It's amazing, amazing food, it's just so pretty. Capri, above all other islands you can go to, is just, the most incredible. I also really like Venice. I discovered my favorite drink there, the one we're drinking right now. It's called a Spritz.
Normally, I go with my parents and my brother to St. Barts for Christmas and New Years, and I also typically bring a boyfriend and my best friend Morgan.
'A' boyfriend??
Yeah. And in the fall I love Paris. Its my second favorite city besides New York obviously…I usually go there with my mom, we do a girls trip, we shop, we walk around. So definitely Paris, Capri, I mean I've grown to love St. Barts because we go so often.
Oh by the way, I just found out three days ago that I'm going to India for winter break instead of St. Barts. I'm excited to ride some diamond-covered camels.
You want to ride a diamond-covered camel… 
Yeah. I also want to like do some yoga while I'm there. I'm trying to model again this semester and they're like, "You should do yoga", so yeah.
OK, so seeing that you're not an individual in the college social hookup culture, what is your stance on relationships?
Well I've had a bunch of boyfriends, everybody knows that about me. I date a lot of people, I love having a great time wit someone and going to amazing dinners, and having great conversations, which is why I usually go for someone older, 25 or 26. I really like having a boyfriend. It's fun. But I don't think I'd go looking for a boyfriend… it just sort of ends up happening. I don't really date anyone in college or my own age.
How does it feel to have people think they know you before they've met you?
Entertaining, flattering and off base. I sometimes love hearing the way people perceive me, because I like to make a joke out of things. I have a very thick skin. A lot of things are true and a lot of things are totally different. I definitely get a laugh when they see only one side and then come have a conversation with me and they're like confused.
Then there's weird stuff. Sometimes I'll get direct messages like "I see you", and I'll be at a restaurant. I was at the Soho House one night and someone DMd me and I had to approve it. And they were like, "I see you, I'm at Soho House" and I was like… entertain yourself in other ways, you know. My DMs are actually probably the funniest portion of my phone. Sometimes people will even come up with stories to like, have me send them money. Eventually I plan on cleaning out my Instagram as well.
So you're going to delete all your loyal followers?
Probably just open a new account. I'm trying to see if you can delete an Instagram account, but I don't think you can. You'd literally have to sit there and delete every individual photo. I think I'll have to pay someone to do that because it would be way too time consuming.
How many pictures do you have on Instagram?
Over 4,000. And 40,000 on my actual phone. I'm also really into photography. I have a really great camera. I taught a photography class at Dwight which was really cool. My senior project was a photography project that I worked on. I just love taking pictures. I'll snap just about anything. Which is probably why I have so many Instagram posts, cause I'm just like, "Oh its cool, let me take a picture of it."
What do you want people to call you? How do you like Smaroon?
Yes, I love it. All my friends call me that. I was actually the last person in my group of friends to get an iPhone or an Instagram. My friends used to have a hashtag for me on Instagram, and it was just "Smaroon", because I refused to get an Instagram for like a year. I was like a slave to my Blackberry, and finally conceded because I didn't have anyone to BBM anymore. No one ever calls me by my last name, which I really like. Serena is such a regal name. I like being called by my first name, but Smaroon is funny. My Instagram used to be "smaroon5" which is funny because of Maroon 5….I don't even like them. I like Deep House.
What is your favorite kind of Friday night?
Dinner at 10 o'clock, somewhere really good. Recently I started going to this Restaurant called Dante, which is really amazing. I love Santina…there's this restaurant called L'Artusi. I'm a vegetarian so somewhere with great vegetables. And then probably start with Boom Boom: best view of New York, very luxurious, and great seating. I love a place with a good booth. That's one of the reasons I really like this place [the hotel bar we are seated at]. And then we usually go to Provoc and stay there until we get bored. By the way, I'm addicted to getting my hair and makeup done, so I'll get my hair and makeup done at least 3 times a week. Thursday, Friday, Saturday. Occasionally a Tuesday if it's called for.
Mels?
Yeah.
Cannons?
Yep. I was a very dedicated freshman, and that's how I met my friends. I'm glad I did it.
If there were one thing you could say to people about who Serena Marron actually is, what would it be?
I suppose I would want everyone not to believe everything they hear. Other people's opinions of me kind of abuse me. The people that see me the way I am are the people I like to hang around.
I'm confident, very tough, very accepting, the most fun person to ever spend any time with at all. I can turn anything into a good time — it's one of my best talents. It's interesting and one of the most enjoyable parts about life that everyone has their own opinion, even if they can be insulting. What are you gonna do about it? Nothing.
I wouldn't want everyone to see me the way I want people to see me, you know? I like the challenge of getting to win people over. What fun would it be if everyone saw you as being this perfect vision of you, as you as your best self, and that's it? You wouldn't want to interview me.
Do you see yourself as a real-life parallel of Serena van der Woodsen?
Oh yeah. Everyone used to call me "Svandy" in high school. I had someone ask to write an article about whether the character was based off me. I actually love Blake Lively, she's one of my favorite actors. I've seen every episode of Gossip Girl at least three times. It was basically written about my high school.
What's your favorite accessory?
Favorite designers?
Oscar de la Renta, Yves Saint Laurent, and ____ but don't write that down because no one knows about it. It's this little brand in Europe, and I actually just raided it in Paris. It's my secret spot. But if you ever go to Paris, go to —–. And buy everything [writers note: I can't afford anything].
[Waitress comes with check, and Marron tells her to put it on her card].
I can pay for my own, you know.
No, don't worry, it's my treat. That's another thing about me, when I pick the spot, I pay. Always.
This made me feel uncomfortable, but not enough to reject it.
Thanks. Favorite hobby?
Party planning. If it were an acceptable career, I would do it. Last year, for graduation, I had a party with 500 people, and it easily could've been 1000. We got this massive tent, and stole the resident DJ from 1 Oak. I worked with this insane party planner and we had creative meetings with him. There were people climbing my gates. I had 100 security guards, and we had golf carts barricading the outside of my house. I also love coming up with signature cocktails, so I came up with this one "Serena cocktail", which got everyone so fucked up. It was purple, which is my favorite color.
What was in this delightful cocktail?
St. Germain, Grey Goose, elderflower flowers, which are edible. The flower was purple, and you blend it with honey sugar, which is a special kind of sugar you have to get from Italy, and then you add champagne to it, and you put it all together and it looks and tastes incredible. You have like two and you don't even know what you're drinking and then you're fucked up.
So essentially the Serena Marron jungle juice.
It was excellent, and really pretty.
By the way, next year I'm hoping to rent this private island for my 21st birthday.
Wait what? You want to rent an island???
It sleeps like 100 people but that can be pushed. You have to fly guests into this other island and then transport people by boat. We'll bring in a DJ and everything.