Why 7th Street Cafe is the best campus coffee shop
Because who doesn't love coffee?
Seventh Street Cafe embodies everything that is Bucknell. From the small-town feel to the pleasing aesthetics, the quaint campus coffee shop is the perfect place for students. Whether it's studying or just chatting with friends, Seventh Street gives students a place to go that is far more aesthetically pleasing than the library or a dorm room.
It's great for indoor and outdoor studying.
Tables outside offer a great study spot in warm weather, as do the comfortable booths inside when the weather in Lewisburg is a little more dreary. The cozy atmosphere is also a great place to just sit and relax during the few precious moments of down time that Bucknell students have in their days.
It's better than studying at the lib.
It is also a great alternative to the library for working on homework. During peak hours, Seventh Street Cafe is packed with students working on their latest assignment, often times with friends.
Coffee? Milkshakes? Food? 7th street has you covered.
Not only does the cafe offer a variety of drinks, but also a wide selection of snacks ranging from trail mix for when you're on the go, to sandwiches when you're in need of sustenance during long study sessions. The cafe recently switched to serving organic coffee, offering a smooth taste. The switch from main-stream Starbucks coffee, to artisanal coffee adds to the shop's quaint, small town vibe.
Not to mention, the coffee is bottomless.
Students and faculty can enjoy a bottomless cup of coffee while they kick back for awhile and work on assignments. This option of a bottomless cup is also a great way to save some money; instead of buying multiple cups while doing homework in the library, you can sit in Seventh Street Cafe and just buy one– great for coffee addicts.
And the milkshakes are the best in a 10 mile radius.
Not only is the coffee great, there is no better place on campus, or in all of Lewisburg, to get a milkshake. The sweet treat is the perfect way to treat yourself while working on some homework, especially now that the weather is warming up, a milkshake is the perfect way to remind yourself that summer is right around the corner.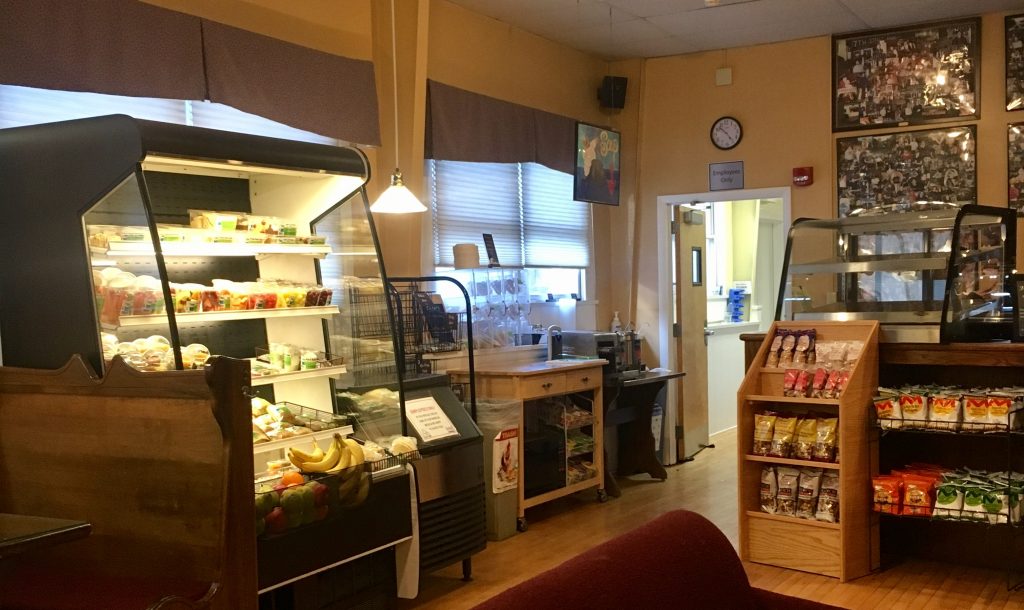 Seventh Street Cafe's late night hours are perfect either for late night study sessions or for grabbing something to eat on your way up from downtown. While students enjoy some artisanal coffee, a specialty drink, or a top notch milkshake (definitely order a white chocolate Oreo), they can kick back in comfortable booths and take in all that is Seventh Street Cafe.