The Starbucks on Comm. Ave is serving the new Zombie Frappuccino – so of course we had to try it
Order this again? I'd rather be undead.
From October 26th to 31st, Starbucks is serving a new specialty drink just in time for Halloween – The "Zombie Frappuccino." Walking along Comm. Ave this morning I picked up my regular Iced Caramel Macchiato with coconut milk and saw the new chalk boards advertising the Halloween-themed drink, and decided to come back to try it.
Made with green apple and caramel flavors, topped with a pink colored whipped cream and drizzled with dark mocha syrup, this is truly a 'gram worthy drink. But like the controversial Unicorn Frappucino – is it more for your feed than to actually feed you? Here's our consensus:
It Is Instagram Ready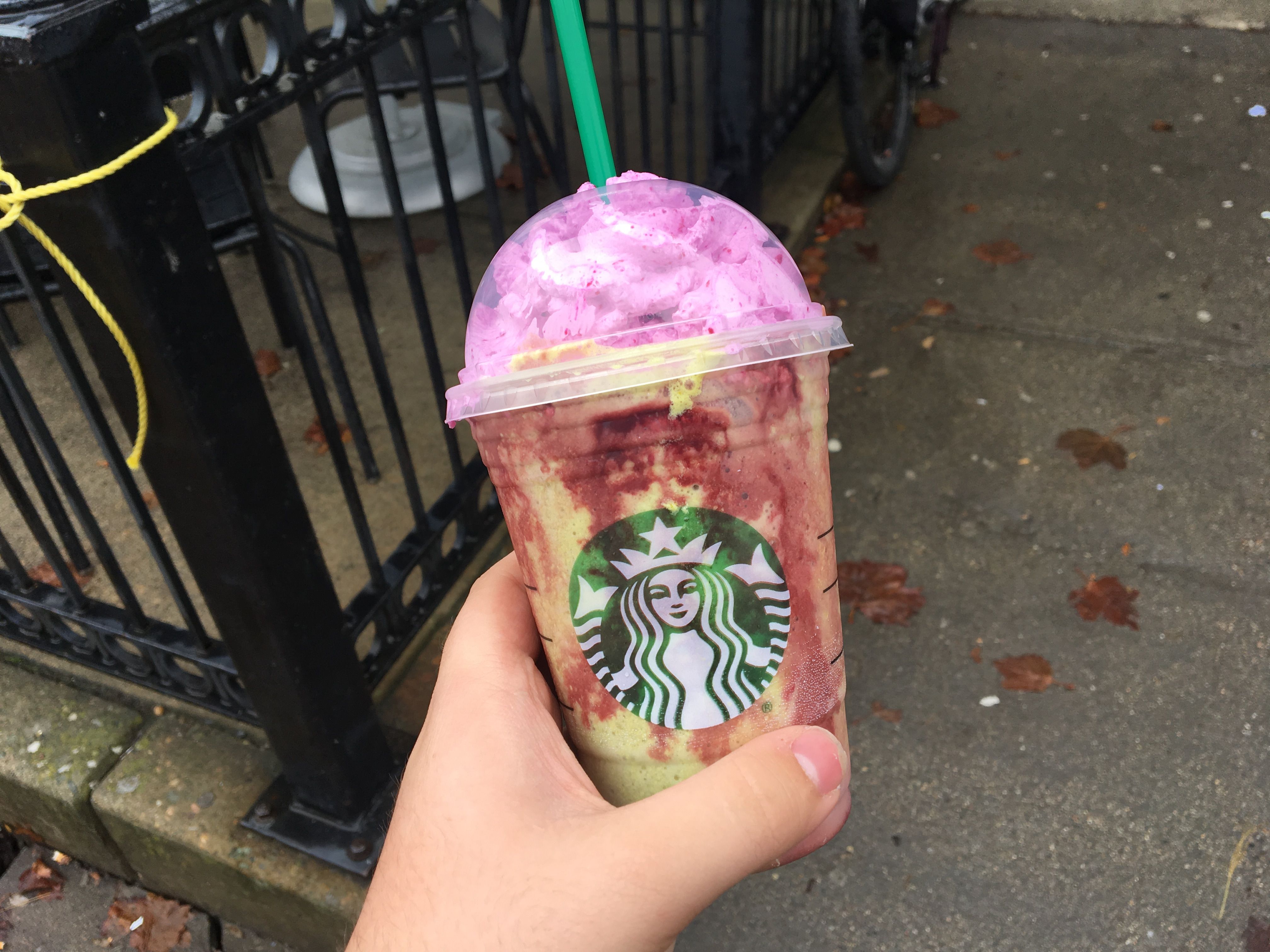 If there's one thing for certain, it's that the new Zombie Frappucino is perfect for your next post. From its bright pink whipped cream to its bold green and mocha-red contents, it has all the qualities perfect for a pop of color on any Instagram page. It even compliments Starbucks' signature dark green straw. So if you're willing to spend $5.62 for your next Instagram pic, go right ahead. (I did!)
If You Like Green Apple – This is a Winner
If you're a fan of green or sour apple flavoring, the Zombie Frappucino is for you. Tasting mildly like a caramel apple, the frappucino has a sour berry twist similar to that of the Unicorn Frappucino – not for everyone, but certainly for some. Personally, I wasn't a huge fan of the Unicorn Frappucino, so the Zombie Frapp isn't quite doing it for me either, but each to his own. So if you're a lover of all things Halloween or you just couldn't wait to get your hands on something sour, this frappuccino is perfect for you.
Final Thoughts
Let's spill some honest truths. The truth is, the Zombie Frappuccino just wasn't my favorite. I certainly have a sweet tooth, so this kind of thing is a fun, one-time purchase. The colorful chalkboard writing said I'd "Lose My Mind," but I just ended up losing my straw in the colorful whipped cream of this frappuccino. But hey – if you were the type of kid who loved a good Granny Smith apple in your lunchbox, or you really loved sour candies in your Halloween night haul, or you'll really do anything for the 'gram, go grab yourself a Zombie Frappuccino.