EXCLUSIVE: The Dear Abbeys just released a music video, and it's guaranteed to make you swoon
'This is the next step for not only our group, but collegiate a cappella as a whole.'
To commemorate their 25th anniversary as BU's only all-male a capella group, The Dear Abbeys filmed a music video for Justin Timberlake's Amnesia.
"The Dear Abbeys have always been at the forefront of the a cappella community, and we're ready to continue to push boundaries and do things people have never seen before," said Lucas Chaves, CFA'19, the Marketing Director for the Dear Abbeys.
A week after Spring Semester 2017 ended, the boys stayed on campus to record their project as the final note of their hard work this past school year.
"We wanted to do anything and everything we could to make it something special," said Chaves. "We recorded a full album, went on tour, and had an unforgettable spring show."
Chaves said the group does not want to be "seen as just another college a cappella group," during an interview with The Tab BU:
Why did you guys decide to pick Amnesia as your song of choice for this project?
We wanted to make a video with a song that would allow us to do something creative yet recognizable. A not-so-famous Justin Timberlake song allowed us to get the JT recognition from people of all ages, yet the liberty to play with it however we wanted. Amnesia is not a renowned JT song, so most people won't have any pre-made judgments of what it might be like as they click our video. This was crucial for us as we wanted to do something completely original.
[Our version of] Amnesia is the type of song that makes people question whether or not the sounds they're hearing actually is all a cappella. We pushed ourselves to learn how to successfully sound electronic – something that is extremely difficult to do in a cappella.
The music video was filmed in one day, correct? How long did that approximately take?
I want to say it probably took 16 hours from start to finish. It was a long day but we are so happy with the end result!
Who directed the music video?
We hired Ryan Parma, a director, videographer, and editor from California to work with us. He's done work for artists like Keke Palmer, Pentatonix, Todrick Hall, and other a cappella groups across the US. So we flew him over and banged out an epic music video on campus. He is so insanely talented and creative. This music video wouldn't be as good as it is without him.
What was it like working with Ryan Parma?
[It was] an incredible experience. He could see the video before putting it together, and working with him made us feel like professional rock stars. We were lucky to have him work with us. He truly wanted this to be a killer video, and I think for that reason, it is. He worked extremely hard putting this together – from its infancy thinking about concepts to putting the final touches in editing.
Where did inspiration for the music video come from? Was it a group design or mostly left to director Ryan Parma?
The inspiration and direction of the video was very collaborative between the group and Ryan. We had multiple Skype discussions before he flew down to Boston to discuss everything from wardrobe to what will actually happen in the video.
We first started with the lyrics and literal title of the song – "Amnesia". As a group we began to throw around ideas that surrounded themes of forgetting things or losing something you once had. We then brought this to Ryan who came up with the idea of disappearing Abbeys. The video is supposed to be a psychological twist of the mind almost – are you forgetting something that was once there? Or are you imagining it entirely?
How did the Abbeys record Amnesia prior to the video?
We recored a full album called Songs For Mary Todd that was released back in April. It was a project we were working on for two years. We recorded the songs with The Vocal Company in Rochester New York. We would pack up the Abbeys in two cars, drive six hours to Rochester, and stay there for a couple of days as we would record the album. It took us two trips to finish the album. It was like mini vacations though.
The Abbeys have never experienced something to this level of professionalism, so it was really exciting for us to do something like this [album]. Amnesia is the 9th song on our album, and is definitely one of our most adventurous arrangements.
Were there any technical difficulties or challenges in filming the project?
We actually had a whole other destination we planned to shoot at, but because of certain circumstances we had to change locations the day of our shoot. It caused a bit of a delay and [some] panic but we pulled ourselves together and still created an insane piece of art. We all say that we're grateful we had to move and use our plan B location because of how amazing everything turned out.
Who is the main singer/ soloist in the video?
Todd Reiss is the soloist of the song. He's going to be a senior in the group this year and is our current Music Director. He definitely has the highest range out of anyone in the group. Think you can sing higher than Todd? You're wrong.
Unlike what the music video may show, he actually has a very bubbly personality. He's always the life of the party, but can also be very focused and driven. You'll always have a fun time when you're with Todd, even if he is the biggest nerd you will probably ever meet.
What was the best part about filming the video?
The best part about filming the video was honestly the moments after the final shot. Apart from relieved after a 16 hour shoot, everyone felt so rewarded once the final "cut" was called out. We all knew we had just done something incredible – something future Abbeys will be able to see and feel proud of, something our fans would absolutely love, and something we ourselves will be able to look back on and nostalgically think "remember when." Making this video with a group who are not just your a cappella teammates, but your best friends and brothers, is something beyond words. To share this experience and to make something so awesome with the people you cherish the most is something we'll never forget. 
What do the Abbeys hope to ultimately get out of this music video?
A new perspective of a cappella. Many people make fun of a cappella groups or think that it's just some lame thing weird choir kids in high school do when they get to college. But its so much more than that! Because of a cappella, I have performed across the entire US – from theaters to charity events to even the Dean's house. With this music video we want to be seen as professional musicians. Because that's what we truly are.
And finally, something I've always wondered, where did the name The Dear Abbeys come from?
Long story short, Abbey Elmore was working at the student activities office back in 1992. When we filling out paperwork to get the group registered, we needed to put down a name for the group. So naturally, the guys back then asked the receptionist what her name was and voila. The Dear Abbeys became an official group at BU.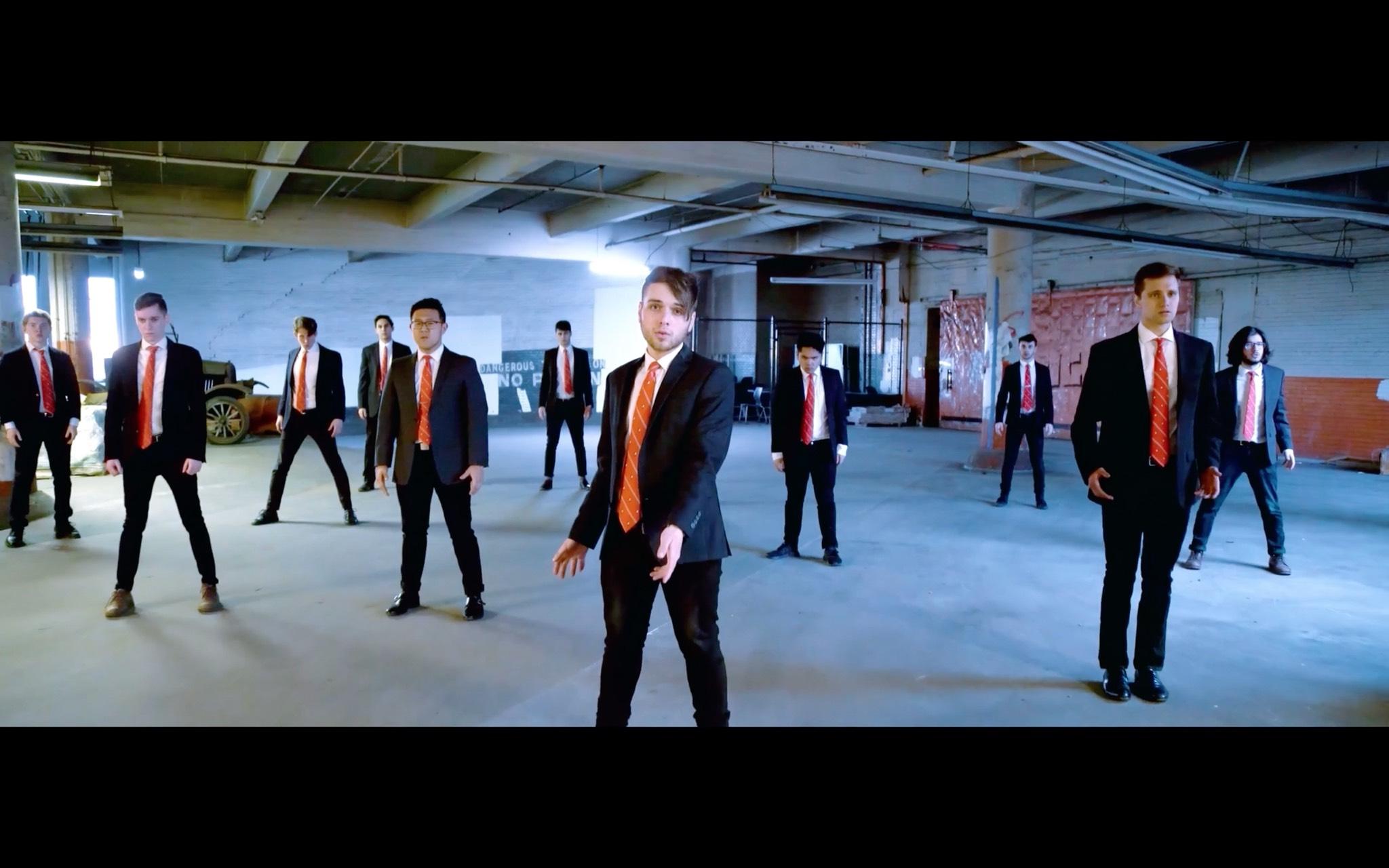 Chaves assured The Tab BU we could expect more music videos by the lads in the future, and ended by saying, "this is the next step for not only our group, but collegiate a cappella as a whole. No other group on campus has done something as big and professional as this, so we are super excited to share this with BU and the rest of the a cappella community."