Just to be sure, is there still a gunman in Allston or nah?
Because an 'all clear' would be nice, BU
BU Alert Service notified students of a report that a gunman was near Gardner, Ashford and Pratt Streets at around 10:40 p.m yesterday. For safety, the alert advised avoiding the area until further notice.
However, "until further notice" seems to be applicable even NOW since no follow-up alerts were sent.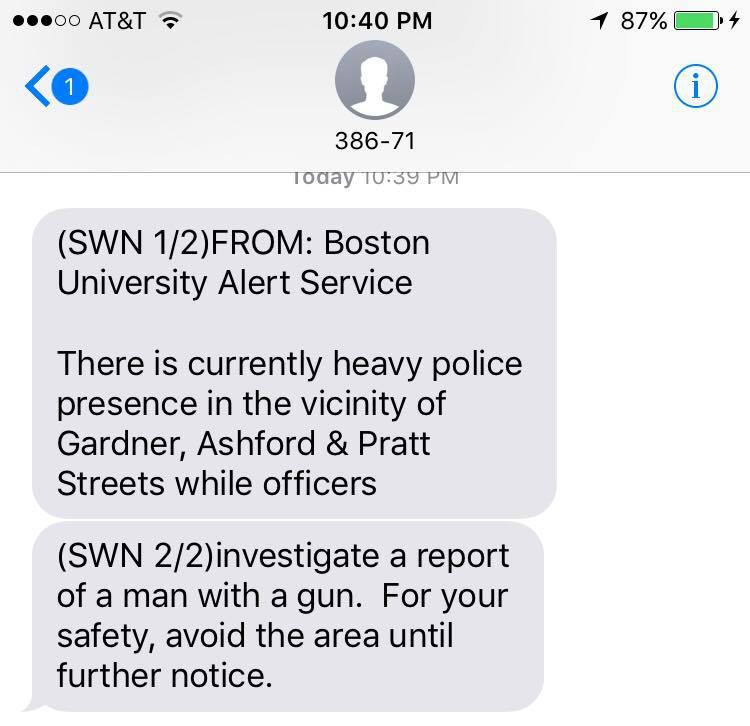 BUPD told the Tab the suspect was not found and had no comment to make on the lack of follow-up alerts, leaving many students upset at the situation.
"It's unfair to leave students wondering about their safety that late at night, especially with all this weekend's festivities happening," said Jessica Petro, COM'19
"Because this didn't happen on BU campus, technically the BUPD didn't have to keep us updated, but being that a heavy concentration of BU students [were] in the area, they should have made more of an effort to investigate and update students on what was going on," said Nilo Asgari, CAS'19. "It's also irritating that they said to avoid the area until 'further notice,' but never gave us any further notice. This caused a lot of confusion among students who had plans in the area. I was super worried about friends who were around there all night."
Many students are disappointed but we all hope for better communicate in future BU Alerts.
Please stay safe this weekend terriers.