I matched with a Ripta bus on tinder and I believe in love again
Caution, bus is turning (me on?)
First of all, Tinder is weird as all hell. It always has been and always will be. In the off-chance I get a message unrelated to the 1997 film Titanic, it's a message calling me a disobedient avocado that needs "discipline". But none of that tomfoolery matters in the slightest now that I've matched with the suitor of my dreams, the Ripta bus. Here it is, the greatest profile I have ever seen, in all of its glorious wonder.
Who is she?
Bus made the first move when they hit me with that "caution bus is turning" message. My heart skipped so many beats (all the beats) as our conversation, which comprised of mostly GIFS of buses turning, continued. I know what you're thinking — we could never be together… because of our age. There's an 8 year age gap between us, but I really feel like we're on the same wavelength. I asked Bus if they're a grad student or possibly in PLME (a girl can dream) but I'm still awaiting a response.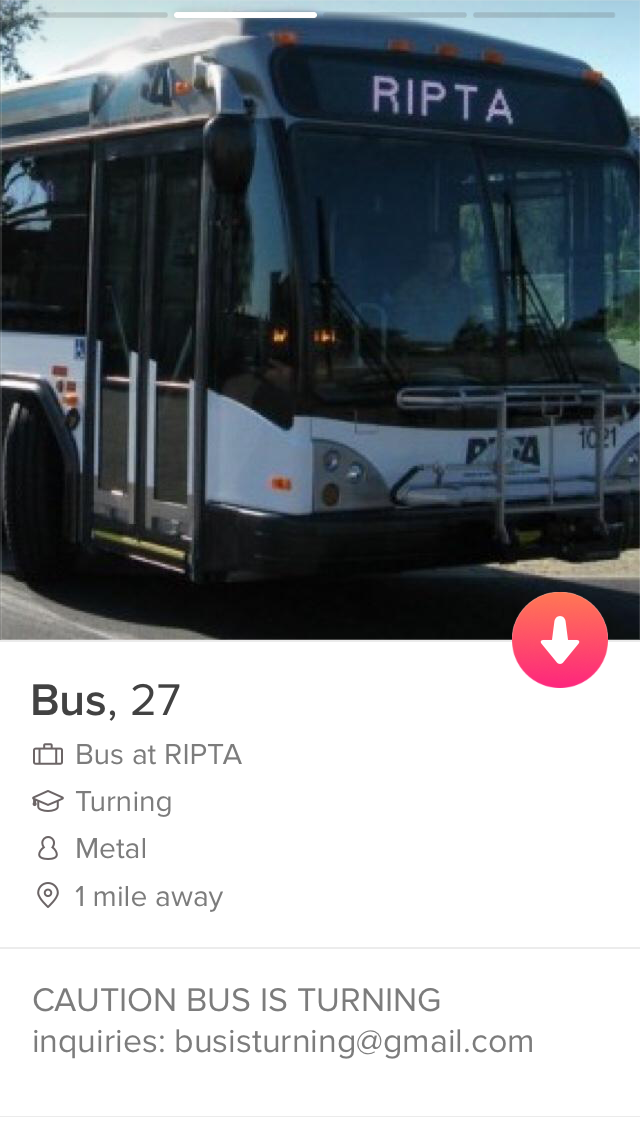 As the wheels on the bus go round and round, so do the swirling thoughts in my head. I take the 92 bus all the time, and now I'm really wondering if my vehicular love interest has secretly been admiring me from afar. Is Kennedy Plaza the new hot spot for passionate, fiery romance? Is Tunnel After Thayer sending out quality bf/gf material onto Brown's campus every twenty to thirty minutes? Who are you, Bus? Someone I'd like to cuff, that's who.
If there's anything we've learned today, it's that if you've been spending your weekends at Colosseum, Ultra, and the like, you've been looking for love in all the wrong places. Pick up a RIPTA schedule and get you the reliable, trustworthy partner you deserve.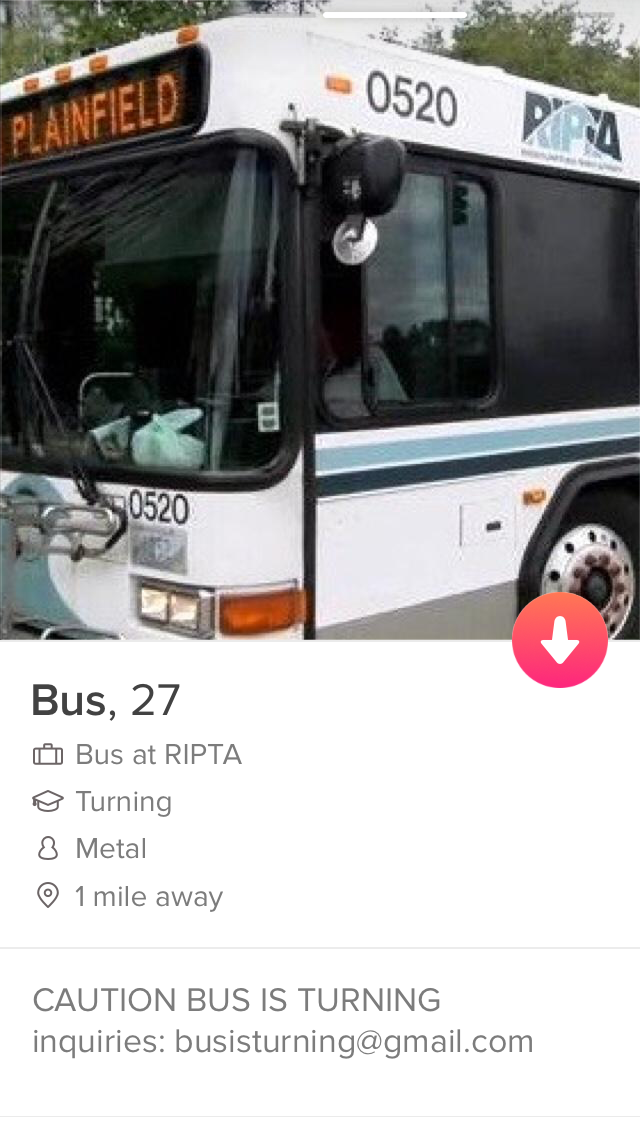 The Tab contacted Bus, who told us:
"I created Bus on tinder (and the accompanying Facebook page Bus Turning and this email) on October 7th. Since then, I have gotten approximately 180 matches and almost 20 people have SuperLiked me. I begin most conversations by sending 'caution bus is turning.' I have had many good conversations with people by only sending bus gifs. I would like to think of this as a performative art piece."