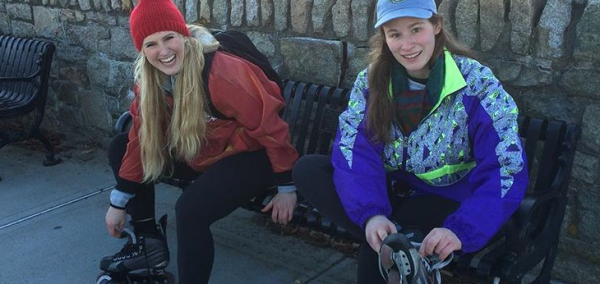 We've compiled a list of cool and quirky clubs at Brown, and you will want to join them all
The Ivy League's first and only donut club
When I first toured Brown, I remember the tour guide said "There's basically a club for everything here, and if there's not, then you can just make one!" And its true.
With more than 300 student organizations, Brown has something for everyone. This means that, along with the standard political or sports clubs, you can find some fun, quirky and weird clubs on College Hill. The Tab compiled a list of new and interesting clubs that you may not find anywhere else.
Brown Donut Club
I'm the Co-Presidonut of this club, so I'm sorry for the personal plugs but I'm not sorry for providing you with donuts.
One of Brown's newest clubs, it aims to find the most delicious donuts available from local businesses around Rhode Island, and to build a sense of community on campus through the consumption of donuts. We also work with other clubs to provide donuts at events, have food-critique workshops, host our own fundraising events, and give awards to local donut shops.
Brown Donut Club is the first and only college donut club in the nation.
If you love donuts (aka if you are a good person), then join Brown Donut Club!
Coffee Society, Brown RISD
This club was founded in 2015, but we haven't heard from them much since. Rumor has it that it doesn't exist anymore, but I have a feeling it's more of a secret club. From stalking what little information they had on their Facebook page, it seems like the club drinks and brews different coffees from across the world.
I really hope this club still exists because donuts and coffee pair perfectly.
Disney A Cappella
This a cappella group strictly sings Disney songs- old, new, and ones I didn't even know existed. Maybe Brown Donut Club will provide donuts at the next concert.
Pirates of Brown (ARRR!!)
Pirates of Brown is an a cappella group where the members dress up as pirates and sing crazy pirate songs. It's more of a theatrical a cappella group, with their music being a mix between singing and screaming "ARRR."
"Jolly Pirate Donuts" is located in Huntington, West Virginia.
Anime Society
According to BearSync, the club describes themselves as, "a group of people sharing a common interest in Japanese Animation (Anime) and all corresponding popular culture. Our members are interested in anime as entertainment, art, and a subject worth academic study. Our club is dedicated to exposing the Brown community." If you're interested in watching, creating, or discussing Anime, then this club is for you.
Maybe the next time they watch Anime, Brown Donut Club will provide donuts.
Quidditch Appreciation Club
Believe it or not, Quidditch Club is  starting to become more popular among colleges. Not only do members play on the local quidditch team, The Providence Ashwinders, they also celebrate all things Harry Potter. They throw Harry Potter styled parties and host Harry Potter movie nights as well.
This is a great way to work off donuts.
Brown Esports Team
Brown Esports Team (BEST) competes against other colleges in online video games. When the weather gets nicer, you can often see them outside with their systems plugged into light poles. Their goal is to "help connect students of all skill levels interested in competitive video gaming, by helping them congregate, interact, and practice."
Will this work off the donuts?
 Rollerblading Club (pending approval)
Rollerblading Club is not yet approved by the University, but has a strong following and came out with a promo video. This club brings rollerbladers together so they can easily coordinate when/where to meet-up and blade around campus. All levels of experience are welcome.
There's a rumor that Cornell is trying to start a blading chapter.
Don't rollerblade with donuts; it's too precious of cargo.
Cheese Appreciation Club (pending approval)
The University does not yet recognize this club, but they are working on it. Look out for them next semester.
In meetings, you eat cheese!
Cheesecake donuts are amazing.
Some other cool college clubs across the country include: Squirrel Club; Rock, Paper Scissors Club; Bigfoot Society; Humans vs. Zombies Club.