What happened at the die-in on Stokes Lawn tonight
Dozens of people braved the snow to show their support
Graduate Students in Psychology at Boston College hosted a die-in on Stokes Lawn at 6:00 PM tonight.
The goal of the event was to raise awareness for the "public mental health crisis resulting from excessive police violence against blacks and other minorities and a lack of accountability on the part of political leaders." The die-in was staged in reaction the aftermath of the Fraternal Order of Police, a police union, re-employing Officer Van Dyke after he pleaded not-guilty to the murder of Laquan McDonald, age 17.
Despite the persistent snow, an event on Facebook encouraged all members of the BC community to come out in support.
Immediately following the die-in, one of the organizers of the demonstration, Bryn Spielvogel, addressed the crowd saying,
"We laid down for 16 minutes, 1 minute to represent each of the bullets that was shot into Laquan McDonald. We are standing here now, and we laid here to demonstrate to the nation and to the BC community that the police violence that is used successively against people of color and the black community, is a mental health crisis.
"It's not just something that remains in the criminal justice system as a problem – and we are interested in changing that."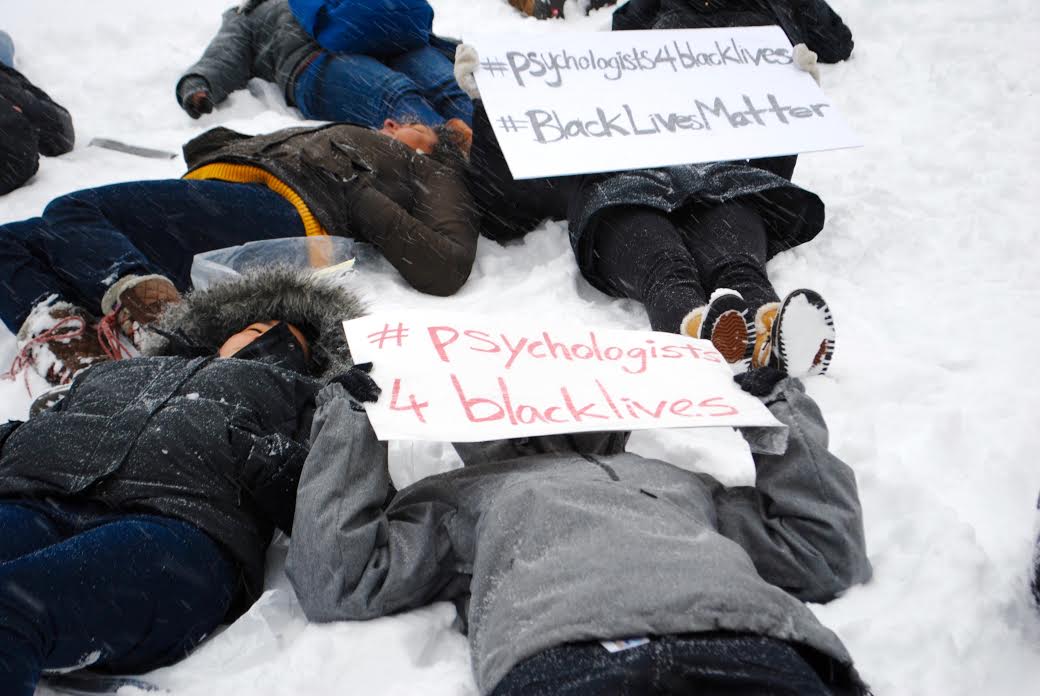 Kevin Ferrara, a graduate student in applied psychology in Lynch, said: "It was started by graduate students in psychology in Chicago, and it's for psychologists and mental health professionals, who we, in the mental health field, perpetuate systemic racism in its own way and this is also a mental health crisis.
"So we, as graduate students in psychology and mental health professionals want to stand up for black lives."
He added: "There are many ways that psychology perpetuates racism, the way we think about and research development and developmental psychology – it often reinforces a lot of stereotypes or doesn't include systemic factors and so, a part of why I am here is to address that. That we as a field of professionals need to address that."
Kimberly Marie Ashby, a fourth-year doctoral candidate in counseling psychology and the visuals coordinate for Eradicate, said: "I came to the Psychologists for Black Lives Matter die-in because I am black student at Boston College, and I feel really committed to combatting all forms of racism here and throughout the world.
"That has given me a lot of agency in my own life, and feelings of pride, and that I'm contributing something."
She added: "I think it's important as an Eradicator to demonstrate that we are in solidarity with Black Lives Matter and that's something we want to bring to this campus."
"Regardless who you are, and what identities you have, regardless of how much power or oppression you experience, white supremacy is something that affects everybody, and that has really negative consequences for our world, so I would say that it's really important for people to invest the privilege they have into combatting racism because people are suffering – people are dying, people are living silently in pain because of the way in which institutional and interpersonal structures of racism play out.
"And it's just time that we take notice of that, and we can't sleep through it – it affects all of us."
We then spoke with some members of the community who braved the harsh weather to ask them what thoughts they had on tonight's demonstration.
Michaela Wynter, Second Year Mental Health Counseling Student, Lynch School of Education, Secretary Treasurer of the Grad Students of Color Association
"I participated in the demonstration because social justice is something that is really salient to me, as well as the Black Lives Matter movement. As a grad student, we don't have a lot of time to participate in these kinds of events, so when I do, I will."
"It's just so important that these lives are honored. A lot of times there are so many names and so many people whose lives have been taken, and it's not lost on me that it could be me. I don't think that there's any difference between me and them. I would want someone to honor my life in some way if there can't be justice."
Brinton Lykes, Professor of Community and Social Psychology, Lynch School of Education, Works with the Center for Human Rights and International Justice
"It was actually 6 o'clock (CST) on this day in 1968 when Martin Luther was shot when he was standing on the balcony in Tennessee where he had gone to participate in the labor struggles. He died about an hour later in the hospital. So this attempt to take that time today, in this moment, was to make connections between the struggle for racial justice in the 60s and the ongoing struggle for the rights and lives of African Americans and other people of color here in the United States."
Jacqueline Sims, Fifth Year Doctoral Candidate in Developmental and Educational Psychology Program, in Lynch School of Education
"Our committee was formed in general because we were concerned that psychologists weren't acknowledging their role in social justice issues and weren't figuring out how we can enact change and work to support all lives, particularly black lives. This fits perfectly with the goals of the committee in that we need to think about what our role is as psychologists in combatting these issues and supporting this cause. From a committee perspective, it lined up really nicely with our goals to integrate social justice into psychology."
"For a lot of us in particular, it was really important because we aren't actually mental health practitioners, we are researchers in applied settings and this is one of the most applied settings right now in our society. So I think that we should be thinking about how we can use our skills as researches to really quantify what the negative repercussions are of these inequities, and figure out how can take ownership of what we can do to address them."