What happens when 99 musical Eagles take on Hungary and Austria
Eagles on the (international) warpath…ooh ah
4,167 Miles away from the comfort of Gasson, 99 Choralers were causing a ruckus one midnight Tollite at a time.
A marathon of a week full of palaces, Hungarian slow claps for encores, pastries, sleep deprivation, weiner schnitzel ("it's fried and delicious, don't question it") and making the clubs bumping' – we had the budaBEST time taking on the streets of Budapest and Vienna.
Though I can assure you none of us actually have a house in Budapest, George Ezra's "Budapest" was sang enough times to last a lifetime, but the various puns and dad jokes about being "hungary"  never seemed to get old (maybe because I was the main offender).
Half of the Chorale almost was left behind in Munich, Germany when we missed our connecting flight due to a mysterious suitcase on the plane, and an apparently very thorough de-icing process, but eventually we all were reunited in the Hotel Eurostars in Budapest, kicking off our adventure.
Here's an inside look at a typical day in the life of the adventurous Choraler:
8:00 am. Wake-up calls. If you're the unlucky roommate to have chosen the bed closest to the phone, you had the pleasure of being greeted by not one, but two lovely wakeup calls from both the front desk and our fearless Chorale officers. Riddled with the loss of voices by the end of the week, the ability to muster any coherent words to prove you at least had the slightest intention of getting up were quite impressive.
8:30 am. Breakfast. Motivation enough to pull yourself together was the thought of missing the a beautiful breakfast that awaited. So many pastries, so little time.
9:00 am. Here's where the days could take a turn- either free time (a perfect opportunity for 99 choralers to get lost in a foreign nation with no cell service), or a guided tour of some of the wonderful things the cities had to offer. We toured enough palaces that I think we may be almost mildly royal.
These sights included but were not limited to:
Budapest
The Fisherman's Bastion: A breathtaking panorama of the both the Buda and Pest sides of the city(who knew they were actually two different places). The number of instas it served background for rivaled those of #gassongrams.
Parliament: Beautiful both inside and out and apparently has a tendency to invoke this pose
Natural Thermal Baths: Nothing helps your aching everything from miles of walking like a morning or evening at the spa.

Vienna
Belvedere Palace: A salty Prince Eugene fled France, became a total rockstar military commander in Vienna and built this palace to rival the looks of Versailles after being rejected by Louis XIV to serve in the French military. Houses one of Vienna's prized gems; The Kiss by Gustav Klimt.
Vienna Opera House: Nothing makes you feel swankier than being able to say you spent your evening at the opera, except maybe being able to say you sang "Exultate Justi" in the Vienna Opera House during your tour.
Schönbrunn Palace: just the "summer home" of royalty, not that impressive or anything.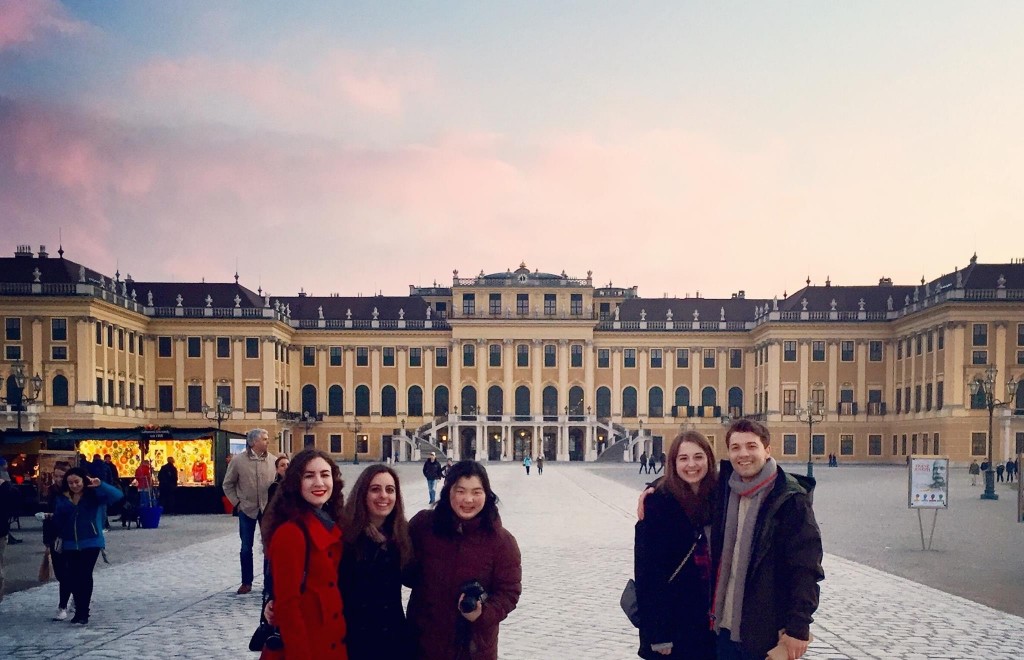 Obligatory squad pic in the royal gardens
Here we also spent some time in one of Vienna's famous Easter markets, enjoying painted eggs, mulled wine and scrambled pancakes (pictured below)
Salzburg: The Hills were alive with the sound of music, and choralers living out their childhood dreams of being members of the Von Trapp squad. Refused to believe she missed the 16 going on 17 cutoff by a couple of years.
5:00 pm. Frocks are on. Bowties are clipped. John Finney is ready to rumble.
The time the countries of Hungary and Austria have been waiting their whole lives to hear the sounds of the BC University Chorale. From two masses to a church full of slow clapping Hungarians demanding not one, not two, but three encores, BC spread their music into the hearts of all.
A highlight performance spot, St. Stephen's Cathedral in the center of Vienna
Evening Activities
9:30 pm. The Obligatory Nap and Rally: It's going to happen whether you want it to or not. An integral component for a successful marathon of a trip. The post dinner, I've-walked-500-miles-today, time zone exhaustion, catches up the minute you let yourself stop for a second, and the instance your head hits the pillow, you're out for a solid 45. You wake up slightly disoriented, but after a quick outfit change you feel born again and ready to take on the night. The nap and rally is the sole mechanism that kept us burning it up on the dance floor until the wee hours of morning. (acceptably implemented at any time and any place such as the bus, a palace, etc.)
11:45 pm. Fresh as a daisy and usually overestimating how quickly we can navigate our to our destination, by some miracle the entire chorale makes it's way to our Tollite (more like ToLITe) spot for the evening.
12:00 pm. Like a perfect Cinderella story, when the clock strikes midnight (in theory, depending on when everyone actually makes it) we grace the streets and the ears of strangers who try to pretend they are in chorale with the official theme song for a choraler in their natural habitat, some Latin tunes, some dangerously quick spinning baritones.

Tollite Spots in Budapest included St. Stephen's Basilica and the Opera House, and in Vienna were Heldenplatz, Michaelerplatz and home to the final Tollite of the trip- the Hofburg Palace.
12:15 am. The night is young.
In Budapest,  99 Choralers walk into a bar (sounds like the beginning to a bad joke), well four bars,  on our "restaurant tour" featuring some Hungarian moonshine (Palinkl) and 'Village Weddings'.
'Tis a gift to be… Szimpla Kert… the Chorale's preferred stomping grounds for Budapest nightlife. No matter where we started off, we always seemed to find our way back to this gem of one of Budapest's famous "ruin pubs".
The Viennese nightlife was composed of Passage, a subway station made club that surprised us with their confetti cannons and random break dancers. Coming to the home stretch of the trip, the infamous "party ponies" make an appearance as we #rallyforMalley
Lutz Der Club should probably change their name to Lutz der Angry Austrians due to the bar fight that unfortunately cut our evening short; there were still so many dance moves up our sleeves the people of Vienna will never get to see 🙁 Despite the earlier end to the evening, this club really seemed to have a way of bringing choralers together for our last hurrah. (best part was the photographer who made us feel choralers feel #famous)
From deep in the midst of the dance floor you can see three wild party ponies in their natural habitat (the trend half used as a way to fend off the european boys, half as a bold pioneer of fashion statement)
N/A am. Slowly but surely the choralers disperse and make it back to the hotel. Vain attempts are made to shower away the seemingly permanent stench of cigarettes and european nightlife and a couple of hours of precious sleep are snuck in before the next whirlwind of a day begins.