I visited Facebook HQ and they basically told me how to ace any final
Listen up, these are tips from the best of the best
Several weeks ago I had the opportunity to visit Facebook headquarters, and shadow an employee for the day. She showed me the ins and outs of Facebook, and even taught me a few things that we could all use while we study for exams this week. So, to my fellow sleep-deprived Tigers, here are few tips I learned at Facebook HQ that will help you survive finals weeks and maybe even graduate in four years… unless you step on the Auburn seal outside Langdon Hall.
You need a creative environment. You need a brain break. You need fuel.
Facebook is honestly one of the coolest places I've ever visited. They want their employees to enjoy their work. Work shouldn't be a stressful thing, it should be something you want to do. So, Facebook fills every corner with bright colors, modern art and comfy furniture. It creates a friendly environment that fosters creativity and hard work. 
As college students surrounded by constant distractions, we also need to find a spot we can sit down and focus. The RBD may not be your ideal study spot, so here are a few secret spaces on Auburn's campus that may help you find the perfect study zone.
If you ever find yourself down the Ginn Course headed towards West Magnolia, keep your eyes pealed for a little waterfall on the left. It is a perfect little study nook on a sunny day. There are even little blocks to sit on while you study with the white noise in the background. If you can only study with minimal distractions, then the personal cubicles in the quiet zone on the third floor of the Student Center are for you. They have a foot rest, lamp and outlets to keep your laptop fully charged. However, my personal favorite spot is the picnic table under the Oak tree next to Langdon. Accompanied with a snack and cup of tea, full focus is ensured.
I am a strong believer in the "brain break," and so is Facebook. We all deserve to reward our hard work. Facebook HQ has strategic areas for this. My favorite (pictured below) was a ping pong table in the middle of one of the concourses.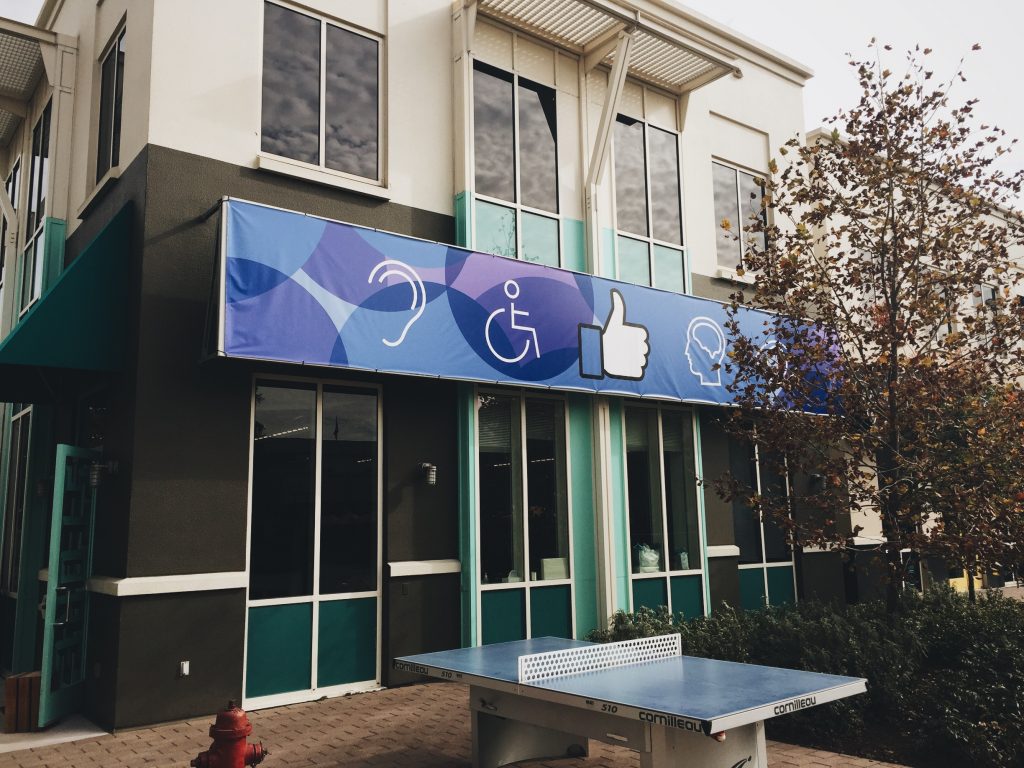 I like taking advantage of my brain breaks from studying by jumping on a treadmill at the Rec and watching an episode or two of Gilmore Girls. Benefits: exercise and relaxation time. Other great spots include Prevail or The Bean in Downtown.
Facebook does not let their employees starve. Their "main campus" is set up like a little town, and it is lined with restaurants that serve every type of food imaginable. Happy tummy = happy worker.
Our brains need to be fueled just as much as our stomachs. We all know you can never go wrong with CFA or The Wellness Kitchen. However, if you're trapped under a pile of books in the RBD, try TigerTownToGo. They deliver from any restaurant, within a couple mile radius, to anywhere on campus, and all you have to do is fill out a little form online! Um, yes please.
We are Auburn. We believe in work. Hard work. Keep up the hard work this finals week Auburn students, and remember there's a month of rest at the finish line.