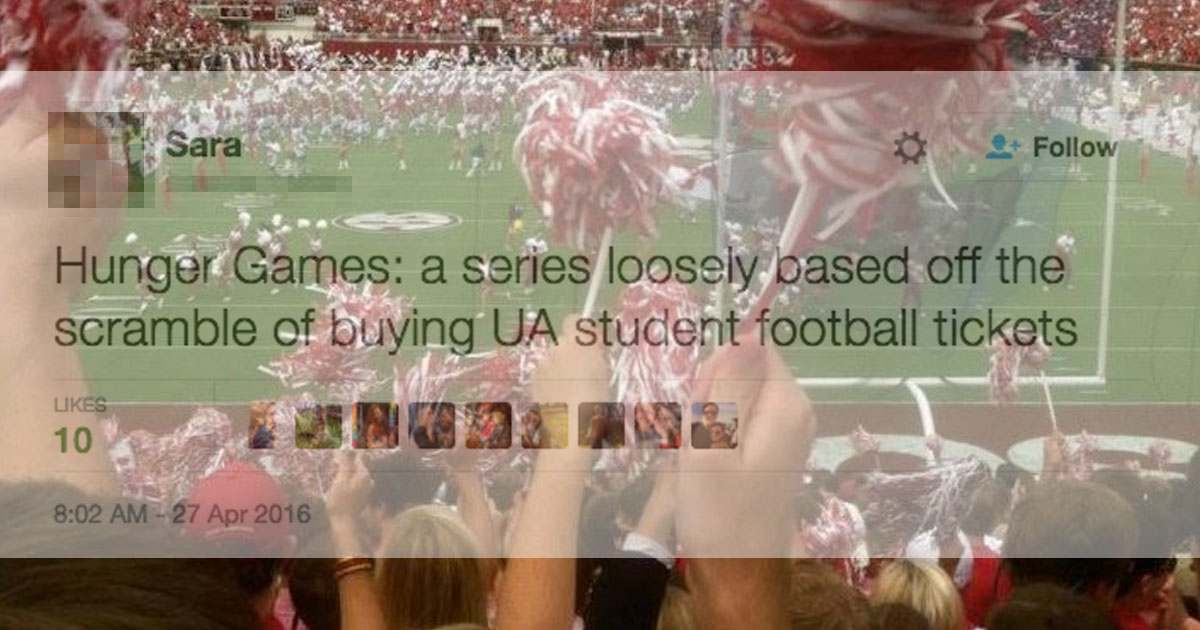 Alabama Football tickets sold out within minutes and people are not happy
'More competitive than trying to buy the Kylie Jenner lip kit'
At 7am today, football ticket packages for next season went on sale. UA students set alarms, pushed back papers and charged all of their devices in preparation for the big moment.
There are 37,000 students at Alabama. Students knew not everyone would get ticket packages, but no one expected tickets to sell out within minutes. And people were not happy.
Some people pointed out the ticket sellout was "classic Alabama" because, well, we're the best.
y'all it takes 45 seconds for football tickets to sell out this is so alabama

— dwyer (@eliza_dwyer) April 27, 2016
We're all football addicts here at Alabama. The fact that student tickets sold out in less than a minute tells the story #RoadTo17

— Wesley Pitts™ (@PAPA_PITTO) April 27, 2016
A lot of people even set their alarms. We can't always wake up for our 8ams, but there's no way we're missing out on tickets.
When you have to go to war for Bama football tickets in the AM pic.twitter.com/XN7HjsTWKE

— Alisha Jackson (@missalisha14) April 27, 2016
https://twitter.com/Alex_Paige_/status/725294762400616448
A few poor souls had downright bad luck.
I Forgot to Opt In for Football Student Tickets: An Alabama Tragedy

— Marissa (@mersacornelius) April 27, 2016
@mersacornelius I Opted In But Forgot To Purchase: A Sequel

— ryann (@step_m0m) April 27, 2016
On top of Alabama football tickets selling out in under 1 minute, all the bagels from panera are sold out before 9am. What is today.

— Sierra Amaro (@omgilysierra) April 27, 2016
Bama Football tickets *for students* sold out in less than 1 min at 7am this morning THEN mybama crashed completely because it's prehistoric

— Allie (@al_ock) April 27, 2016
Some students made references to the Hunger Games.
Tomorrow morning will be my last time buying Alabama student football tickets (aka the Hunger Games) ?

— ajayjay (@alexxasjanay) April 26, 2016
I feel like ordering football tickets at Bama is much like the hunger games

— Tiffany-Marie Golek (@Tiffanyyymarie) April 27, 2016
Hunger Games: a series loosely based off the scramble of buying UA student football tickets

— Sara (@smiley_guiley) April 27, 2016
Or they compared it to other pop culture icons.
Buying Alabama football tickets is just as competitive as buying the Kylie lip kit

— RB (@rbuzzotta) April 27, 2016
And some people vented to anyone (@everyone) who would listen – including Twitter hero Kathleen, who tweeted at the UA Arbor Day Ceremony.
@uasga @UofAlabama @UA_Athletics @TheCrimsonWhite There needs to be a new method for selling student tickets

— Allison Schmidt (@KittySchmidty) April 27, 2016
@BamaParents why cannot Alabama provide every student that opts in for football tickets a pkg??? The stadium holds 100000! Students first

— Kathleen (@HansonKakhanson) April 27, 2016
I AM SO ANGRY AT FUCKING ALABAMA FOOTBALL TICKETS FOR NOT WORKING

— FlirtyUAGentleman (@can_be_both) April 27, 2016
Bryant-Denny seats over 100,000 and Bama's enrollment is only 36,000. Why are student tickets so scarce that they sell out in a few minutes?

— Jethro Torczon (@jatorczon) April 27, 2016
Like how did I even miss getting football tickets for my senior year….

— Allison Schmidt (@KittySchmidty) April 27, 2016
A few villains posted their ticket packages for sale on the Alabama Ticket Exchange Facebook page, but most students were quick to call them out.
The good news? It looks like a few tickets are still being distributed, which means if you didn't get a ticket package the first time around, maybe you're about to get lucky. But remember, we're lucky anyway. We don't go to Auburn.