Which Kardashian is your Big 10 school?
Who said football's not as bitchy as reality TV?
The Kardashians and the Big 10 have more in common than meets the eye. Like the sprawling family, the Big 10 bickers and falls out and occasionally adds a new member. Is the rivalry between Ohio State and Michigan any different from the beef between Blac Chyna and Rob??
Until this very moment, the Kardashians and the Big 10 schools have existed in totally separate universes. One obsessed over by the majority of the Midwest, the other, well also obsessed over by most of the Midwest.
You make think that the nation's best sporting conference has nothing in common with a family of socialites from Los Angeles, but my friend, you could not be more wrong.
So here we go!
Illinois – Kanye West
Conceited and narcissistic, you'd fit right in with Greek life. But you're not an average frat star —you wouldn't be caught dead wearing anything from Vinyard Vines. Like a true god, you can shotgun a beer in under four seconds without throwing up. You might not know everyone at the party, but everyone definitely knows you. Like the rest of the student body, you say you're from Chicago, but actually. Yeah, you moved to the suburbs for high school, but it still counts.
Indiana – Khloe Kardashian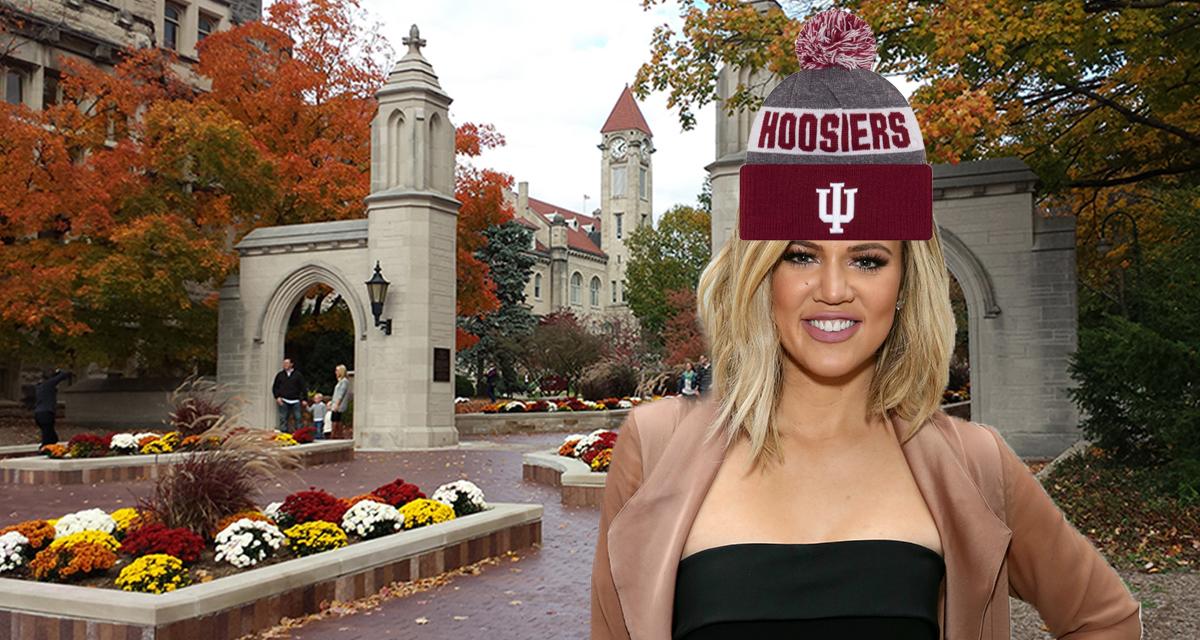 You're better known for partying than any of your personal or professional achievements. Because no one is threatened by you, you get along with just about everyone and are often seen as the "fun, cool girl" of your friend group. Most importantly, your mere existence begs the question: Hoosier daddy?
Iowa – Kourtney Kardashian
Kourtney, with three kids and a fourth on the way, would be the first to wave at the Children's hospital before a big game. Although not the most popular member of the Kardashian/Jenner clan, she continually finds success in her life.
Michigan – Kendall Jenner
Rich, beautiful, and a littttttle bit obsessed with yourself: Kendall Jenner would fit right in on Ann Arbor's campus. You are arguably the most politically active member of the family, even if it seems like maybe you're trying too hard. Then again, over-achieving is in your nature, and even if you are privileged enough to not have to work for it, you do anyway.
Michigan State – Kylie Jenner
Tired of always being the younger brother — or in this case, sister — you wanted to make a name for yourself outside of the family. And you've been successful in doing so — whether it's winning football team or sell-out make up line, people know to take you seriously.
Maryland – Saint West
People think it must be easy being baby, but it's hard work being Mr. West's only son. Yeah, you love drinking out of the bottle, but you're careful not to go too hard 'cause you know you've got a exams in the morning. You're diverse and humble, but you'll gladly flaunt your pricey tailgate apparel.
Minnesota – Blac Chyna
Like your booty, it's nearly impossible to see every part of the huge campus. Yes, you're beautiful, but aside from your looks it's hard to find something enjoyable about you. You're dangerous and cold as ice, and like the student body, the guys you've slept with are just another number.
Nebraska – Caitlyn Jenner
You've gone through some changes, but at the core you're still a loveable dweeb. Previously a minor character, you proved yourself worthy of attention. Your athletic career is your claim to fame, and there's not much to hate on because you keep to yourself.
Northwestern – North West
If you thought for even a second that Northwestern was going to be anyone but North West, then you're not as smart as you think you are.
Ohio State – Kim Kardashian
Much like Kim Kardashian, Ohio State rarely loses anything — but when they do it's significant. Whether it's a diamond ring or a National Championship, you'll be wondering how the hell it happened in the first place. Maybe you shouldn't brag so much, huh? Everyone takes pleasure in your demise, and why shouldn't they? You're on top and everyone just wants to see you fall.
Penn State – Robert Kardashian
You've got a habit for defending horrible people and are willing to look over the bad things they've done just so you can win a court case or football game. Not that it matters, your fans are extremely loyal and would do the same for you as long as you keep seeing results.
Purdue – Rob Kardashian
God, you're insufferable.
Rutgers – Scott Disick
Slutgers is an obvious choice for Lord Disick, as he was nicknamed "STD" in high school and fits in with the overwhelming Jewish population. A partier who doesn't know his limits, Scott is often under fire for his outrageous behavior. Yet, you can't help but love the adorable goof for telling it like it is, shamelessly.
Wisconsin – Kris Jenner
Smart and savvy, you're known as the gal who runs shit. You can get down and dirty —sometimes, a little too dirty—and you'll do anything for that extra 10 percent. The day doesn't end until you've had a well deserved alcoholic beverage, 'cause you study hard but play harder.