These heroic university presidents have spoken out against Trump's decision to revoke DACA
This decision affects nearly 800,000 people
This morning, Attorney General Jeff Sessions announced that President Trump planned to end DACA, a program instituted by Obama to protect minors brought into the US illegally, giving them legal immigration status because they were children.
Congress, get ready to do your job – DACA!

— Donald J. Trump (@realDonaldTrump) September 5, 2017
Sessions described how Trump had given Congress six months to legally rid the 800,000 Dreamers of their status, despite the fact that Obama's administration promised those in 2012 who came forward that deportation would not be enforced.
However, university presidents are defying Trump's order, offering Dreamers safety and security at their colleges.
Janet Napolitano, UC system
Napolitano helped draft the original policy under the Obama administration, and released a statement revealing she is "deeply troubled" by Trump's decision because, "this backward-thinking, far-reaching move threatens to separate families and derail the futures of this country's brightest young minds."
Approximately 4,000 of affected Dreamers attend UC schools like UCLA and UC Irvine. These schools, as well as, UC Berkeley and UC Davis support Napolitano's statements.
Chancellor Block of UCLA has expressed he is "deeply disappointed" by Trump's decision.
Robert Barchi, Rutgers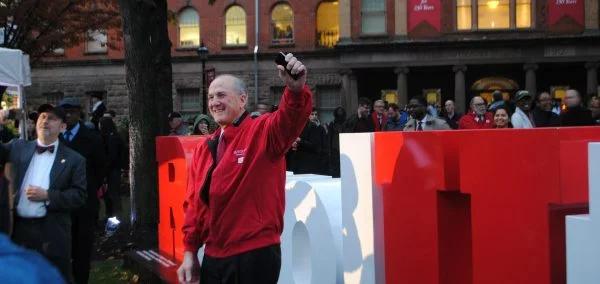 Barchi sent out an email to his students following the Trump's DACA announcement, ensuring that they "remain a vital and valued part of our community of scholars."
He said: "Ending the program would be wrong, unwise, and inconsistent with American values."
Andrew Hamilton, NYU
Though no official statements have been made since the announcement this morning, earlier this week President Hamilton wrote a letter to Trump urging him to reconsider the pending decision.
In his letter he wrote, "What if your family were at risk of being split apart? What if your children, through no fault of their own, were at risk of knowing the only home they knew?"
As well as this, an NYU Dream Team held a demonstration today defending DACA, arguing, "The collective power is a lot stronger than the people in power," and, "education not deportation."
Marc Tessier-Lavigne, Stanford
Similarly, Tessier-Lavigne wrote to the President, defending the Dreamers: "These young people are already full-fledged members of our communities, but, through no fault of their own, face uncertain futures due to their immigration status."
The university "vigorously and adamently opposes" the change, calling it "shameful."
Martha E. Pollack, Cornell
In a statement issued this afternoon, Pollack says the, "Policy reversal puts our DACA students' futures in jeopardy and, as such, is extremely troubling."
She has ensured that, "Cornell since its founding has been committed to diversity and inclusion."
Kent Fuchs, University of Florida President
Fuchs also announced that his school supports and is committed to every student and that all Dreamers, "add significantly to our university's excellence."
He also said: "Maintaining a welcoming environment for talented students is vital to our values and identity."
Benjamin J. Allen, Iowa State
Allen has issued a response, promising that, regardless of immigration status, "Iowa State strives to be a welcoming, inclusive, and equitable place for all individuals."
Michael Crow, Arizona State
Though no comment has been issued since Trump's official announcement, Crow issued a reminder earlier in the week that, "A close read of history and the Arizona constitution shows Arizona's founders clearly intended that we get everybody educated.
"This is in fact what we intend to do."
Taylor Revely, William & Mary
Revely defended her 23 students who were Dreamers and should have been covered by the DACA program.
She said, "They belong here, and we strongly believe they should be allowed to finish their educations. Our welcome is unwavering for each W&M student, regardless of his or her national origin or immigration status."
Christopher L. Eisgruber, Princeton
Eisengruber addressed Congress in his statement, reminding them it is within their power, "to give these young people the protections and peace of mind that DACA provided, and going beyond that, a path to permanent residence and citinzenship."
He then expressed his beliefs that it would be the national interest for Dreamers to remain, as well as it being, "very much the right thing to do."
John I. Jenkins, Notre Dame
In Jenkins' statement, he labels the decision to discontinue DACA as foolish, cruel, and un-American:
"Foolish because it drives away talented people the country needs; cruel because it abandons people who have done nothing wrong and have known life only in the United States; and un-American because we have always welcomed immigrants to our land of opportunity."
Kumble Subbaswamy, University of Massachusetts Amherst
In light of Trump's decision, Subbaswamy assured the, "entire campus community that my administration and I will do everything within our power to provide the support necessary for our most vulnerable students to pursue their educational advancement."
Michael A. McRobbie, Indiana
McRobbie said: "Indiana University is deeply disappointed in the Trump administration's decision to end the Deferred Action for Childhood Arrivals program."
However, he also promises protection, as, "our university will not waver in its longstanding commitment to the diverse and inclusive environment that is vital to an excellent education."
Amy Gutmann, UPenn
Gutmann expresses her disappointment with Trump's decision, because it, "threatens hundreds of thousands of young people who were raised in America, love this country and are an integral part of the American Dream."
In addition, she says it is, "a heartbreaking day for our country."