Students in blackface, the n-word outside a teacher's door and swastika graffiti: Welcome to a college in racial meltdown
The University of New Hampshire has seen a wave of racist incidents
A week ago, just before finals began at the University of New Hampshire, a fierce debate began after a white student wore a poncho on Cinco de Mayo.
The video of UNH sophomore Danique Montique, berating the student, went viral. Two days later, she contacted The Tab to say a white student in blackface uploaded a picture to Instagram, repeating a line from her status about the argument.
The next day, Danique told us about swastikas found daubed on the wall of a residence hall. The day after, a student representative was fired for uploading a picture of a friend in blackface – the first of three such pictures going around. Last night, students heard "nigger" had been scrawled on a noticeboard outside a black teacher's office, followed by a video of a white student appearing to mimic a slave.
UNH is seemingly in the grip of a meltdown over racist incidents. Now minority students are refusing to sit exams to protest the university's lack of response, and each day they seem to face another hate crime. The Tab has been covering each incident on campus – here's everything that's happened so far.
The UNH racism scandal began with a video of a sophomore taking a white student to task for wearing a poncho on Cinco de Mayo
Danique Montique spotted a student known as Mike wearing a poncho and a Corona hat on Cinco de Mayo.
"This is not the appropriate way to celebrate a holiday," she told him in the video.
"Mike wears whatever he wants," he responded. "I don't care! I'm here to have fun. I'm celebrating because I'm having fun with my friends."
The video, which was shared thousands of times, sparked uproar on campus. Since then Danique has been inundated with negative comments. "People have called me the b-word, the c-word, the n-word, and that I should go die," she told us.
Two days later, Danique was sent an Instagram of a white student in blackface
This was just the first of many pictures to surface. Danique saw the picture of a student in blackface, uploaded with the caption: "And I was forced to become the very thing society deemed me to be, angry" – a reference to her status about the poncho incident earlier that week.
The next picture was posted with the caption: "So I'mma leave this here. See who I can trigger. Because I still hate every last one of you."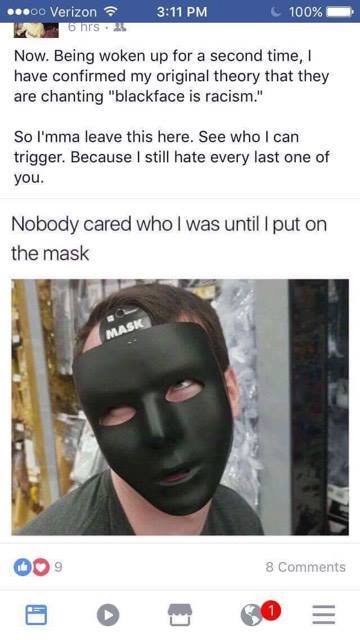 The next day, swastikas were graffitied on a residence hall
Nine crudely drawn swastikas appeared on the wall of Stoke Residence Hall. "I was absolutely outraged but not surprised," Fay DiBella, the president of UNH Hillel told The Tab. "The racism on this campus is unbelievable. It makes me really worried and concerned for students who live on campus."
Many students were disappointed with the university's response. Kaleigh Sosa, Stoke's Hall Director dismissed it as "an act of bias and vandalism."
"I personally feel this whole incident is simply disheartening and alarming," said Nelson Idahosa, a freshman involved in the BSU. "It shows this institution has been racist and insensitive to other people's feelings."
At the same time, All Eyes on UNH, a page set up to "expose injustices" on campus, posted about a man spotted walking around Durham, New Hampshire, wearing a sombrero, poncho and fake mustache and carrying maracas. Other students have heard him shout "Mike wears what he wants," a line spoken by the white student wearing a poncho in Danique's video.
Then, a student representative was fired for posting a picture of another guy in blackface
Christina Bianco, the Fraternity and Sorority Life Affairs Liaison in UNH's Student Senate, was fired for uploading a picture of a student in blackface.
It was uploaded with the caption: "Ur bf likes us more than u."
All Eyes on UNH posted: "Blackface is racism. #racistunh is real. The issue of racism at UNH is much bigger than just Cinco de Mayo and cultural appropriation. The greater UNH community seems to be complacent when it comes racism on campus."
And last night, students were left reeling after the n-word was found written across the office of a black teacher, and a white student appeared to mimic a slave
The latest twist in the week of scandal saw two incidents in one day. The first was the sight of the n-word in huge capital letters defacing a noticeboard in a freshman dorm. It was directly opposite the office of a black teacher, Darnelle Bosquet-Fleurival. The words "be an ally" that had appeared above the noticeboard were also rearranged to read: "be anal."
The second incident was a Snapchat video circulating of a white student in a crate, singing "Amazing Grace," a hymn with unmistakable connotations to slavery.
"Everyday you wake up to something new," Danique said. "I can't study because I haven't had time to process anything. I'm tired. I can't eat, or sleep. This is affecting my mental state at this point. It's affecting a lot of POC mental states. It's draining."
Danique related both of these incidents on speakerphone to The Tab among a group of students campaigning the university to speak out against the spike of racist events – one by one, they voiced their frustrations.
"Right now people of color are feeling a lot of tension," explains Javen Morse, a junior at UNH majoring in Political Science. "We're very angry – we're struggling to stay mentally and physically sturdy. Especially during finals – our professors expect us to prepare and take these exams. It's tough, and a lot of people have broken down and can't deal with it anymore. It's hard to maintain a strong unit."
"I think it's completely ridiculous," added Faith Heredia. "It's so frustrating, these incidents are targeting marginalized groups on campus and it's bullshit the university hasn't done anything. We've been protesting for a very long time. None of us have slept with this. This is just one of many events, this is not new at this university."
A spokesperson for UNH told us:
"Every member of our community deserves to feel safe and respected, and we will not tolerate threatening behavior, discrimination or bullying on social media or in person and will fight against it with all means available to us including enforcement of the Student Rights, Rules, and Responsibilities and referral to criminal law enforcement authorities. We listened carefully to the students in a well-attended forum Thursday night and we look forward to working in partnership with students, faculty and staff to improve our campus culture and address overt and covert acts of hate and racism."