'He was my best friend – and then he joined ISIS': We met the Syrian students living in exile in Lebanon
'He sent a picture of a dead person. The body was rotten. It was just his head'
Ahmad Sassem is an undergraduate majoring in English Literature. He's in his third year of college, and we meet him in the McDonald's across the road from campus where he hangs with his friends after class.
We're in the dusty Lebanese town of Zahlé, just over half an hour from the border with Syria. And Ahmad comes from Raqqa, the capital city of the Islamic State, or the area controlled by the terror group known as ISIS, where many of his family members still live.
As the war rages in Syria, he is a student in exile – one of two we spoke to in this farming town in the Bekaa Valley, a world away from Lebanon's cosmopolitan capital Beirut. Ahmad hasn't lived in his home country since the age of 14, but once in a while receives snapshots of life back home, sometimes unsettlingly graphic ones.
One of his best friends from home joined ISIS about two years ago. "He's not just a friend – he's like my own brother," says Ahmad. Then we heard he had joined ISIS."
Joining the terror group put an abrupt end to their friendship. "He has changed. When I spoke to him, I spoke to him like I used to, and he became very formal."
Ahmad says on one occasion, his former friend bragged about killing a man on WhatsApp, sending him a picture of a severed head.
"He sent a picture of a dead person. 'What is this?' 'Oh, this man I killed.' He said that. To show off. I was surprised by how fast he changed."
The photo didn't have the intended effect: "It was dark, at night, the picture. Maybe it was from a previous battle. I don't believe he killed him. The body was rotten. It was just his head. He held the head."
And since then, the two haven't spoken. "After he got really involved in ISIS, we are not in touch anymore. When I asked him why he did this, he said 'For my own protection. I did this for my own family protection.' There are rapings of girls, house break-ins, stonings. And if some member of his family is with ISIS, he can protect them. For people in Raqqa, seeing a dead body is just normal. It happens every day – they get used to it."
Describing the power of persuasion ISIS wields over some of his countrymen, including friends and relatives, Ahmad gives a poetic image, as if ISIS are snake whisperers: "There is something in their talking – in their way of convincing. It's like magic."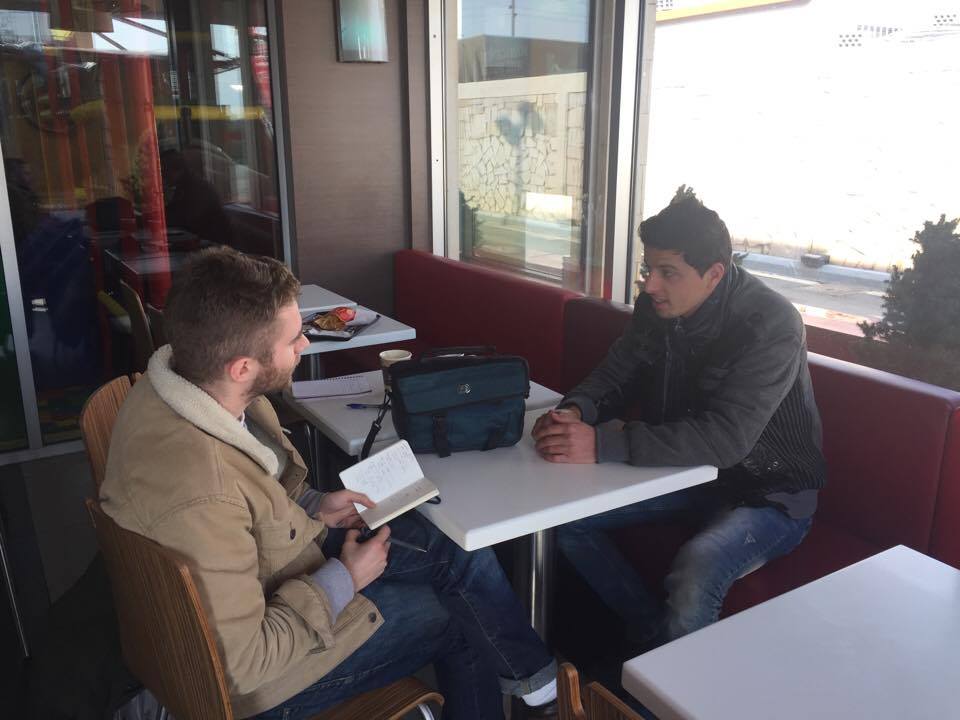 For Ahmad, what happens in ISIS territory isn't a distant news story. "All my relatives are in Raqqa. There were moments that were very terrifying for them – seeing the piles of dead bodies, and the bombing and the shattered bodies in front of them. They saw an explosion."
There is no free internet in Raqqa, but there are places ISIS allows citizens to go online, like internet cafes. Ahmad says he sometimes has the feeling that his relatives are being watched over when he speaks to them.
"They say 'What can I say?' Maybe one of the members of ISIS is sitting next to them – they can't say anything. I asked them about the general atmosphere in Raqqa. They always praise God and say: 'It is fine! It is good!' They can't say anything."
Ahmad studies on a UN scholarship, and lives in a three-room apartment with four brothers and a sister, as well as two brothers and one sister from another mother. To help pay the rent he takes on work when he's not studying – polishing tiles and painting walls for local bosses, who often come up with bullshit reasons for underpaying him.
Recently he has been struggling with his residency status. He has been taken to dark rooms by Lebanese security officials and asked why his residency is out of date. "If they are generous, they won't touch me. It's a little bit scary."
Compared to the thousands of other exiled Syrians in this area, though, he is lucky. On the roads out of Zahlé, there are tent cities, temporary shelters for Syrian refugees. Many are on the side of the road, makeshift shelters under scrap. The one we visit is down a dirt track in between fields. It's raining and dark when we visit the tent city run by Ibrahim Allouche, a Syrian refugee who was once a builder living in Cyprus.
Over a million Syrians have come to Lebanon because of the war and half of them live like this – there are no formal refugee camps. They are scattered across the country in what the UN calls "substandard" housing. Before us are a smattering of tents: advertising hoarding wrapped around poles. A cell phone poster makes up the side of one home, another next-door has the face of a local politician stretched around it. Some have gas heaters inside to keep out the cold and the smell of them drifts through the air.
Ibrahim introduces us to some of the refugees here – a mix of Syrians from Aleppo, Homs and Raqqa – and a woman wheels her daughter into the camp, wailing. The scene feels faintly medieval. The child lies slumped in the chair and the woman shouts: "For God's sake, please help us." Ibrahim says she often comes in asking for money as she can't work. Work for most Syrians in the camp is unreliable and underpaid – you might be able to earn $6 for a day's labor.
Ibrahim has been in this camp for years. "We were terribly traumatized when we first arrived," he explains. "For 20 days after I got here, I wasn't sleeping because when the sound of an airplane would go over my head, I would hit the ground, shouting at my family to do the same. I laugh now, but I didn't dare to sleep then."
Thanks to a UN program, some young people whose education was cut short by the war have been able to resume their studies in Lebanon. One of them is Osama Daher, a 20-year-old nursing student from Qusayr, just a few miles across the Syrian border.
He came to Lebanon four years ago after his hometown was shelled, and his father killed. We meet him in a cavernous cake shop and cafe by the side of the highway in Zahlé. He is quietly spoken, and speaks precisely via our translator, Rami Aysha. "I was walking from home to school when I heard a shell explode," he recalls. "My father was killed outside the mosque."
Osama suspects the Syrian Army fired the shell. In any event, he says: "That changed my life."
Before the war, he planned to study in Aleppo to become a scholar, an English teacher at university. He now lives in a three bedroom apartment on the outskirts of Zahlé – his mother, four boys, and five girls. "In the beginning it was very hard. But you have to get used to it."
Osama said he spend two years at home, rarely leaving his apartment, traumatized and unable to work.
Now in nursing school, he endures a punishing schedule to stay in education. He describes a vicious cycle of sleeplessness, studying – and because he can't afford textbooks – copying out pages by hand.
"I wake up at 5.30am to study and get ready for school at 7am. I study until 2pm, copying out textbooks during recess. Then I return home, and from 3pm until midnight, I study and copy textbooks, with an hour of break in between."
"I'm worried I'm not going to finish because of the money," he says. He needs it for textbooks, but has to spend what little he has on commuting to school, an hour's drive away.
"I have lost hope that I will ever return to Syria," he explains. "But if I had a better financial situation, I could finish my studies and help my people, here in Lebanon or in Syria. I want to graduate from here. I want to achieve my dream. All these hardships will give a result by the end."
Ahmad isn't optimistic about returning to his hometown of Raqqa, but that doesn't stop him from imagining it. He wants to go back to Syria to live and work and reacquaint himself with his friends and family. Though, he says, reconnecting with some of them will be strange or even impossible, given their recent affiliations.
"There are a lot of relatives of mine who joined ISIS," he tells us. His brother by another mother was one of them, and was killed in an explosion. "You have something here called a brain – use it," he says, pointing at his head. "I feel sorry for them. They are stupid."
We ask him over the McDonald's table whether he thinks he could have been lured by ISIS if he'd stayed in Raqqa. "No," he answers. "70 percent no."
He describes Raqqa as "a disaster" but says people he knows there "are buying and marrying and giving birth to children and working – they have a normal life. We don't know when this war will end, so they carry on."
We ask him about the city's feared secret police, and he recalls a time when his uncle in Raqqa didn't close his shop in time for prayer. "When the ISIS police came and saw his shop open, they closed it for two days as a punishment. They said if this was repeated, it would be closed forever."
His female cousins in Raqqa didn't used to have to cover their face before the war, but now they do. He says they can go to the market, but certainly can't travel alone.
Like all the Syrians living in exile in Lebanon, Ahmad waits for the moment he can journey back down the Beirut-Damascus road to the border. "I hope they find a solution, so we can join our relatives again and rebuild Syria."