Activists at the D.C Women's March tell us why they protest
'I couldn't live with myself if I didn't'

An estimated half a million people attended the Women's March on Washington just one day after Donald Trump was sworn in as the 45th President of the US.
The march aimed to unite women of diverse backgrounds hailing from across the country. As protesters began their descent on the Capital, I asked some of them what made them take to D.C.
Ana Matronic, NY
"I march for LGBT lives, for black lives, for immigration and for my grandmother and my sisters. Really I'm here for all women. Whether they were born with a pussy or not."
Tessa, Maine
"I'm marching for the environment. I just don't understand why no one but environmental activists like me are talking about those issues. I also want to control my body and I'm concerned about reproductive rights. I just want to be recognized as an equal."
Michele and her daughter Sasha, NYC
"She [points to Sasha] is a huge women's rights activist rockstar and she wanted to be here today. Obviously it's important for me to show my support – for her and for all women. Trump represents injustice and we're here as a source of positivity for the voiceless today."
Roxanne, West Virginia
"I am here today because I truly believe we can change things at a grassroots level. There are marches and rallies here in this country and elsewhere today. That speaks volumes. We are all standing in solidarity. For me, I just don't want him to fuck up the progress made the last 8 years. However, we are here for all women. The women who voted for Hillary, the women who voted for Trump and the women who didn't vote at all."
Rosie and family, Connecticut
"We felt strongly that we had to be here today to show that we don't agree with the message of our new president. We have to represent and allow congress to be aware of the fact that the majority of people do not want this."
Rosie's daughter: "Women empowerment is more important than ever now. It's my future."
Frankie, Katherine and Margo, Virginia
"I want to stand up for women. If Trump says 'grab by the pussy,' I say no, pervert. This is my body. I deserve to protect it. Consent is so important."
"I want to protest for climate change because the administration doesn't believe in its existence and it's crazy. For me, it should be a priority for us."
"Climate change. Not enough people realize how serious it is. It will worsen if people don't educate themselves and take a stand. There is no other way to send a message than this."
Eileen, Virginia
"I'm here because its history and I'm here for my rights as a woman. I want respect. He never said anything good about women or minorities. I just want to say I'm here."
Bambi, Virginia
"I'm here marching for the marginalized and to lend a voice to the LGBT community and equality for women."
Shawn, NY
"I'm here because I'm concerned about the vitriol. Those words have real impact and broad stroke considering the seat of power. The only way to counter that is to show up in force and send a message that we the people, belong here and are the majority. I couldn't live with myself if I didn't."
Dotnaces, NY
"I'm here because I have an 18 year-old daughter. I'm worried about healthcare, and environment and I need her to have a safe place. This was her first year to vote and the result was so disheartening for her. I wanted to show her how to use her voice."
Terri, North Carolina
"I'm here for women's rights in general, man. Women should be able to do whatever they want. Pro-life, pro-choice, whatever. Nothing should be regulated."
Elena, Joelle, and Leanna, Maryland
"I'm here because I need to help defend rights from a person who will take them away. He goes against all of my morals."
"I am here because it's nice after all that's happened this year to see unity. I know even though this man is our president we can look at him with distaste and stand together in that opinion."
"We come from a very progressive town in Maryland. Never had any issues with race. But we've seen an increase of hatefulness and racial slurs and inappropriate comments and I feel like that has a direct correlation to him and the attention he's gotten because of it. I think it's a concern and we need to voice that and move forward."
Brittany, Brooklyn
"For me, today means that we stop normalizing not misogyny in society. I'm marching because frankly it's not fair that he won and she lost."
Betsy, Kentucky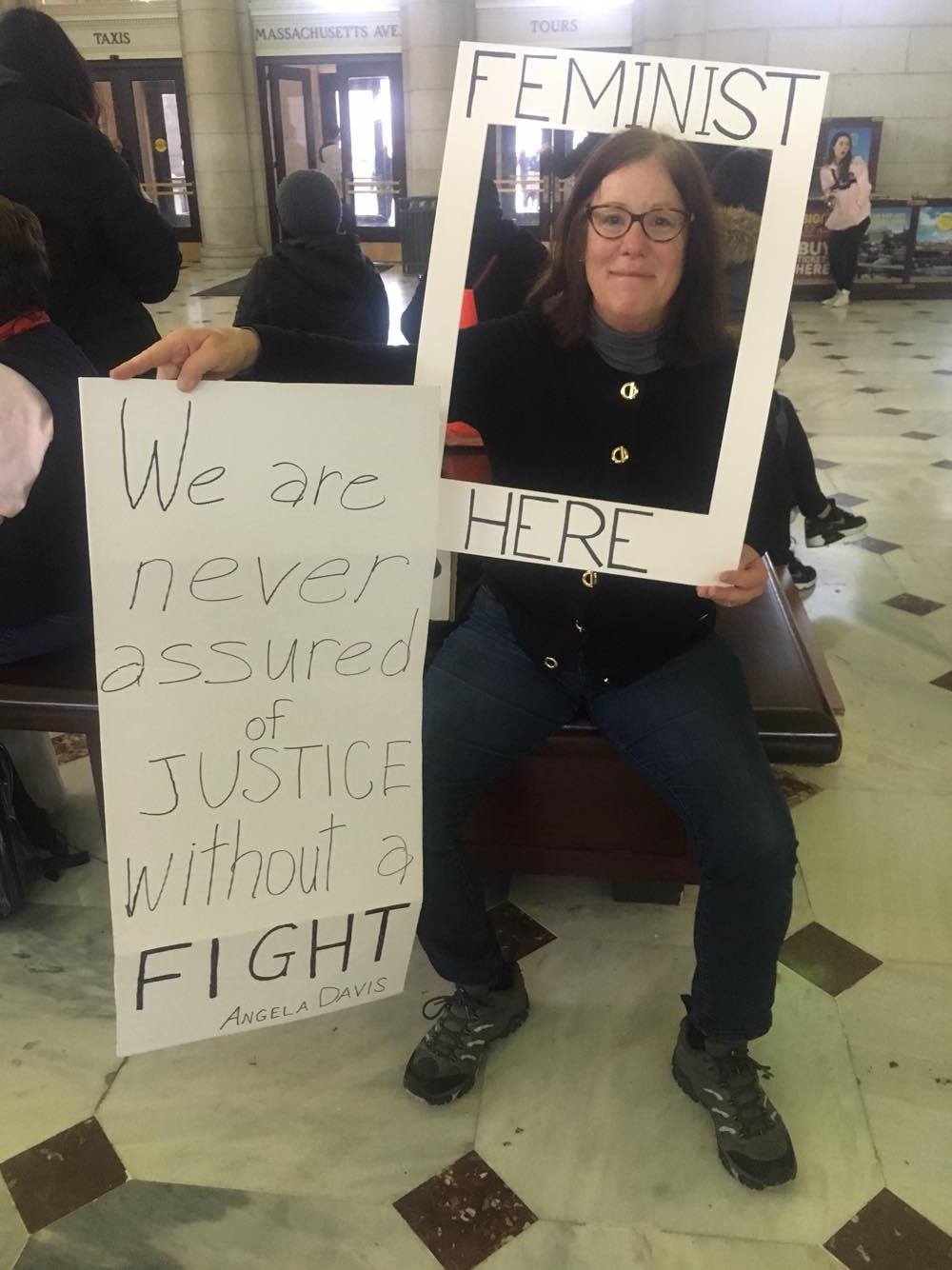 "Me and my daughter are here because we are strong women from Kentucky. I want to add to the numbers. This is an opportunity to make noise."
Teresa, Washington, D.C.
"No one person can take away our rights. This is our country. 'We the people,' you know?"
Morgon, Minneapolis
"From a personal standpoint I'm most worried about first amendment rights. All of that falls under the first amendment is being threatened by the new administration."
Alma, Ohio
"My husband was just able to come to the U.S. I believe in immigration and access to better opportunities for people like us. True power comes from hearts and minds. I see that today."
Christine, Tucson
"I'm here simply because democracy cannot defend itself."
Amanda, Virginia
"I'm here wearing my grandmothers dress because she and many other male and female family members believed in the reality of equality before I was even born. I'm not here to protest Trump but here to send a message that rights should not be taken away or limited."
Alyssa, Maryland
"America should be a safe space in the world and its inhabitants don't deserve to live in fear of being who they are."
Core Dance team, Atlanta
"We just flew in an hour ago. We are here for simply human rights. Freedom of expression must be maintained."
Kim, Alabama
"All of my friends and I just decided to here last minute. Our husbands are marching today as well. It's important for everyone -regardless of gender – to stand up and speak out."
Raya, New Jersey
"Women's rights. Period. You don't have a pussy, you don't have an opinion."