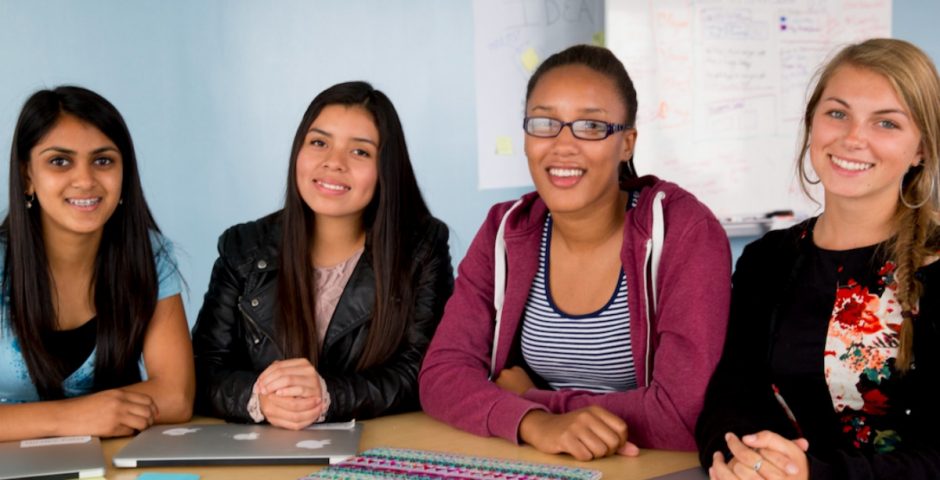 This just in: Girls do code
Girls Who Code works to close the gender gap
Girls Who Code is a national, non-profit organization working to close the gender gap in the technology and engineering sectors. "With support from public and private partners, Girls Who Code works to educate, inspire, and equip high school girls with the skills and resources to pursue opportunities in computing fields."
In middle school, 74 percent of girls express interest in Science, Technology, Engineering and Math (STEM), but when choosing a college major, just 0.4 percent of high school girls select computer science.
While 57 percent of bachelor degrees are earned by women, just 12 percent of computer science degrees are awarded to women.
Women today represent 18 percent of all computer science graduates. In 1984, they represented 37 percent.
The organization even released a satirical video about why women are underrepresented in the computer science community.
"Learning to code is a gift and skill that, in today's tech crazed society, sets you apart from your peers," said teaching assistant Rebecca Jellinek. "For many of the students, computer science had not been framed as a realistic pursuit – either their high schools don't offer programming or robotics courses, or if they do, the classes are dominated by the boys." Environments like these are incredibly discouraging, and Jellinek herself has experienced them.
"We want to achieve gender parody in the tech and computing sectors," says Chrissy Ziccarelli, the Deputy Director of Instruction. "We do that by designing programs that not only educate students but inspire and equip them with all of the skills we believe they need to succeed in the tech industry."
Founded in 2012 with one pilot classroom of 20 girls, Girls Who Code will have worked with over 10,000 students by the end of this year. 90 percent went on to major or minor in computer science or a closely related field, 77 percent of girls changed paths because of Girls Who Code, and 92 percent of program participants taught someone else to code.
The program itself is a seven-week computer science course that embeds classrooms in technology companies and universities. Students learn the fundamentals of computer science – from robotics to how to build a webpage – while gaining exposure to the tech industry and mentorship from women working in technology.
Today, every Girls Who Code classroom consists of one teacher, two teaching assistants, and 20 students. As a teaching assistant at the BlackRock program, Rebecca has been given unique opportunity of both leading the classroom and working closely with students when they run into problems. The program heightens in difficulty week by week and the girl's growth is tremendous.
"We are now in week six, so the girls are working in groups to create apps, games, websites, and more," said Rebecca. "Looking back at week one, they would probably laugh at how much they struggled."
Rebecca knew she was going to get close with the students, but she did not expect to become so attached to them. "Seeing their faces every morning is what has motivated me to wake up at 6am every day for the past seven weeks," she said.
The unfortunate reality is that it takes a lot of bravery to code – even more when you're a girl. "Boys are taught to be brave, but girls are taught to be perfect," said Rebecca. "I believe in exposing girls to computer science because it gives them permission to fail, so that they then may grow beyond their/society's expectations."
On top of coding, Rebecca and her classroom attended panels from top BlackRock executives, sat in on startup pitches to Venture Capitalist firms, rang the closing bell at the New York Stock Exchange, and interacted with Hewlett Packard Enterprise's cyber security technologies. These trips exposed the girls to careers in tech and gave them perspective in the lives of female engineers.
While Rebecca is not a student, she has learned that "computer science allows you to attach yourself to whatever industry you're passionate about." As she enters her junior year at Boston University, it's comforting to know she is not locked into one field.
"My future is flexible and it is whatever I choose to create it."