We used the Honey app for a week in an attempt to save money
It's basically glorified couponing
If you're anything like me, you probably think of couponing as a past-time for 40 year old soccer moms. Then, I heard about an app called Honey.
Honey is a web browser add-on that finds coupons from all kinds of places that you can use for the websites you browse. The idea behind it is to get rid of the annoyance that comes from finding individual coupons yourself, collecting them all in one place and applying them best.
With discounts for over 100 stores at its finger tips it's bound to get you savings, right?
In hopes of saving some extra cash with my online shopping habits still a bit out of hand, I decided to try this supposedly magical, money-saving app for a week.
I spent a week doing this for sites like Tobi, ASOS, Urban Outfitter s- basically every store that a college student clothing addict would frequent.
Much to my surprise, the app found no useful coupons to match the stores I browsed. It spent minutes going through dozens of possible price matches but most codes were expired or not applicable.
Once at the checkout cart, Honey automatically enables and tries coupon codes into the "Promotion code" bar without you having to lift a finger. The app doesn't bother you with the specifics of the coupons it's trying, it merely goes through and tries, "coupon 1 of 20, 2 of 20".
Frustrated by this, I asked my friend Laila Husain, a fellow 20 year old UVA student, about her experience. She agreed that the concept is great but the execution is a bit poor.
"I love the concept, and think it's definitely long overdue. It's great how it pulls out coupon codes from the most places and saves you so much work (checking different sites, trying them out yourself). There are just a couple of problems.
"First, I wish they would update their codes more actively. Sometimes I get hit with one that expired in 2014. I know they don't update them manually but maybe working that out on the software side," she explained. Most coupons expire within a month or so, making it a bit ridiculous that the app is trying to make coupons that are two years old.
She also confirmed my experiences with website crashes while Honey was refreshing pages: "sometimes, on a website Honey reloads the page and exits you out of the checkout process which is annoying but not enough to invalidate how good it is."
She made a good point that I hadn't considered when she said: "Websites like Student Beans and UniDays have their own personalized coupon codes for users. I wish there was a way to input our login information to that in Honey so that it could extract our codes. It's a tall order but overall the plug in is a huge convenience. Definitely not life changing, but long overdue and very cool."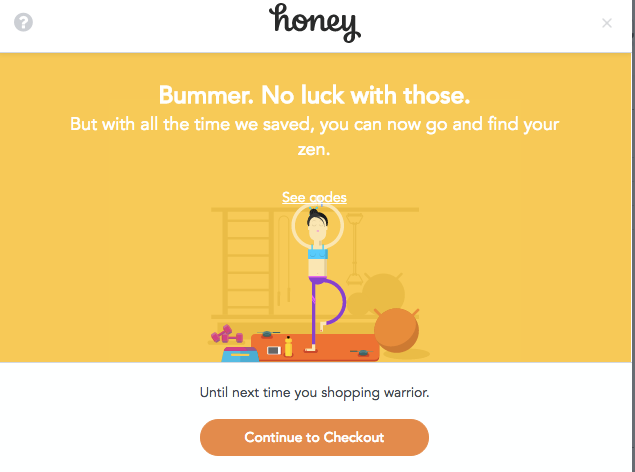 Honey is a great concept. Let's compile coupons and help everyone save money and take out the annoyance of searching through dozens manually.
However, the execution of it really missed the mark for me. The web extension should eliminate outdated coupons to save time searching when nothing is going to match. Don't get me wrong, it takes less than a minute for Honey to search through it's coupons — it's not like I have to sit at my computer for half an hour.
I was excited to try the app in the hopes of saving at least a little bit of cash during my online shopping sprees, but I have to say I was disappointed.
More articles recommended by this author