Getting a summer job in NOVA is almost impossible
We're all gonna end up working at Giant
Every summer when you come home from school, you've got priorities. Maybe you're heading into an internship. Maybe you're planning on having a go at that summer reading list you never finished last year (and maybe the year before that too). Or maybe you're fortunate enough to be working on your tan from June until the end of August. But for many college students, you're looking for a summer job to make some much-needed spending money. For your sake, I hope you don't live in Northern Virginia.
Apparently 'Help Wanted' signs are misleading…
Since I couldn't do the researching myself (I have a summer job ONLY because my manager from high school graciously allows me to pick up hours when I'm home), a friend of mine looking for a summer job agreed to be my guinea pig.
Cady Belsky, a sophomore at Christopher Newport University, applied online, on paper and in person to several different establishments over a span of three weeks. These establishments included retail (Five Below, Ross, BJ's Wholesale, Target and Costco Wholesale), grocery (Aldi, Harris Teeter and Giant) and fast food (Subway). Each employer offered completely different hours and wages.
Towards the end of the month, guess what? Not a single one had answered. Concerned, Cady even called a few of the places she had applied to in order to check the status of her applications. One store had her on hold for over an hour while she tried to reach a manager. Another told her that the applications were still being considered. And yet another that she left a voicemail with, didn't even call her back to answer her questions.
Isn't summer supposed to be enjoyable?
With her impending fate of being jobless this summer, Cady had this to say: "It's really annoying how you apply to a million places and they just never contact you back so you're left wondering if you just weren't wanted or if the application even got to them."
In fact, a person who was kind enough to answer her questions on the phone gave us some interesting insight as to how the process actually works. Our correspondent told Cady that sometimes the manager (at this particular establishment) "just doesn't get to the applications, so it was possible that [her] application wasn't even seen."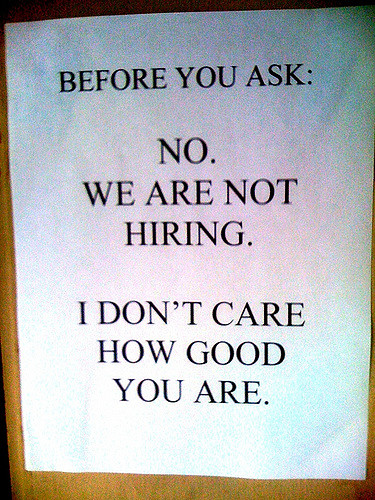 Why the trouble getting a job in NOVA?
Being a highly populated area, Northern Virginia is home to many people looking for a job. Not to mention the many high school students already here who the college students have to compete with during their vacations. The reality is, summer help isn't always ideal to employers. They would rather have someone who is available to take on hours for a longer time span than three or four months.
After a little over a month, Cady did manage to secure a summer job at Giant, a local grocery store. When asked how she felt about it, she was less than enthused. "It's only $7.60 an hour and I can only hope to get enough hours." Although she was hoping to be accepted by a more lucrative employer, she is very happy to finally be working this summer. She hopes to be able to accrue as many hours as possible over the next few months.
A bit of advice…
As far as advice goes, try not living in NOVA. But since that's obviously not an option for many, I have some better advice for you. If you apply somewhere and don't hear back, call after a week. Ask to speak to the manager or whomever deals with job applications. The only reason that Cady achieved her goal of obtaining a job is because she was proactive enough to call them when she wasn't receiving information. Who knows? Maybe she was the only one who bothered to call. Maybe that's why she's been hired now.