We sat down with Miley Cyrus' favorite jewelry designer
Talking feminism, fruit stands and all things whimsical with Susan Alexandra
Susan Alexandra will always give you a hand. And a smile. And some watermelons, stars, fries, rainbows and even shrimp – all motifs that show up in her delicate, handcrafted jewelry. Her poppy, vivid work has graced the wrists, necks and digits of such luminaries as Miley Cyrus and Ryan Hemsworth and shown up in the pages of Teen Vogue, Nylon and Bullett. Her influences are wide-ranging, from Frida Kahlo's lace gowns to Oilily patterns to hip-hop to watermelon candies. We spoke to the designer about her artistic journey and finding inspiration everywhere.
When and how did the jewelry-making bug first bite? What made you sweet on this medium in particular?
I've been making jewelry since I was a wee little lass. Very different pieces than what I am making now. I have always been wild for jewelry, especially pieces I couldn't afford, so I decided to take matters into my own hands and create pieces that were reminiscent of the baubles I desired.
My current style of jewelry was conceived accidentally. I took a metal work class where we were taught to focus on precision and neatness – two areas where I do not excel. To cover wonky seams and edges, I painted my creations and from this, my signature style was born.
Your work is intricate, featuring a riot of hands, hearts, pop icons, fruits and florals. What do these symbols mean to you/why do you gravitate towards them?
I have always been delighted by colors and whimsical, magical objects. When creating jewelry, which is in essence, tiny personal relics you carry around on your body, I decided I wanted to bring my favorite things. I think living in NYC absolutely influenced my aesthetic. This is such a terrifying and intimidating city, it forced me to really want to dress in a manner that was both hopeful and protective. I feel that looking down and a bracelet or necklace and seeing all these images that inspire joy is like an armor.
You pack a kaleidoscope of influences into your work, sourced anywhere from the vintage shop to the gallery to the bodega. How do you approach distilling this iconography – by sketching, scrapbooking, mood-boarding, note-taking?
It's funny. I never realized how inspired I was by mundane objects until I began making jewelry. When I start painting a piece, I am always inclined to paint fruit. I live in Chinatown where every day I absorb so much color and sound and smell – including the abundant fruit stands. I think I pick things up subconsciously and it's not until I pour myself into a piece that I realize this. Another way I capture my inspiration and influences is with my trusty iPhone and Instagram – thank god for this!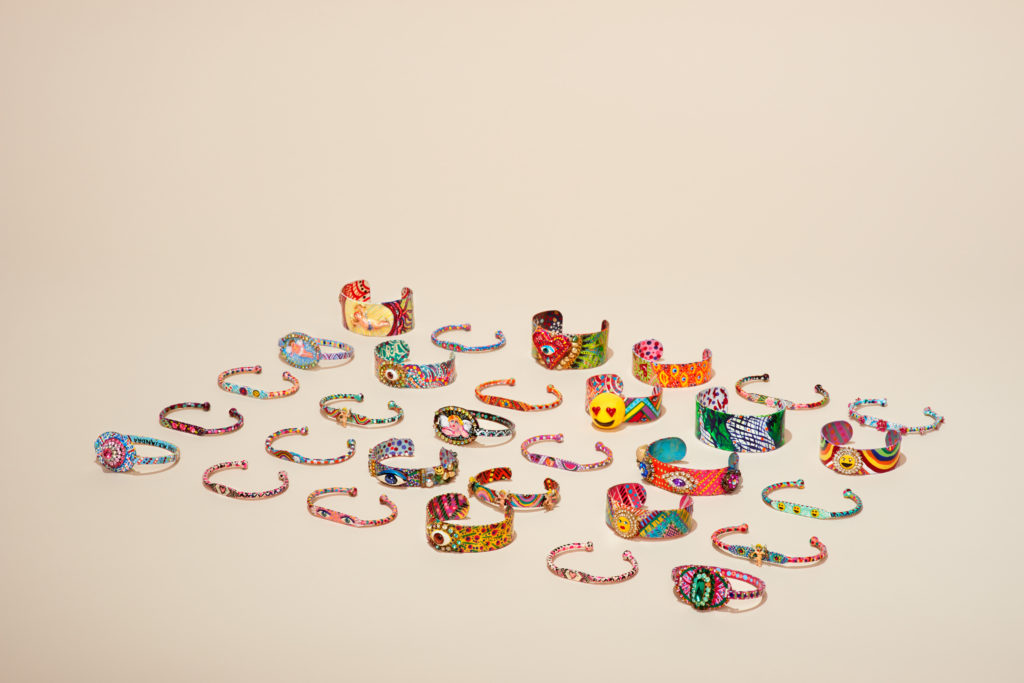 Your first experience with Vogue was at seven years old, and it stuck with you. Is there a magazine you find particularly inspiring today? Have any photoshoots gotten the creative juices flowing recently?  
It's funny – another thing about living in NY is lack of time and space. As soon as I moved here, I realized that hoarding magazines for inspiration was no longer feasible – just no space! I also have Internet brain and can't seem to focus on reading anything, including a magazine. Today, I get all my inspiration from Instagram. I no longer read mags to see what is current or new. When I see something I adore, I save it on my phone for reference.
Fill me in on the "Friend Zone", your blog celebrating female creatives.
My whole philosophy in being a woman business owner is that we can be greater together than against each other. This is the opportunity for me to shine light onto the incredible women in my community by interviewing them and asking them questions about how they arrived at where they are today. Not only is this incredibly inspiring for me, but for anyone who has ever dreamed of striking out on their own and following their dreams. It's also incredibly affirming to see I am not alone in my struggles as a business owner and artist.
Do you own an item of jewelry (of your own creation or otherwise) that has a story behind it, and what might the story be?
My grandmother, who was a Holocaust survivor, proudly wore a gold necklace emblazoned with the my name and my sister's name. I think the necklace was so much more than a necklace. It was a testament to survival, love and rising in the wake of pain. I now own that necklace and strive to create jewelry that holds the same significance and profound meaning that I feel when I wear this piece.
Who is the "Susan Alexandra girl"? Do you have someone in mind when you create? Any muses? 
The S.A. girl loves color and vibrance. She has a sense of humor and irony. She mixes her stack of S.A. bracelets with an heirloom bracelet from her mother. She lives in NYC or LA or Ohio. She is young or old, she is funny and witty, she loves GIRLS and Louis CK. She feels everything and may have Scorpio as her rising or moon sign. She may not even be a she. She reads tarot and believes in angels. She's who you call when you're going through a break up. She's just trying to make the world a better place, even for five minutes.
[All images courtesy of Susan Alexandra]