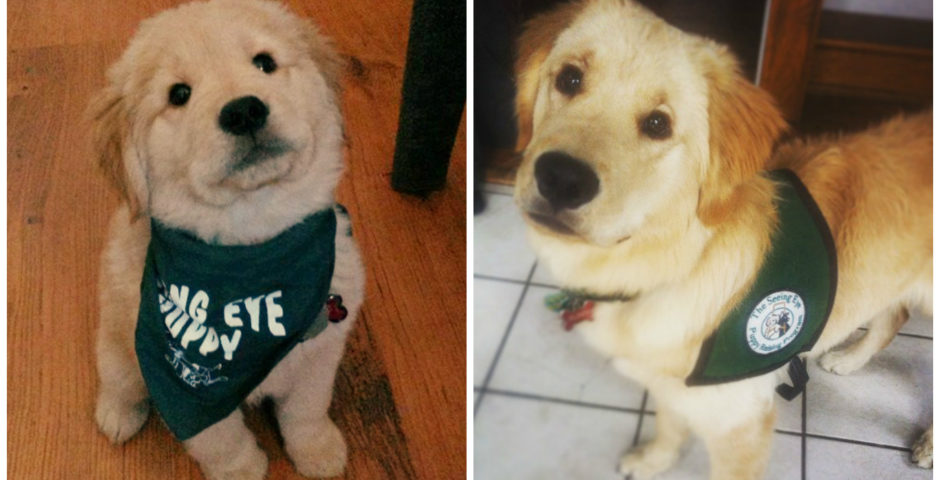 What it's like raising Seeing Eye dogs
Letting go of these little bundles of joy certainly isn't easy
Every senior at my high school was required to do a senior project to graduate. I wanted to do something fun. I wanted to do something different. I wanted to do something with animals, because let's face it, they're way better than people. That's when my mom found out about The Seeing Eye puppy raiser program. I would get the puppy when it was about eight weeks old, and I would take care of it as if it were my own, teach it proper manners and go to group meetings. Sounded like fun. So after waiting to receive my dog (attending meetings along the way), my big pawed friend Toby was finally with me.
Three dogs later, let me tell you, it is the best thing I've ever done.
Raising these dogs has taught me patience (after teaching three very different puppies how to 'sit,' 'stay' and 'rest'), the importance of time management (they have a strict feeding schedule) and leadership skills. I was the President of my club "Pawsabilities" for a while before I went to college, and devoting your time and love to these dogs will not only help you as a person, but will actually help on your college and job searches as well.
Many high schoolers don't show this kind of dedication when completing their senior projects. Many of my peers took the easiest route with the minimum amount of time commitment. My "project" lived with me, and my responsibilities extended beyond school hours and well past my own graduation. But this volunteer work qualified me for scholarships I otherwise would not have been able to receive, and was great to have on my resume for both college and internship searches, as many people don't know what puppy raising entails or how to get involved. It shows dedication, compassion and proof you can accept and enjoy a long-term commitment. One of my project judges called it "the epitome of senior projects," not only because of the effort, but because of the lasting impact it would have on someone's life.
There are different branches of The Seeing Eye, with the headquarters located in Morristown, New Jersey, where all the puppies are born and where they go back to get formally trained. While they live with us, we teach them basic commands such as 'sit' and 'stay' and 'down'.
We also socialize them with other dogs, which is why it is so important to take them to the group meetings, and take them on outings to familiarize them with different sights and sounds. Toby LOVED our group outing to New York City where he rode the subway, and my mom would often take Flash and Flinn to Wal-Mart as she did her shopping. We always ask before bringing our dogs into public spaces, but most places are very welcoming and understanding.
Once our dogs are a certain age, they have their vest test, and they are one step closer to going back for their official training. It's such a proud moment. You literally feel like it's your child graduating.
But of course, they're not ours to keep, no matter how much we love them. These dogs were born with a greater purpose. When they are about a year old (sometimes older, sometimes a little younger, it all depends), they return to Morristown and train with one of the amazing handlers who will teach these incredible pups everything we couldn't.
This is another important lesson raising guide dogs has taught me: letting go. Giving up a cute fluffy friend you've spent every day of the past year with is no easy task. But then you remember that they will improve someone else's way of life exponentially, giving them a freedom they may not have had before (and a new friend). What makes the transition even easier, other than the adorable postcards your dog's trainer will send you about your pal's progress, is the town walk in Morristown you are invited to once your dog is ready to be paired with their person.
I've been on one town walk so far. My first dog Toby was injured and returned to me (and is now my best friend and love of my life) and my latest dog Flinn has just passed and will have his walk in early July. My second dog Flash was always a big ball of energy, so watching him lead his handler around obstacles, stop at curbs and walk determined and proud to his destination brought tears to my eyes. He and his handler had such a connection, and Flash was so happy to be in his harness. It's like he was born to do this job- because he was!
Also, don't worry about Toby becoming a contented house pet – he is now a certified therapy dog!
There are some things people just can't teach you. As strange as it sounds, some things you have to learn from dogs. Like giving yourself to a calling bigger than yourself and never thinking about what's in it for you. Giving a year or year and a half of my life to raising these dogs will help make a blind person's life easier for many years to come. It's something you can't describe until you do it. My group made shirts that said "We love and let go, and yes it is hard… But oh so worth it." And I can't think of a better way to put it.