Your ultimate fashion guide for the Fourth
Still in need of an outfit?
Ever since 1776, Americans have celebrated our independence on the Fourth of July. What makes this celebration different than others is that we express our pride through the way we dress. Since the Fourth of July is the one day out of the entire year it's acceptable to show your festivity and pride by wearing red, white and blue, you better make sure your outfit is on point.
Overalls
Overalls are like vintage rompers, but they are denim and are the perfect way to showcase the color blue. Top the outfit off with a red shirt to go underneath and predominantly white shoes to get the full American flag look.
Red top, blue bottoms
More like running the fashion world since 1776. A red T-Shirt paired with blue khaki shorts are the perfect ensemble for playing pong on the Fourth.
Denim
Denim is your best friend on this holiday. To color coordinate with the American flag, you have many options to choose from, such as blue jeans, blue jean shorts, white jeans and white jean shorts.
Since denim is one of the easiest fabrics to match, complete the look with any red, white or blue shirt. Tie a flannel around your waist to add another dimension to the outfit. And always keep a colored scrunchie handy, because they are cute and add more color to the overall look you've got going.
Sporty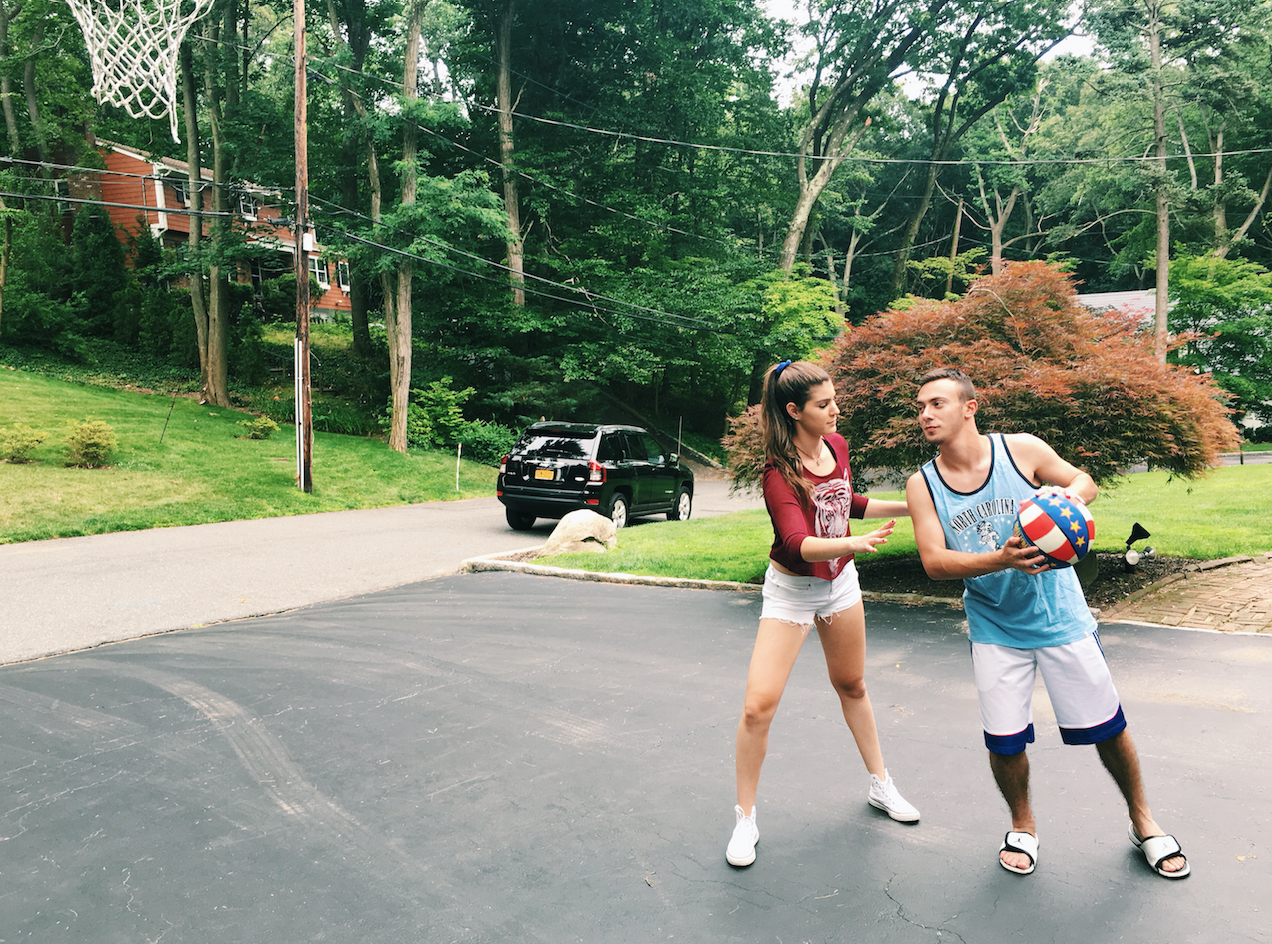 If you're looking for a casual, yet festive outfit to be active in, athletic shorts paired with a tank are always an option. Just make sure to display red, white and blue in your outfit.
Long sleeve and khakis 
If you're looking for an outfit less casual than activewear, then this ensemble is right for you. Neutral colored khakis can pair easily with a red or blue top. Because the khakis are neutral, they can be considered the "white" part of your outfit. When you're lacking enough color, you can add it by putting on a pair of colored shoes or a hat.
Dresses and denim jackets
Solid red, white or blue dresses definitely suffice. In this case, a red shift dress pairs nicely with an inevitably blue denim jacket. To make sure you wear the white component, a cute pair of sandals or classic Converse do the trick.
The American flag outfit
If you are going to wear anything with an American flag on it, today is the day to do so. The whole point of celebrating Independence Day is to recognize that America is a united front with our own freedom. So, the American flag is extremely relevant and can serve as a literal outfit.
Accompany an American flag shirt with colored Khakis and a white hat.
Or pair American flag shorts with a white top.
Or a pair of khakis embroidered with American flag whales accompanied by a white T-Shirt.
Whatever you decide to wear, the options for the Fourth of July outfits are endless. Just make sure you wear red, white and blue and you are set.