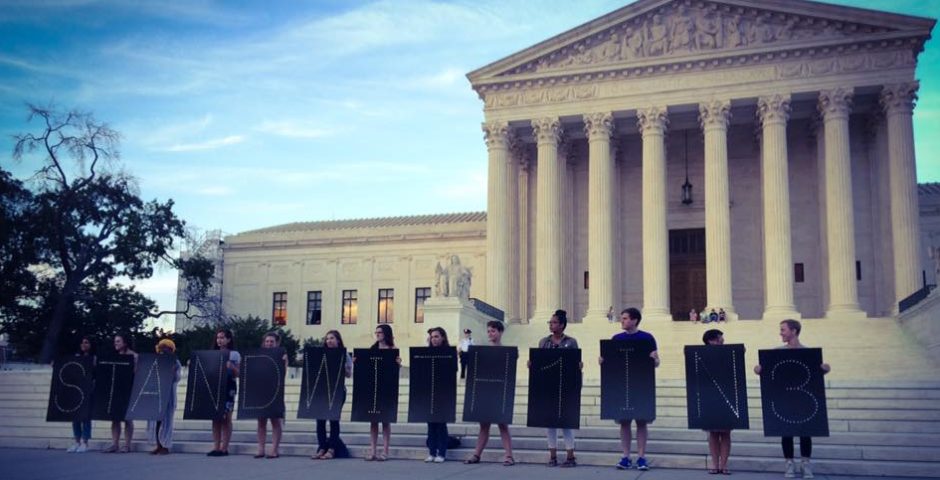 Historic win for abortion activists as SCOTUS strikes down Texas restrictions
Clinton calls it 'a victory for women across America'
abortion
The Supreme Court ruled on Monday morning that restrictions that have closed almost half of Texas's abortion clinics are unconstitutional.
The restrictions require that abortions be performed in an ambulatory surgical center and that physicians have admitting practices at a hospital.
Commentators said this morning's result, in the case known as Whole Women's Health v. Hellerstedt, will "breathe new life" into Roe v. Wade.
The 5-3 vote comes as relief to campaigners, who were apprehensive that a 4-4 vote or a vote in favor of the 2013 Texas legislation could legitimize changes in abortion practices in conservative states across the nation. Those similar restrictions in other states will now be under the microscope.
The initial 2013 Texas ruling shuttered around 20 clinics in Texas, and was upheld in 2015. After the legislation was enacted, stories began to emerge of women traveling more than 100 miles to get to their nearest abortion provider.
Although these restrictions were passed in order to "protect" patients, abortion providers and medical associations say they are unnecessary and represent an unjust burden on women.
The SCOTUS ruling will impact at least 1 million women in Texas. Justice Stephen G. Breyer said the restrictions "provide few if any health benefits for women, pose a substantial obstacle to women seeking abortions and constitutes a, 'undue burden' on their constitutional right to do so."
Hillary Clinton said: "The Supreme Court's decision in Whole Woman's Health v. Hellerstedt is a victory for women across America. By striking down politically motivated restrictions that made it nearly impossible for Texans to exercise their full reproductive rights, the Court upheld every woman's right to safe, legal abortion, no matter where she lives.
"I applaud everyone who flooded the Texas Capitol to speak out against these attacks on women's health, the brave women and men across the country who shared their stories, and the health care providers who fought for their patients and refused to give up."