An inside look at the Disney College Program
What it's really like living and working at 'The Happiest Place on Earth'
Since it's installation in 1981, the Disney College Program (DCP) has provided unique paid internship experiences for students. Each year, thousands of college students live and work as cast members and employees at "The Happiest Place on Earth" for five to seven months.
The DCP is designed to promote personal growth and career development. The program takes pride in the unique experience it gives to college students worldwide.
The Orlando Sentinel reported that over 50,000 people apply each year.
Jessica Hall is a student at Arizona State University. She has a history with Disney going back to her childhood. At age nine, during a visit to Walt Disney World, she heard about the program from a cast member and it quickly became her biggest life goal. To this date, she has done two Disney College Programs and has documented her experiences on Instagram to her 13,000+ followers.
 While there are a lot of students interested in doing the DCP, many struggle with deciding the right time. Disney's requires DCP applicants to have completed at least one semester at their college by the time they enter the program. Some prospective applicants want to jump right into the program, while some try to put it off. Disney also allows students to do the program in the semester following college graduation as well.
Like many other students wanting to do the DCP, Jessica was torn about when to apply for the program.
"Going into my sophomore year of college, I was getting antsy because I was very passionate about wanting to finally do the program. I was going to try and wait until later in my college career, but I knew people who were already there/applying, so I applied on a whim."
After doing the program twice, Jess still says there is no clear cut way on how to schedule doing the DCP. However, some of her advice for deciding on when to take the leap includes having a few years of school under your belt before moving to Orlando for the program. A lot of cast members fall in love with working for Disney, so they decide to stay and take off more time from school. If you've completed a substantial amount of school, the pressure and stress will be significantly less than if you decided to take off of school knowing you have three years left of work to do once you return.
Jess also says the program is a good transition period for a student looking to transfer to a different college. Throughout her programs, Jess transferred schools twice and is now at a place that she feels is the best fit for her.
"It's a great time in your life to explore who you are and what you want to do. It makes the transition easier for some reason."
University of North Carolina at Chapel Hill student Annie Proctor stayed with the DCP for an entire year. She looks back on her time in Disney as a time that allowed her to figure out what was important to her.
"If you're a student on the fence about going, I implore you to try and make it work. It can be difficult to make it work with school, but it's in your interest to try and make it. You can take classes while you're there, but I recommend taking the semester off. You might graduate a semester later, but so what? I'm graduating a year later than I was going to when I started at UNC, but I wouldn't trade my Disney memories and friends for anything, not even an earlier graduation date. "
Annie also recommends the Fall Advantage DCP because you get to be at Disney during the holidays plus the extra summer months.
"The summer is hot and busy, but it gives you more of the most valuable thing in Disney World other than pixie dust, time. It also gives you the ability to get to know the full and part-time cast members in your work location before the rest of everyone shows up. A lot of people that only went for the fall semester never seemed to have enough time to overcome their homesickness or get fully situated in their work location."
As a member of the DCP, you might not have the best pick of hours. Annie said there were a few weeks where her shift started at 4:30am every day. If you get placed in parks like Magic Kingdom, there's a high chance you'll be working into the wee hours of the morning on nights the park stays open for extra hours. However, there is an online database where cast members can try and trade off or pick up shifts. Annie said during the summer and holiday months, she'd work about 40 to 50 hours a week.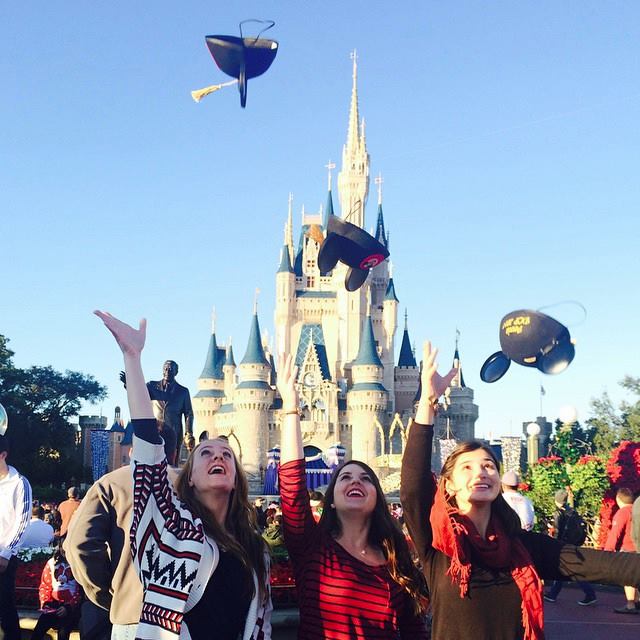 Jess worked as a concierge at Disney's Coronado Springs Resort during her 2013 Spring Advantage program. During the program, students are there to work and learn, so expect a solid amount hours. Also, like every job, getting burnt out is inevitable. The Florida heat and overall stress of the Disney operation can culminate into a tiring day. But even with a rough day every once in a while, Jess loves and appreciates Disney even more.
"The magic has never ever been ruined for me. No, you will not view the park the same once you become a cast member. Once you learn about how everything operates, you just have a different perspective."
Jess went on to do the DCP at Disneyland in Anaheim, California. She was a Jungle Cruise Skipper and spent days cracking jokes for guests or loading riders onto the boats.
As for the application process, students have the choice of four different semester options.
Fall – This program starts in late August and will run until early January. The application runs from February to March.
Fall Advantage – Begins in late May/early June, so it includes the summer months. The application time is also February to March.
Spring –  Starts in late January and ends in early May. Applications accepted between late August and late October.
Spring Advantage – This program begins in late January/early February and goes until early August. This has the same application time period as the Spring program.
The process includes a web-based and phone interview. During these stages, you rank your top role choices. Disney Cast Members are assigned a role when they are accepted and given a location when they check in for their program. Roles include merchandising, attractions, custodial, character performer, food and beverage, lodging and many others. With about 20 roles available, the opportunities are endless.
If you're accepted, there are Facebook groups that people use to pick roommates. Roommates can be random or you can try and create a group. There are four housing choices as well as wellness and non-wellness options. Wellness doesn't allow alcohol at all and non-wellness is a 21 and up community that allows alcohol. An important thing to remember about housing is rent is automatically taken out of your Disney paycheck, so you're guaranteed a certain amount of hours in order to make rent.
And now for the perks: besides living at Disney, FREE PARK ADMISSION. Once your program starts, you can get into all four parks at Walt Disney World free of charge. There's also merchandise discounts that can reach 40 percent during holiday seasons as well as resort and food discounts. There are stores for cast members that offer slightly damaged merchandise for 75 percent off. Now, cast members can earn free tickets for friends and family based on number of hours worked.
Having Disney on your resumé doesn't hurt either. Annie says the Disney College Program helped her get her summer job and internship. Disney has a reputation for customer service and branding that is hard to deny.
When deciding to do the Disney College Program, it's important to have a sense of who you are and what you can handle. It can be a transformative time that teaches you valuable networking and communication skills and a time that changes you as a person.
When Jess looks back on her experience, her advice to her pre-DCP self would be, "Basically, get ready for the ride of your life. Be open to the changes coming your way. Don't hold on so tight to your past and focus on the present. Do what makes you happy. Don't hold back for anybody else. Listen to your heart. Network with as many people as you can. Take every opportunity that comes your way. This is your time to establish who you truly want to be."
Keep up with Jessica's adventures on her Instagram and blog.