Growing up a tomboy made me the woman I am today
I spent my spare time outside playing or helping my dad with yard work
It started from day one.
Influences of sports, and interactions with my brother, cousins, lifelong friends, and coaches shaped me to be a tom boy that knew how to dress.
Born into a family of a four-yea- old brother, Ryan, my awesome mom and dad, we lived in a house on Elm Street in small town California. Mom was going through nursing school and dad worked for the Sheriff's Department out on the reservoirs.
Most mornings in my house were spent the same way, Barney lit up the television screen as me and Ryan fixed our eyes to the dancing dino, the closest of buds…siblings.
"I would put Kylie in her carseat carrier and she would sit in my room with me while I showered, after glancing over to check on her I found Ryan had carried her closer to the TV so she could see Barney, he'd never let her miss an episode" – My mom
I would fixate my watch on my older brother who seemed to have it all figured out.
There were matching outfits that included jean overall shorts, and bucket hats (high-fashion runs in the family, clearly) that made it through what looked like from our smiles, were forced family photos.
When the time came around that I got old enough to start finding my interests and involving myself in outside activities, I ran (literally) to the local soccer association and told my mom to put my name down.
While other girls were prancing around in tights and practicing their flexibility in gymnastics, I was getting down and dirty on the soccer field. You were looking at the new Blue Dolphin's goalie and I was damn proud. There was no where else I'd rather be than running around for hours in the fresh air taking my frustrations out on a ball. It felt like I belonged.
Years of MYSA soccer passed and I was growing up and making friends while transitioning into middle school.
A small school limits friend choices as it is, but with my sporty and active personality I never had a problem making friends from hopping into a game of foursquare on the playground or a pickup game of kickball in the dirt field during after school day care.
In sixth grade, I decided to switch things up and try out for the middle school cheerleading squad (just saying that now, that decision still to this day surprises me). Who could blame me though? That's where all the girls were and I wasn't. It seemed like something I was suppose to do, or at least give a shot.
So I squeezed into the white uniform and I dusted sparkles onto my face (purely for added glam and attention) and jogged my way onto the football field every Saturday. I shouted and threw my arms around in sharp motions, but not much entertainment came to me from watching someone else play and win an important game from the sidelines.
So cheer wasn't very long lived, but I gave it a shot and that's what matters right? I made some awesome girlfriends along the way. Besides, you can't swing for the fences and run around bases in a white skirt, can you?
Softball was up and this was a little more my scene. Just a handful of some rowdy girls that have a lot of energy they're ready to release. I learned the importance of teamwork and friendship, while being coached by my best friend's dad.
Sure, the catcher's gear was hot and coming home with dirt lines and sweat scattered on your body wasn't the most ideal but I loved every second of it. The girls I met were my teammates and best friends (plus they also had to endure wearing a visor and thick cloth jerseys with me against our will).
I grew up and was actively involved in sports, drama, school, and in church. Spare time was spent outside playing or helping my dad with yard work – I was the son he already has one of and another soon to be on the way.
Growing up a "daddy's girl" was something I held dear to my heart. Fixing trucks and cleaning the garage were usual weekend activities and I wouldn't change that for the world. My dad showed me the world from his view, a working father and husband who devotes his life to his family and work and I was inspired.
I had to move on from the t-shirts and knee length cargo shorts to move into High School. I traded them for jeans, some skirts, blouses that would actually compliment any type of curve I would receive in the next four years, and some purses (which if i'm being honest, still to this day feel like a nuisance to lug around but you never know when you'll need a tide to go pen or 1,000 of the other useless things that go in there).
Then the makeup came and there was no turning back from there. I was trapped into a world that glorified pinky cheeks, smooth skin, and long dark eyelashes. Did I really need to cake this stuff on my face every day of the week?
I went along with it and soon it was just another natural instinct and part of my daily habit.
My two best friends were both guys that I have grown up with since Kindergarten. We had play dates and went to church together, nothing separated us except their constant talk of which girl they were going to mess with (actually flirt) next.
I never bothered much to intrigue myself with fashion, makeup, or celebrities. I only wanted to play sports, go to school, and be with my family.
And that's what I did all four years of high school.
Attending only three school dances throughout high school because while other girls lined their eyes and lips and curled their hair, I flew states away to enter a convention center full of girls ready to compete. Volleyball was my life and true love, and that sacrifice was worth it all to me.
Not to say I was completely against dressing up and getting my makeup done, sure most of my outfits consisted of uniforms but I clean up nice and winning Best Dressed at my Senior year prom can attest to that.
It felt comfortable to me, and I was getting the best of both worlds; playing the sport of my dreams while cleaning up well on the side.
"We played softball together and she was never worried about getting dirty or breaking a nail. All that mattered to her was the team. I'll never forget she was the only one to wear a dress to our end of the year party but props to her for rocking a pony tail and cleats on the field and a dress off the field." – Fellow team mate and friend Kaitlyn Ducos
I was so immensely supported by my friends and family that playing sports and not stressing looks felt right. The closest volleyball tournaments I had would still be three hours away, at the least, but that never stopped my brother and his friend's from being my own personal cheer section.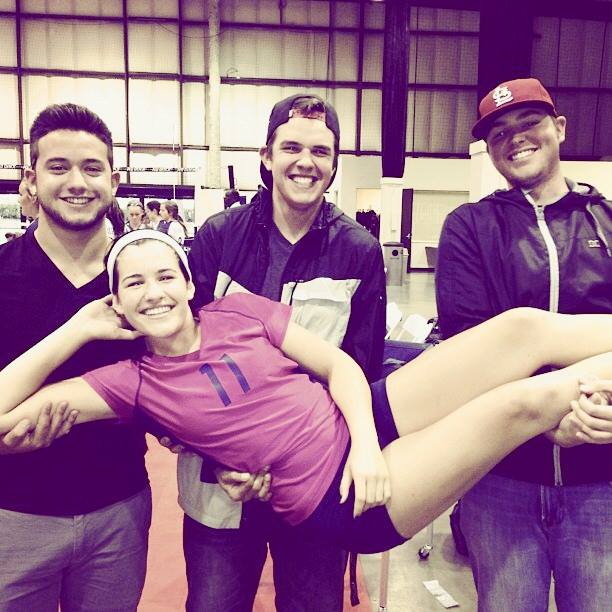 As I fast forward into college, here I am as a sister to two brothers, a daughter, and a student. My interactions and daily life choices including who I choose to spend my time with and how I spend that time, all are shaped by my childhood experience of growing up a world class tom boy. I feel more prepared to take on life's challenges because of the large diversity that was present in my life.
Thank you to all my guy best friends who showed me a behind the scenes of what really goes on in their heads, to my coaches for showing me how to get down and dirty on the field/court, to all my teammates that got down and dirty with me, to my brother who brought his friends to my games and supported every choice I made, and mostly to my parents who raised me to be a strong individual that pursues her passions and loves who she is.
I truly feel more well rounded and prepared to take on the curveballs life has to throw me because of my social interactions and involvements. Now I can just do it in lipstick and a skirt.