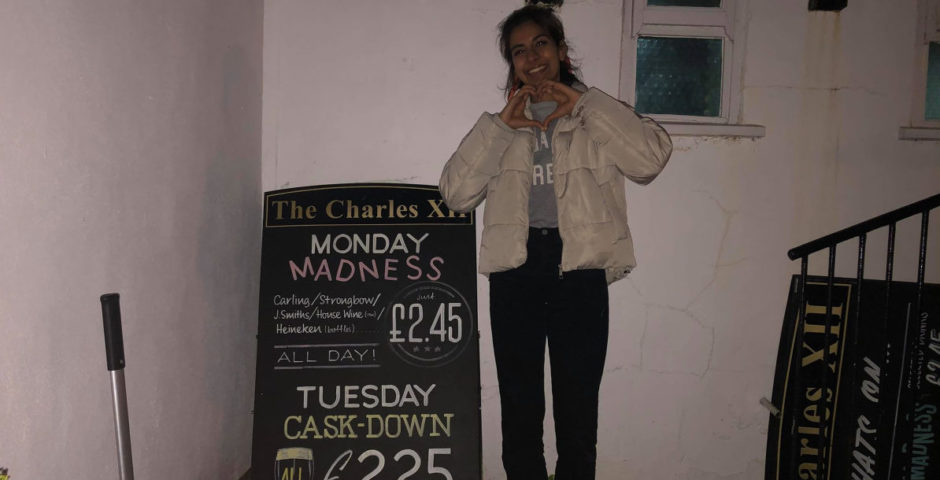 A love letter to the Charles XII, the most underrated pub ever
I love you more than life itself xxx
If you're a York student and you haven't been to the Charles, what on EARTH have you been doing all this time?
Don't be put off by the fact that it's a pub – it's in such close proximity to campus that you will rarely find creepy old men drinking alone. It's mostly populated by students who love good food, good company, and good vibes.
Here are all the reasons why The Charles XII is literal Heaven on Earth:
They do food deals EVERYDAY for as little as £5.99 for a meal!!
This is not a drill. The Charles has everything on their menu, from pub classics to a pretty good vegan/vegetarian menu, as well as chicken wing flavours from all over the world.
A hearty meal AND a drink (alcoholic/non-alcoholic) for only £5.99? My bank account desperately needed this.
2.  They stream Sky Sports and Six Nations for FREE
I won't lie, I don't know the first thing about sports and I certainly don't spend my nights watching the footie. However, The Charles does stream sky sports and big fixtures on multiple screens, so you can enjoy watching your favourite team whilst you chow down on a pie. Bliss.
3. They have a beer garden, and dogs are allowed!
Think bunting, fairy lights, cute blackboard signs. The Charles knows how to keep your gram popping, because it's even cute in dreary January. They have blankets and heaters to keep you warm all year round, what more could you want?
https://www.instagram.com/p/Bx1wLWGnlkS/?utm_source=ig_web_button_share_sheet
https://www.instagram.com/p/BF_bXsnTS5p/?utm_source=ig_web_button_share_sheet
4. They cater for dietary requirements, and they do it well
They actually have more than one vegetarian option! And can you believe it, they have gluten free options too!
Mmm, get in my belly please.
5. It's styled as a traditional pub inside and is super cosy
There are booths and mood lighting galore, so The Charles makes for the perfect chilled date night. It's quite roomy inside and the acoustics are great too, so you can actually have a group conversation without having to scream across the table.
6. Their pub quiz actually bangs
If you're sick of the same Derwent quiz again and again, get yourself down to The Charles for a pint that's actually cheap and prizes that are half decent. The pub is always full when it's quiz night, so be sure to get down early and grab a pitcher to secure your shot at bagging a prize.
7. They do events all year round
Whether its a Karaoke night, Open Mic Night, or bouncy castles in the summer, they've got an event for every season, which is very much appreciated by non-drinkers like me.
https://www.instagram.com/p/BF_bm9RTS6P/?utm_source=ig_web_button_share_sheet
So what are you waiting for? Get down to The Charles and get yourself the only meal deal you'll ever want and need. I promise it's worth it x