York Tories' fox hunting social dedicated to Conservative who called gay sex 'a social concern'
Sir Roger Scruton allegedly also made Islamophobic, racist and antisemitic comments
The York Tories society has changed its event page description for its upcoming controversial "fox hunting bar crawl social" stating the event is now "in memory of the late Sir Roger Scruton, a keen advocate of fox hunting."
The late philosopher was dismissed from government work in 2019 because of antisemitic, racist and Islamophobic comments he previously made.
Sir Roger Scruton was editor of The Salisbury Review, a conservative political journal, where he promoted traditionalist conservative views.
However, Scruton's views have been accused of being homophobic, racist, and Islamophobic and his comments led to his dismissal from government work in 2019.
In an editorial, he wrote that gay sex was a "concern with social order" and "prompts us to view…homosexuality as intrinsically threatening." Then in 2007 wrote that although homosexuality "has been normalised, it is not normal"
In 2019 he was removed as chair of the government commission on building after his comments suggesting Islamophobia was a propaganda word "invented by the Muslim Brotherhood" and calling Chinese people "robots."
He additionally claimed the Hungarian Jews were part of an "empire" run by Jewish billionaire businessman George Soros, and when asked about his comments in an interview with the New Statesman he insisted: "Anybody who doesn't think that there's a Soros empire in Hungary has not observed the facts."
The York Tories have received criticism for holding the "fox hunting bar crawl" in memory of Sir Roger Scruton.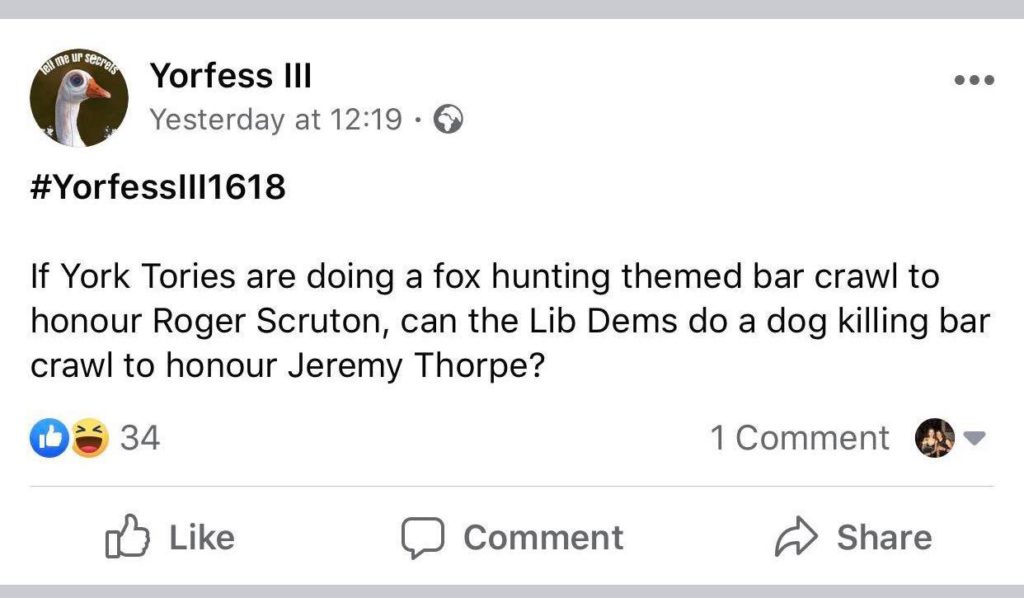 Tom Seston, a former committee member of the York Tories, told The York Tab: "The sheer fact that [The York Tories] have sought to attach Sir Roger Scruton to the event as a justification or defence shows how blind they are to how this event looks."
He added: "The reasoning of attaching a man who for decades has been accused of racism, homophobia, islamophobia and antisemitism as a defence shows how toxic the society has become and why myself and many former members are now ashamed to be associated with the group."
In a statement, YUSU's Student Activities Office Ollie Martin announced that the social is now under "internal investigation" as it had "no prior approval of YUSU" and was not "submitted for any checks through the EMF (Events Management Form) system.
He confirmed that The York Tories had been contacted for an "urgent meeting about the social to ensure that the conduct of the group aligns with the Union's code of conduct and that the greater potential impact this has on the reputation of the Union and the University is fully understood."