A Love Letter to Salt & Pepper
Why this place is the O N L Y place to be in the early hours of the morning.
Salt & Pepper, we fucking love you and here's why:
While I've been pleasantly surprised by York's nightlife, we all know that a night out is good for one thing and one thing only. At the end of your night you're guaranteed to find yourself in the cheesy, greasy delight that is Salt & Pepper.
It's 2:30 am, Salvos is a sweat pit, the DJ's making shout outs and you've got VK on your top. Those chips and gravy are CALLING you and as you stumble out of Society, Salvos or lets face it, even Fibbers down the road, that neon sign is there to summon you in.
Salt and Pepper was one of the first things I was told about upon arrival at York and by the end of freshers week I was a true and dedicated fan. It categorically ends the debate as to where the best drunk food is. Why is it so special? Maybe it's the people, maybe it's the food or maybe it's the sheer speed that chips are hurled at you from over the counter ((Literally it's before you've even finished paying how do they do it???)). The menu covers a wide range of pizzas, to the more classy burger to the most popular styrofoam boxes of chips covered in a mountain of cheese and gravy (we are up north after all).
It is only right that I dedicate some of this love letter to the literal angels that tend the counter and produce the food that makes us all come back for more. The first shout out to this champ Mehmat for dealing with our bullshit and taking orders all night long. One word everyone: L E G E N D. An inside quote from Mehmat himself describes Salt & Pepper as "the best in town." Mehmat has worked at Salt & Pepper for 26 years. 26 years!!! Yes, our Mehmat has been serving students longer than all of us have fuckin been alive. Extra points for Mehmet who suggests water bottles for those messy girls and helps you out with that blessed £5 card minimum by persuading you the onion rings are definitely worth it.
This is Carlos and his favourite night of the week is Wednesdays (the best night of the week) and a direct quote from the hunk himself is "I like the costumes, nice people, I love the student customers." We love you too Carlos. We love you too.
Not only are the staff an epic collection of human beings but the community that gather and unite in Salt & Pepper is spectacular. From the drunken lovers squatting awkwardly on the curb outside to the squad that takes over a whole booth and either eats in silent appreciation for the food or squeals and laughs about the shenanigans that took place earlier that night. There's also always someone asleep, inside or outside. The University of York's finest will be found here. It homed the awkward freshers who were still desperately trying to enjoy the presence of all the weirdos in their flat. It welcomes everyone to drunkenly make friends with whomever happens to be in the weird sort of crowd that is as much of a queue as all of us drunken morons can manage.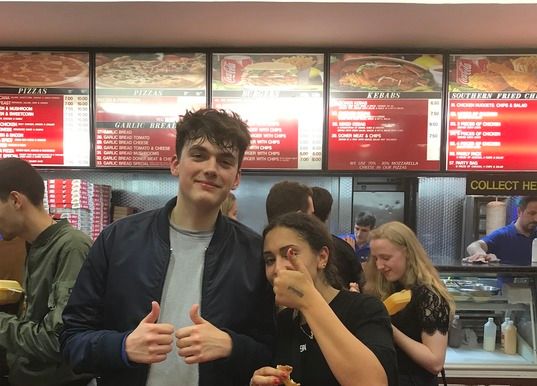 As if it could get any better you can literally sit, eat and WATCH that number 66 roll up to take you home. Not a moment is to be wasted waiting for the uni bus and precious seconds can be spent inside the sacred walls of Salt & Pepper until you literally have to shovel your food and run out the doors to get the bus. You are inevitably going to chug cheesy chips at that bus stop at least once in your life.
Have I ever been in the daytime? No. Do I ever need to? No. As this keen reviewer proves – it's probably best drunk.
As Angus and Niamh, First Year Archeology students sum it up "It's there when you need it and it's fucking great."
Salt & Pepper, thank you for being there after it got so hot in Salvos the walls began dripping and the mirrors steamed up. Thank you for having the BEST nuggets. Thank you for housing the students waiting hours for the 66 or their Uber if they're from Constantine. Thank you for being the perfect opportunity to have a post club photoshoot (with pics guaranteed to be better than the Fibbers neon sign ones). Thank you for giving us the happiest and yummiest ending to a night out ever.
Salt & Pepper, you're the best thing Yorkshire has given us.