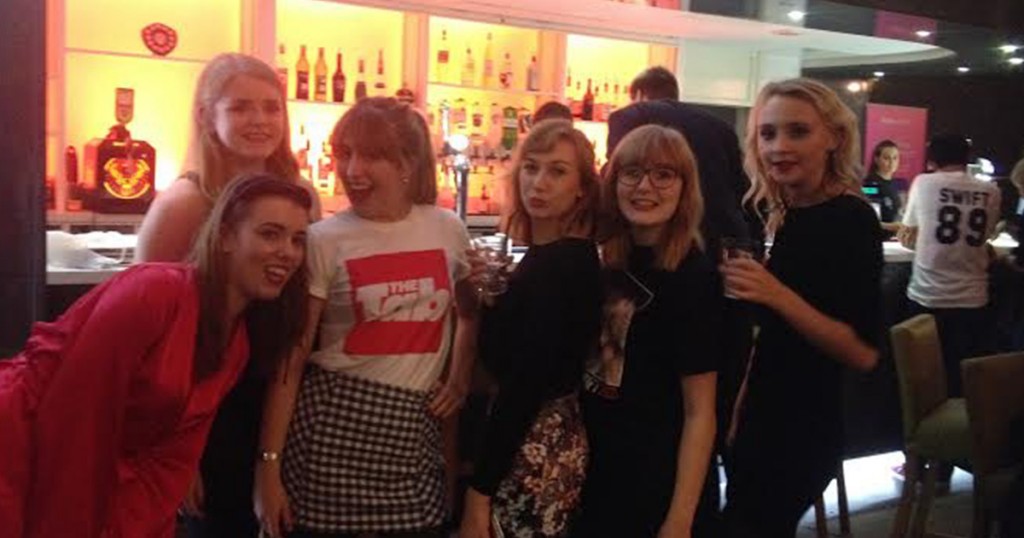 We went out with the Taylor Swift Society
I'mma let you finish, but SwiftSoc have the best socials of all time
1989
music
pop
society
swiftsoc
taylor swift
wildest dreams
york
yusu
When the Taylor Swift Society was ratified last year, most of campus was pretty amused by the idea that anyone would admit to liking a tweeny-bop country star enough to join it.
I'm partial to loudly slurring the lyrics of Bad Blood into the early hours at Salvos, but definitely wouldn't class myself as a fan. I wondered whether the society would be what I expected – a meeting of fanatical "Swifties" getting together for sing-alongs and emotional expressions of love.
To find out, I tagged along on their "cock-tayl" evening to see what they got up to. If it was awful, at least there would be alcohol.
The costume theme was Swift herself (duh), so recognising who else was part of the society was easy – just look for anyone wearing red lipstick. Some members had put real effort into their costumes, so my "tight little skirt" seemed half arsed.
Going round the circle telling everyone your name and favourite song left me feeling like even more of a fraud, but everyone was kind enough to smile past the lie that "Style" was my jam.
The cocktails, all named after Tay-Tay's songs, were flowing. My favourite was the "Long Island Iced Tea-r Drops on my Guitar", which is just a sample of the punny weekly society newsletters.
Conversation on the Taylor topic was never-ending, with discussions on how important Twitter was in keeping up with their idol to her most underrated songs. I was told that "The day 1989 came out I threw up with excitement". Fair enough.
Everyone was having a good time and even if I had to ask about their in-jokes, I was Swiftly forgiven for my ignorance.
Chatting, it seemed like members had mixed feelings about admitting to being a part of the society. While most were proud of their love for T-Swizzle, some weren't so "Fearless" and others said they had problems finding friends to come with them.
The lovely committee explained to me the relevance of the fan club. It's not just a "go out and get drunk" kind of society, it's a nice place to meet others and bond over your passion for music.
Each member has their own stories about how the music has affected them, and they're all there because of a genuine interest. Of course the ultimate aim is to get Taylor to play Central Hall.
The highlight of the evening was a full on dance circle, to the amusement of the darts team and other drinkers. Maybe it was the drinks or the power of Taylor, but we decided that the players gonna play and haters gonna hate and just boogied on.
It seems a shame that some people feel put off from admitting to coming to the society. As committee member Kate pointed out, membership costs the same as two Jagerbombs in Parish, and I reckon you'd have way more fun shaking it off with the Swifties.
I know I did. Perhaps I have my own "Love Story" forming with Queen T?
Join Swiftsoc's facebook group here.