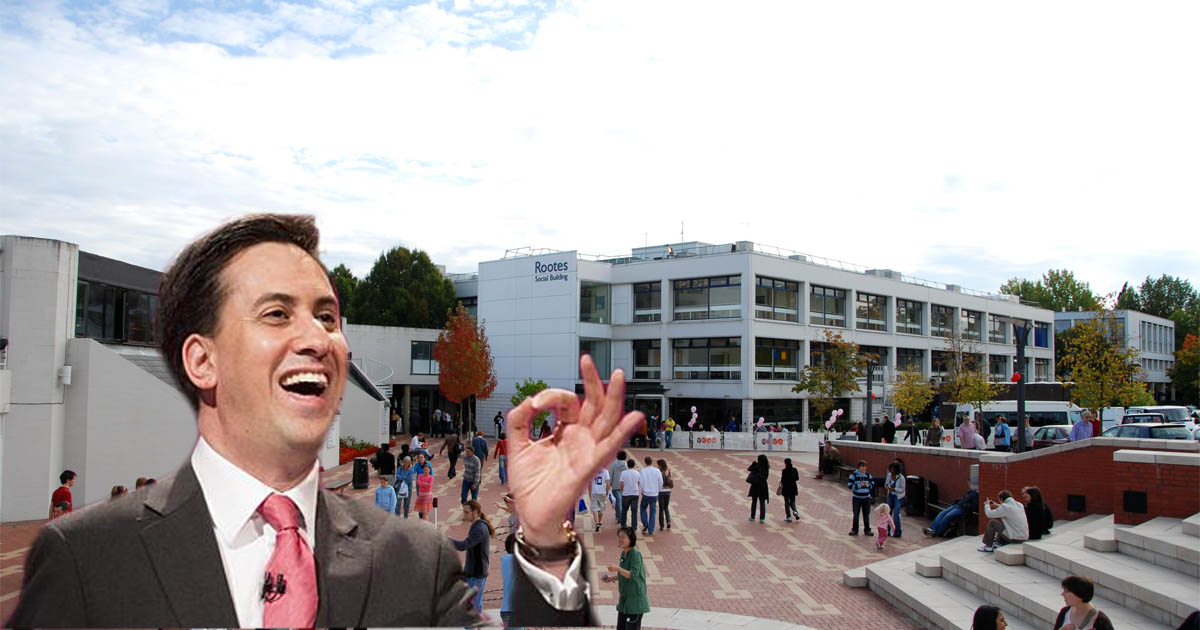 Warwick Ed-namoured as Labour becomes most popular party
Ed's recent visit to Warwick clearly paid off – Labour is our most popular party.
A top survey found 41 per cent of Warwick students say that they are planning to vote Labour in this year's election.
Good news for our wide-eyed friend, as the Guardian recently named us the most politically influential students in the country, capable of swinging the vote, even if they didn't realise just quite how far away Warwick campus actually is.
The majority leaning towards Labour in Warwick is mirrored nationwide, with more British student intending to vote red.
It seems that some students, however, are not enamoured with any of the Big Three. The Green Party is predicted to have 21 per cent of our votes, more so than in any previous years – maybe the endless emails about Switch It Off campaigns have finally gotten through.
Another, less surprising reveal for the UK's most international university, is the resounding lack of support for UKIP, with less than 1 per cent of students leaning towards a UKIP vote.
Engineering student, Tamanna Rahman, is one of the many intending to vote Labour. She said: "Their policies seem the most beneficial for students to me. My family are all Labour as well, so they must be doing something right."
Not all Warwick students are pro-Labour however. Conservative voter and History and Politics student Michael Dean said: "Where have everyone's senses gone?"
It's not only in voting matters that Warwick students want to have their say: the recent protests and demonstrations on campus against the police only further prove how Warwick students are not afraid to take a strong political stance, owning our reputation as high-powered politicians in the making.
Warwick alumni highlights how far this interest can go, with former Cabinet Secretary and Head of Civil Service, Lord Gus O'Donnell and former Shadow Home Secretary being just a few among the Warwick grads who entered into the world of politics.