VIDEO: Hundreds march to kick fascism off campus
With the recent news of National Action's presence on Campus, last Thursday saw hundreds of individuals march against Fascism outside Senate House.
In the wake of recent news that there is a lively Neo-Nazi presence on campus, Warwick students and lecturers alike gathered in their numbers to unite against fascism, anti-Semitism, sexism, racism and homophobia.
Recent press has exposed the organisation of fascist tendencies in the form of the 'political party' National Action, led by Warwick philosophy first-year student, Alex Davies.
As hundreds of people gathered in front of Senate House, The Tab spoke to people about why it was so important for Warwick to present a backlash against the claim that there is a strong fascist presence on campus.
Many agreed that it was vital for students and lecturers to join in solidarity, presenting a united front against any fascist behaviour on campus. It was also significant to reassure students that Warwick campus is a safe place to study.
Many discussed the causes of people turning to fascism, arguing that the recent austerity measures in the international arena are to blame. Cuts to health care, education and welfare has encouraged the development of extremism. The surge in support for the far right has stemmed from a play on fear and the use of scapegoats to blame for the current ills embodied within society.
Those gathered at the march argued for an alternative to extremism – to fight for a better society, not only at Warwick but nationally and internationally. Not only were current Warwick students present, but also ex-Warwick students, Coventry University students, members of the National Union of Teachers, and individuals from the wider community.
The unison of socialists and feminists demonstrated a wider ideological commitment against the rise of fascism on a wider scale.
Many hope it will be a catalyst for further student activism and protests on campus, and hope that this is not the end of the fight against fascism. Lecturers were in a consensus that it is important the university takes an explicit stand against extremism on campus.
The sole purpose of university is to create an environment, a community atmosphere which promotes new experiences and accommodates for individual self-development. Essentially, this is not compatible with any extremist activity on campus. Lecturers stood united in their assertion that Warwick University has no place for fascists on campus, and they should be deprived of any platform to promote their views.
The Tab also spoke to feminist students supporting the anti-Fascist march. Students argued that the support for the anti-fascist march is intersectional, and that the oppression felt by those victimised at the hands of fascism is also often felt by female students.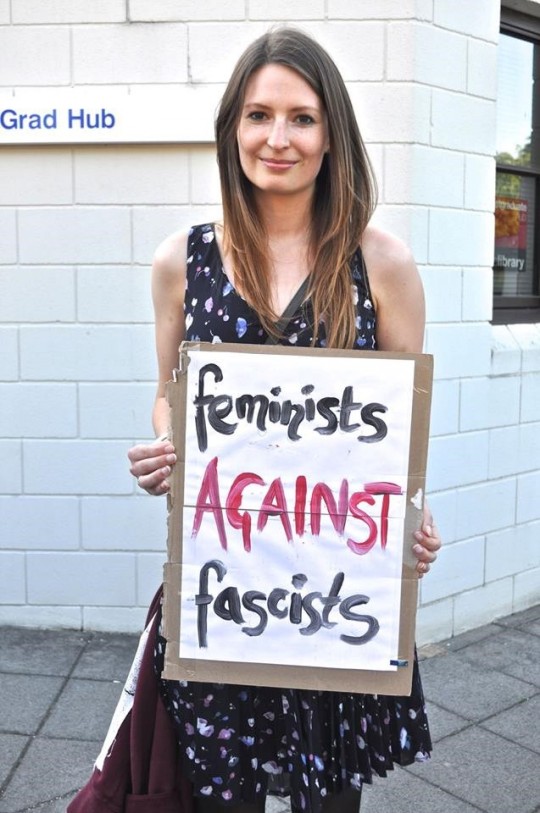 Individuals were encouraged to hold up slogans including 'Fight Cuts, Smash Fascism', and various speakers prepared a speech to the audience. Amongst these were Warwick students, and all argued that the community should never give up the struggle to fight for what is right, even if they may never attain recognition, or appreciation from Warwick officials.
Members of the audience were also encouraged to speak, with the organisers having to select speakers due to the sheer numbers of people who wanted to voice their opinions on the march.
Amongst these was a Performing Arts fellow at Warwick University who talked of a divided and oppressive Ireland during his childhood, recognising that the main political parties dominating the political consensus were mostly right wing. Married to a Jew, he spoke of his mother-in-law's Polish family suffering the fate of the Nazis in the Holocaust camps during the Second World War.
The audience recognised the sincere importance of contextualising fascism, its past and its future direction, of which many aim to dissolve in its tracks. It was also important to acknowledge that on the whole, British society has never liked fascism, hence why while fascism swept across Europe during the 1930s, Britain was never brought to its knees.
It is important to note that while there may be a fascist presence on campus, this is severely limited, shown by the numbers of students and lecturers in support of demolishing it and the fact that Warwick has one of the most multicultural and international campus's in the UK.
The date of the march was important in itself, as it marked what would have been the 85th birthday of Anne Frank, one of the most famous victims of Nazism in the 20th century.
June 12th was also the week that in 1974, Warwick student Kevin Gately was murdered when participating in a protest in London against a meeting of the National Front. This is significant in that protestors aimed to make history, by organising the march, but also it commemorated previous attempts to defend freedom against the tyranny of fascism in the past.
This anti-fascist march demonstrates that Warwick students and the wider community are committed to defeating any fascist presence, albeit limited, locally and nationally. The widespread consensus is that hopefully this will spark future student activism and that Warwick aims to provide the same university experience and opportunities for every individual, regardless of race, religion, gender or sexuality.