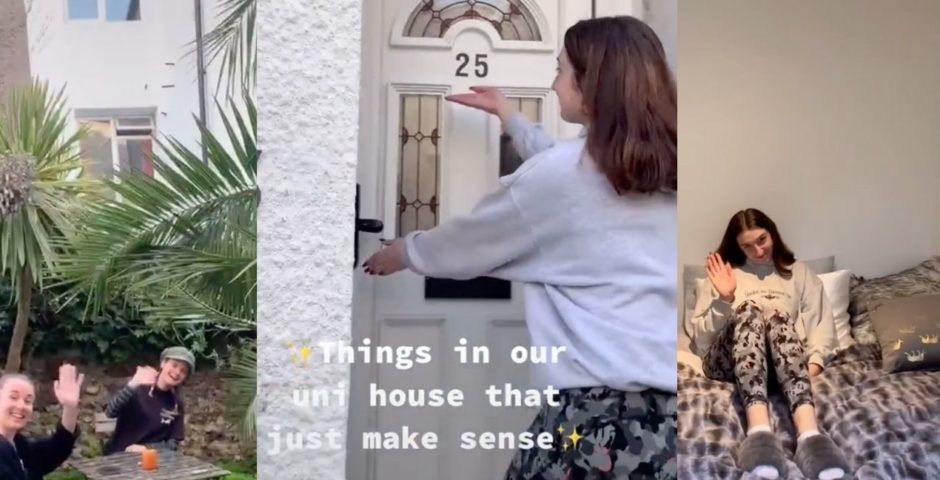 We spoke to the Sussex students behind THAT TikTok of the strangest house in Brighton
The students released a TikTok of their house and some of its ~quirky~ features
If you're an avid TikTok user, you may be well aware of the trend entitled 'Things in my house that just make sense'. And if you have ever set foot in student housing, you will of course be aware of the special little ~ characteristics ~ that truly make each student house a student home. Following this, some Sussex students have hopped on the trend, releasing a TikTok exhibiting what is possibly the most bizarre house in Brighton, if not the world.
The video, by Sussex student Yelena Zylko, has been liked over 1.6 million times on the platform, and shared on Twitter and Reddit, where it received over 60 thousand upvotes. So, what makes this Brighton house so infamous?
It starts off  with a fridge and kitchen door combo which appears doomed to squish people into their leftovers, and a relatively common situation of lights not working. So far, you may be thinking, what's the problem? But then the horror starts.
A beautiful garden is shown, however it is only accessible via a bedroom. We're guessing whoever occupies that room drew the short straw. Also, we would like to see some floor plans for this house.
Next, we have cupboard, totally blocked by a chest of drawers, followed by a window blocked by the stairs. Not very feng shui at all. But the piece de resistance is the tiny bathroom.
It's difficult to say what the worst thing about the bathroom is. Between the sink being built into the toilet, the shower being so close to the door you have to climb over the loo to access it, and the room itself being so small that the door can't be shut when you're using the toilet – it's a total mess.
Comments on the original TikTok describe it as 'the architect graduated by zoom' and 'it just kept getting worse'. It's safe to say that absolutely nothing in this house makes sense.
The Sussex Tab reached out to the video's creator, Yelena, to get some more details about their crazy abode. Yelena was keen to reassure us that, despite its unusual features, her and her housemates still loved their house: "Despite the things pointed out in the video, we do love living in the house and created the TikTok video just to demonstrate the interesting quirks in the design as it it particularly unusual.
"We definitely didn't expect the video to receive such a large response! We made the video for a bit of fun and something to do during lockdown and thought it might make some people laugh to see the different quirks in our home. Then I woke up and the video had got millions of views which we definitely did not expect!"
When asked if Yelena and her housemates would be renewing their housing contract next year, she said they weren't sure.
Related stories:
• Things in our Brighton student houses that just make sense
• PSA: It's time to admit that Coombe Road is the most underrated area to live in Brighton
• In defence of Park Houses, the best worst place you'll ever live