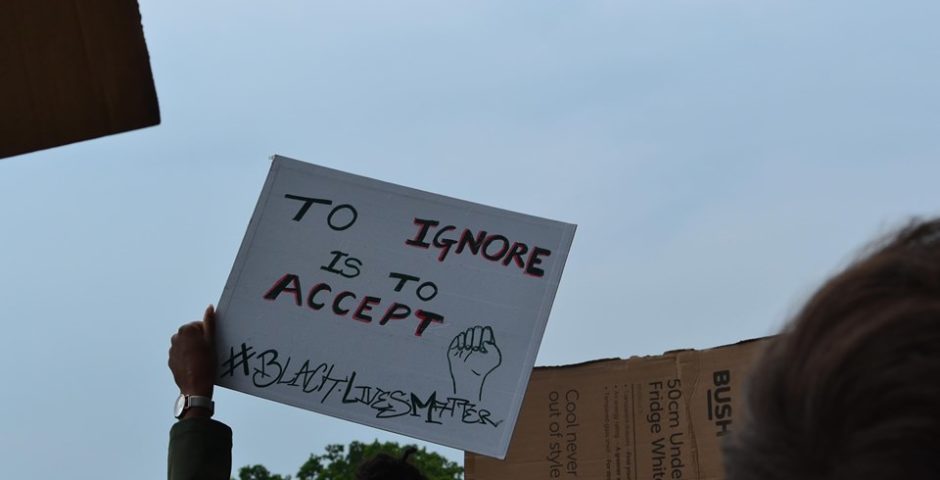 Sussex under fire for posting BAME support post instead of Black Lives Matter
We want to hear you voice your opinion on the University's response.
Over the past two days, The University of Sussex have received backlash online after they made a public statement acknowledging the BLM movement as a BAME issue.
Their original Instagram post has over 170 comments full of students expressing their disappointment with the University's lack of acknowledgment this is a black issue.
In their original comment the University stated: "We want to make sure that BAME students are welcomed, supported and achieve at Sussex." This followed after the University tagged the BAME ambassadors in the caption as well.
BAME Ambassadors at Sussex commented on the Instagram post saying "Do not claim to support us when you can't say #BlackLivesMatter"
Other Sussex groups like the Feminist society commented: "The committee members of the Feminist Society do not support this post, the failure to address or acknowledge that the recent acts of police brutality disproportionately affect the black community is disappointing. To class this as a "BAME" issue is reductive and it is evident that the university does not understand how a student's race impacts their university experiences differently. #blacklivesmatter"
Sussex under the sheets replied to the original post made by the Universtity as well, they commented: "At Under the Sheets we don't support this post. We ask the university to rethink the use of the word BAME instead of Black, creating this false PR opportunity and refusing to acknowledge Black Lives Matter. You have used this to promote a Student Union campaign and not directly address the racism our Black students, and the Black community continue to face. After years of Sussex ignoring racism this is disappointing but not surprising. #blacklivesmatter"
BAME Sussex also replied, they stated: "Some of our committee members are BLACK BAME Ambassadors. We know how disappointed they are with this post. They pushed and pushed and pushed for @sussexuni to recognise them and their pain and you didn't. This post is NOT GOOD ENOUGH. You can't ignore structural racism but you have ignored that this is an issue that affect BLACK LIVES. It affects your Very Limited BLACK STAFF. It affects your BLACK STUDENTS. A university of this calibre with many resources have no excuse for not being educated on racism. Who okayed this post??? It highlights the lack of Black and Bame people in your team as they would have told you TO DO BETTER."
One student at the University commented: "why don't u fire the english lecturer who still uses the n word then?"
Since this post was made yesterday, the University have provided their students with an updated response which they shared as an Instagram story. The updated response can be read below: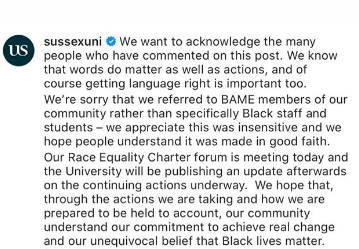 On the Instagram post which was made two days ago by the University, they have recently added a comment which acknowledges the amount of comments that have been made on the post. The University stated: "We want to acknowledge the many people who have commented on this post. We know that words do matter as well as actions, and of course getting language right is important too.
We're sorry that we referred to BAME members of our community rather than specifically Black staff and students – we appreciate this was insensitive and we hope people understand it was made in good faith.

"Our Race Equality Charter forum is meeting today and the University will be publishing an update afterwards on the continuing actions underway.
We hope that, through the actions we are taking and how we are prepared to be held to account, our community understand our commitment to achieve real change and our unequivocal belief that Black lives matter."
The Sussex Tab wants to hear from you, we want to help you voice your opinion and response to the University's public statement to the BLM movement.
You can find and DM us on Instagram, or, alternatively you can message us on Facebook or Twitter.