It is time to vote again for Sussex's BNOC 2020: Round three
This round is nothing short of iconic
We've had an intense first couple of rounds, with over a whopping 2,500 of you voting for Sussex's BNOC of the year 2020. But who will capture your hearts this round? The competition is heating up, here are your contenders for round three!
Oli Williams, First Year, Zoology with Spanish
According to his nominators, Oli's had his fingers in many pies, from rugby to cricket to poker, but that's not what makes him BNOC material. Speaking to The Sussex Tab, Oli claims, "Last year's BNOC Joseph Healy has named me as his one true heir". Will this guy catch your vote and allow the continuation of such a legacy?
Oli once went to the gym "absolutely rat arsed, dressed as a poached giraffe, covered in fake blood", in between going to a girl's house and attending a Halloween party. His explanation, you ask? "to get a quick pump before returning to the party to see the boys". Well, if that's not commitment to the pump, or the boys, I don't know what is.
His nominators assure us that Oli has many more enthralling tales, although he did say, "now I'm famous, my manager says I can't go telling all my good stories to The Tab". Don't worry, Oli, we're not the least bit offended.
Cameron Shears, Second Year, Marketing and Management
Meet Cameron. Like many other BNOCs, Cameron finds it impossible to travel a few feet on campus without being stopped by adoring fans. "I write in my calendar that I have to leave for lectures at least 15 minutes early, knowing that I will have to stop and talk to at least three people along the way. I end up being late to that lecture anyway because I'm still talking to people I met along the way".
And it doesn't stop there, Cameron says "I've become the king of ghosting people on social media … see it's not that I don't want to answer them, its just that I don't have enough time to answer them. I'd have to schedule time in my calendar for that. Unread message count:
Apple Messages app: 91
WhatsApp: 32
FB Messenger: 21
Instagram: 18
Snapchat: 11" So if you haven't heard from Cam in a while, don't stress: he's not dead, he's just too busy for you.
We all know that a BNOC must have a packed schedule, but what else does a BNOC need? A crazy story, of course. When Cameron went to his girlfriend's house for the first time, he ate a whole pizza, washed down with some extra milky tea. The crazy part? He's lactose intolerant.
Will Cameron be BNOC 2020? That all depends on your vote (and whether he can fit it into his calendar).
Gemma McMullan, Second year, Sociology and Cultural studies
Gemma describes herself as someone who has "big messy mum energy", something that we had never heard of before but we instantly understand what it means. As the welfare officer of Sussex's biggest society, Sussex Snow, her chaotic but caring personality definitely comes in handy and is described by Gemma as something which helped her bag the role.
To say Gemma wears her heart on her sleeve is an understatement, Gemma really tugged at our heart strings when she told us what it means to be a BNOC, she eloquently told us "In all honestly I don't think it's about how many people you know but the impression you make." We can't help but find Gemma as a chaotic and likeable individual, but is it enough to get your vote?
We asked her for a funny story which shows off her chaotic lifestyle, here is what she told us: "One night out in first year I lost my phone in what was then The haunt (RIP), but still ended up pulling. I quickly realised on the N25 that he was just not the one but didn't have the balls to get rid of him so I slept on my floor, then in a desperate attempt to get him out the next day I said that I was going to lunch, only for him to say he lives in town and he'd drop me off. I WALKED into town with no phone, purse or dignity just because I couldn't tell this poor guy to leave. Big sad."
Indeed, that story is a 'big sad', can you help make Gemma's BNOC career into a 'big happy' and send her to the finals? Vote below!
Michael O'Connor, Second year, Business and Management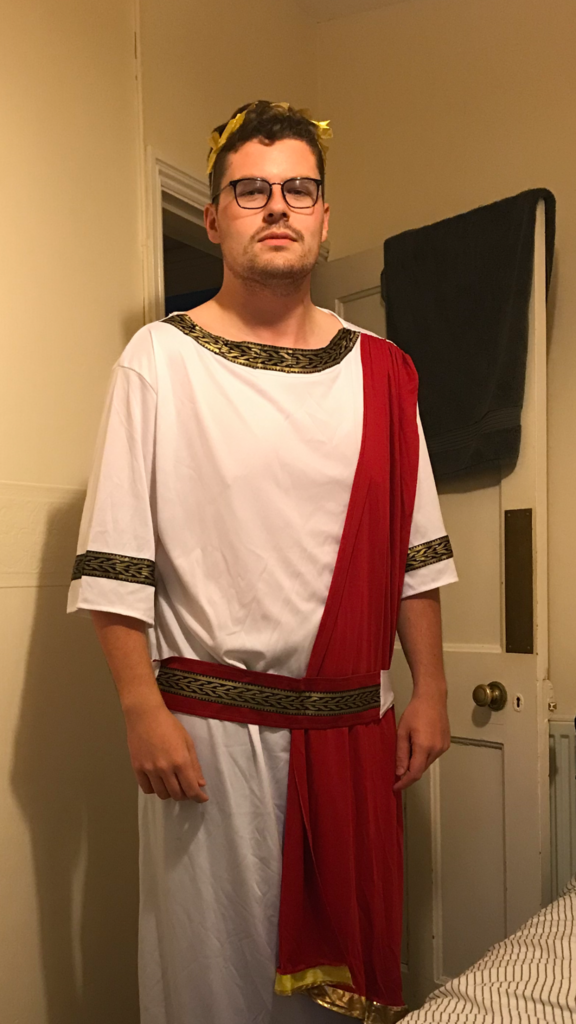 When we approached Michael for comment, he said "yes go on then. Make me a bnoc official." We will try our best, Mike.
This is Michael O'Connor, a man who's very familiar with being popular, so much so that he has made good friends with the manager of a Brighton nightclub. However, Michael described that friendship as the manager being more of a 'fan' than an actual friend. Humbling, to say the least.
He works for the SU, which he says has influenced his BNOC status "Working for the SU has certainty boosted up my campus creds and I'm always happy to give students an encounter with a BNOC to brighten their day." It is safe to say that Michael's heroic behaviour has definitely made his ego just that little bit bigger.
Again, he returned to the the manager who he once befriended as he told us "Another time I had a drunken chat with the night club manager – not too sure what we were discussing but he seemed to like what I had to say, certainly flexing my BNOC status late at night, which resulted in me receiving four free drinks – of which I gave three of them to the Basketball Girls who had just smashed their Semi Final during their cup run, man of the people for sure." Will you give 'the man of the people' your vote?
Who has won your heart, head and soul? Cast your votes for your round three winner here.