We spoke to University of Sussex students supporting their lecturers by joining the strikes today
'Hey, ho, Adam Tickell's got to go'
University of Sussex lecturers began their industrial strike action today and they were joined by supporting students who protested alongside them.
The demonstration went all the way around campus, with staff and students chanting "Hey, ho, Adam Tickell's got to go", led by banners and demonstration leaders who had megaphones.
University and College Union (UCU) started picketing at the zebra crossing near Falmer House this morning. At midday, students and other supporters began to join for the demonstration around campus.
The Sussex Tab exclusively spoke to students who were present at the demonstration and here is what they had to say:
PHD Students
PHD students Evie and Laura shared their opinion on the students who were not at the demonstration today showing solidarity, Evie said: "Working conditions are learning conditions. We are on strike for better conditions for the undergrads as well because we will be able to deliver much better teaching."
Laura added: "The reason that we are angry is with the way our contracts have been contracted. We understand students are upset but we ask that they take these complaints to university management."
University of Sussex Student Union
The SU welfare officer, Niina Hallberg, told The Sussex Tab that compared to last year the UCU and SU team are taking student welfare into much more consideration.
She said: "We do have an agreement with everyone and UCU about access ability onto campus for students who need it." Also, it is important to note that Falmer House has a wellbeing space available to all students every day from 9am until 5pm.
Sussex students raised concerns about how students with disabilities are going to get onto campus during the 8 eight days of industrial action when buses will not be running. Niina told us that the SU have "managed to get a bus service for students with disabilities."
Maddie, Fourth year, History and Politics
We asked Maddie how the strikes have effected her as a student and an undergraduate, she told The Sussex Tab: "All my lecturers are striking but I plan on being by the picket every day for a little bit, I am very supportive of the strikes."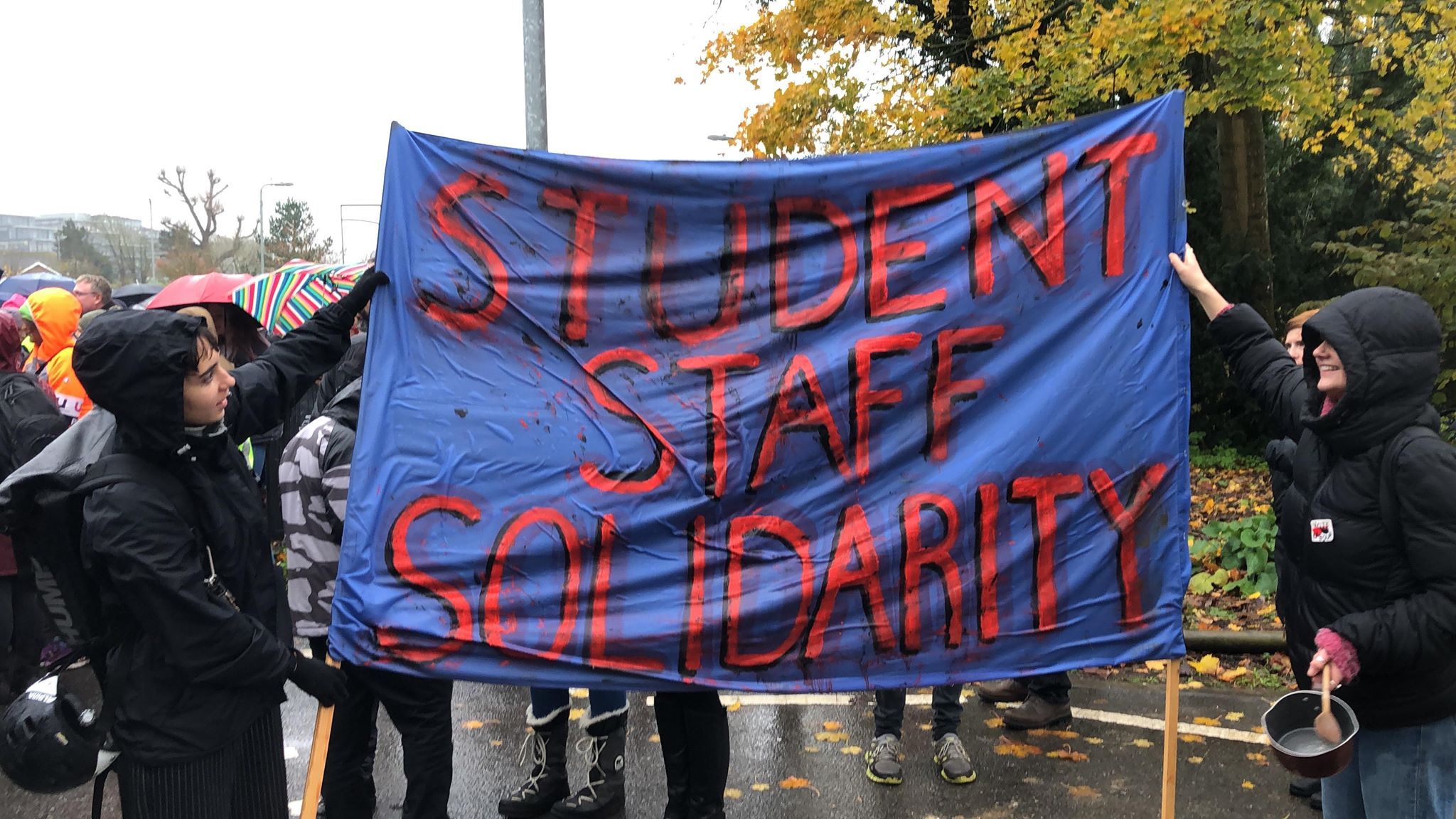 When we asked Maddie how she feels about the students who are not as supportive of the strikes, she responded: "I share their frustrations, it's really shit we spend so much money on university. But if they spent half an hour telling their lecturers they support them they will understand that this isn't out of choice, no one wants to be here."
Kat, PHD student in media, an organiser of the student demonstration
"I am one of the organisers for this demonstration, student solidarity is very important to me. Particularly as a PHD student, I am going to start teaching soon and I am aware the current conditions at this university for teaching is my future and that is really depressing."
We asked Kat what she would say to Vice-Chancellor Adam Tickell, "I would like to say think back to your roots. Think about how betrayed your staff are feeling by you and I would then ask him why."