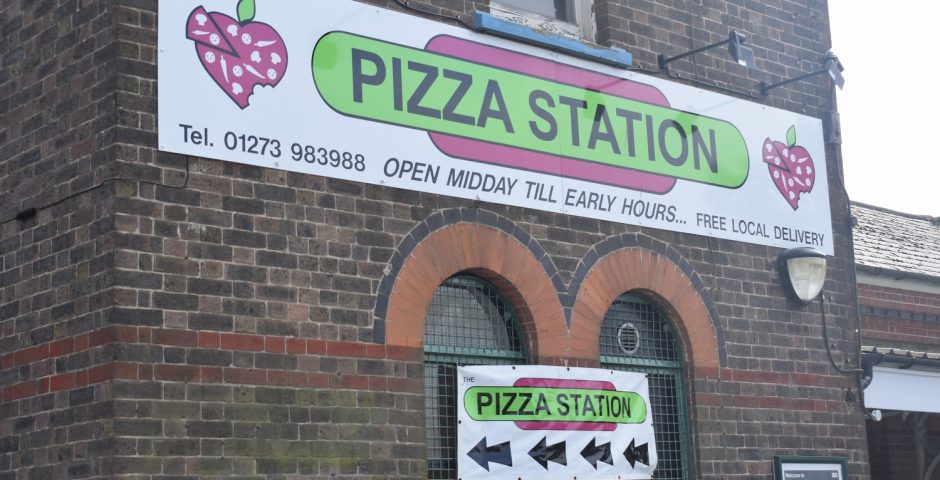 Catching up with Pizza Station, your new favourite pizza joint
A quality pizza service directly opposite campus — what's not to like?
For anyone who has ever ventured past Stanmer Court and towards Falmer Station, you would have noticed the large "PIZZA STATION" sign emblazoned across the railway building.
You aren't seeing things, there really is pizza inside, and lots of it.
Thanks to the waft of dough, invitingly cheap prices — and the very simple reason that we really love pizza — it had to be checked out.
A pizza place next to campus, too good to be true? We spoke to the owner, Jacqui, to find out more.
What made you start Pizza Station?
My daughter was going to Sussex uni, and she said to me that the food on campus was really crap — cheap, but it wasn't great. Over time I saw Domino's pizzas rocking up and other deliveries, but just really poor and expensive. I thought "why are they ripping the students off?"
Time went on and Network Rail got in contact, saying that they'd been watching me and liking what I did. I was operating a coffee van nearby at the time, and they offered me the lease on this building. Four years down the line and I still hadn't got it, and then when I did I was going to turn it into a Bills-style bistro, but I still saw people delivering pizza all the time.
I wanted artisan pizzas, I like good food, I like proper Italian pizzas. And that was it basically, the license came up and I got this lease.
When did you start?
We started properly over Christmas. It took hours to even get this flooring done. I had to do the drains downstairs and get all the flooring done, and the walls. There's so much that needed doing.
What are your plans for Pizza Station?
My aim and my vision is to build up a little food area, where the students can come and meet, on a 'bring your own' basis, from May. So you can come and sit outside when it will hopefully be warmer, and bring your own wine and sit and have a pizza. We'll also have our coffee van set up in the garden. I want to create a certain vibe with a summer-house and all the trees lit up. It won't just be pizzas, we will add sweet potato chips, homemade coleslaw and sides like that.
I do hand-on-heart think what I'm doing is right — or at least I hope I am! I've put so much passion into it.
Interview done, it was time for the taste test. As a first year who's practically lived off pizza in all shapes and sizes for the past year, there's probably no one better to judge taste than me. Thankfully, Pizza Station's chorizo-topped Margherita was delicious and lived up to its 'homemade' billing. Far lighter than conventional takeaway offerings, the thinner base left me without that stodgy feeling you get after trying one from Domino's or other takeaways.
So, what are you waiting for? Pizza Station is a minute's walk from campus, and with meal-deals starting from £5, you'd be an idiot not to try it.