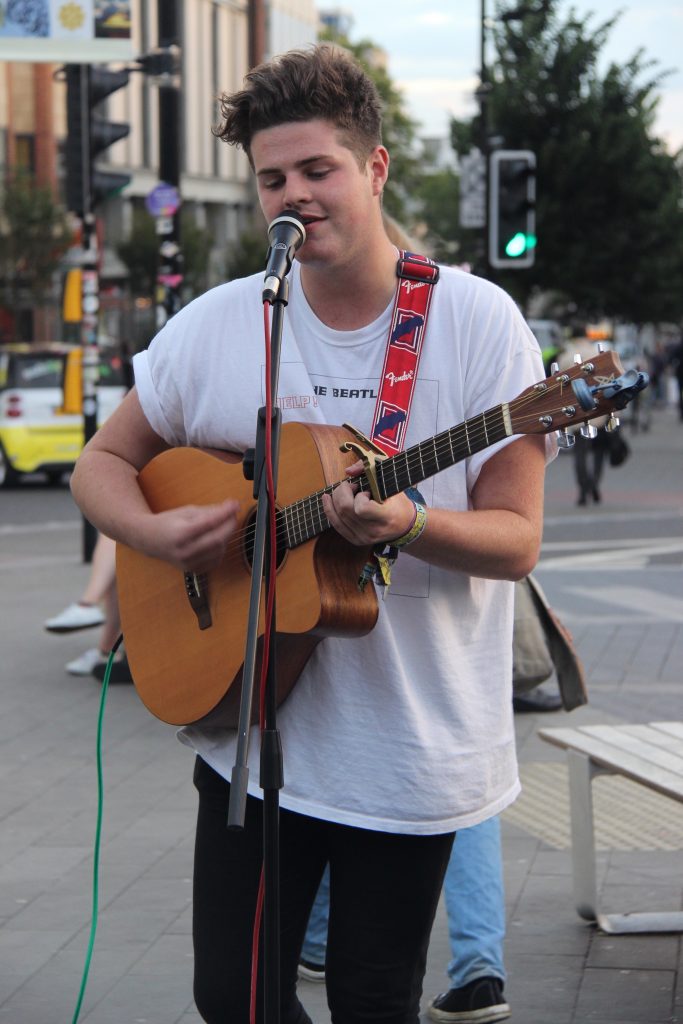 What it's like to busk to Brighton
'It's quite friendly, I've never had any confrontation with another busker.'
From being stroked affectionately by strangers and gigging at a hairdressers, Morgan M-James sees it all when he's busking in the streets of Brighton. When he's not studying, Morgan sings outside Brighton Station to the abundance of commuters on their journey home.
We met up with the singer to chat about his busking experience, and to find out what advice he has for anyone who wants to start busking.
When did you start busking?
I first went busking when I was 14 and it was at Sidmouth Folk Festival. At that age nobody has jobs so I was making money all the time. I got lots of cool opportunities from it too. I was booked for gigs, I did my first wedding a couple of years ago and I played in a hairdressers once for a charity event.
Where's your favourite spot to busk?
I think Brighton station is my favourite. There's a really nice atmosphere. Churchill Square is nice in the summer but because it's an open space. Opposite the Vans shop aswell is pretty good.
Is there a moment that stands out to you when you think of your busking experience?
I had a homeless guy come and sit opposite me once and listen to me play for two hours. Once I'd finished he came over and gave me his last two pence, so I bought us a drink and we sat at the side of the street and just chatted – it was really nice. Today I got a girl who came up to me and started stroking and kissing me while I was singing – that was odd.
Is there much competition between buskers in Brighton?
If you go to a spot and there's already a busker there, you either just go somewhere else or ask how much longer they're going to be there. To be honest, I know most of the buskers in town. It's quite friendly, I've never had any confrontation with another busker.
What do you enjoy most about busking?
I enjoy being able to share my music instantly with so many people. I recognise people too – there's one guy who always says hello, I see him all the time. He introduced me to his family, and even added me on Facebook.
You can imagine that if you're singing on the street that you might get a lot of abuse, but I've never had anything very bad.
What's the most challenging aspect of being a busker?
I busk for three hours at a time, so singing for three hours non-stop is a bit of an endurance test. It can make my throat a bit sore.
At first, it was probably my confidence. I started off with just a guitar and no amp or microphone. But now I see the mic as a kind of shield that I'm behind. If you took the mic away and told me to sing in the street, I'm not sure if I'd be able to. When I have a mic I feel more professional and it's like I'm meant to be there.
What are your favourite songs to perform?
Every few months I have a new favourite; it changes all the time. Love Yourself by Justin Bieber is a really cool song to play, Introducing Me from Camp Rock 2 is pretty good, It's All About You by McFly. They all get really good reactions.
What advice would you give to people that want to busk?
I think you should start off fully acoustic. I know some people who wanted to start busking and they went and bought a busking amp, a mic and a new guitar and then went out busking and realised they didn't like it. So I'd recommend doing it acoustically first, then save up the busking money to buy the kit once you've decided you like it.
If you'd like to follow Morgan's music, you can find him on YouTube, Twitter and Facebook.