Meet Emily Robbins: Activities officer and real life girl-wonder
Over the past few days, you may have noticed a blonde wandering about campus with a cardboard cutout of herself, donning a bin-bag cape and some green tights,  but she's no cosplayer and no narcissist, she's just running for activities officer. The Tab caught up with her to see how she is getting on.
Emily is a third Year (in denial) who studies History and Politics (& Chris Robshaw) and writes for The Tab.
When and why did you decide to run for Activities Officer?
I had a sudden realisation around a month ago that this job is absolutely perfect for me. I'm incredibly passionate about societies, they've allowed me to grow so much as a person during my time at Sussex, and I want to be part of making that happen for other students.
What are your methods of campaigning?
Hit them with the crazy then dazzle with my policies. Also lots of cardboard.
If you were elected, what are the three most important things things you'd do?
1) Encourage co-operation between societies, and more effective communication between societies and the union – aided by the creation of Activities and Volunteering hub, & regular meetings with presidents of societies and union members.
2) Promote and create big inclusive events and fundraising opportunities, bringing people together and celebrating different society areas, for example with a Graduation Festival.
3) Accessibility in sport: Financially – campaign for cheaper gym membership for sports fed holders, and split termly payment option for sports feds.
Inclusivity – Beginners skills sessions for relevant sports, trans* inclusive social sport, promote sport for those with disabilities and promote and encourage women in sport.
What is it like campaigning?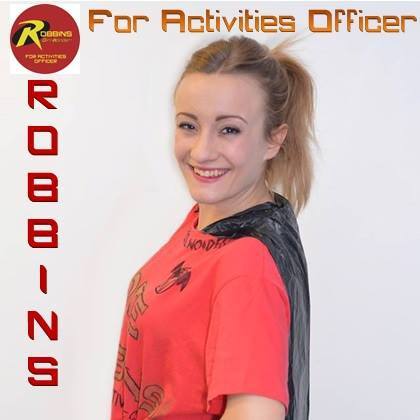 It's like Sussex campus has warped into The Twilight Zone. It feels like a total other world, it's very surreal. But it's a hell of a lot of fun. It's allowing my ridiculous side to cause absolute havoc, it's great.
It's so refreshing being able to completely thow myself out there. Regardless of the election result I'm definitely going to come out of this a new person, a better person.
What is your alcoholic beverage of choice?
Cider & Black a la Funnel.
Do you have any mbarrassing celebrity crushes?
Basil Spence/Basil Brush. I just love me some Basil.
What is your night out in Brighton of choice?
Volks 'til 6am.
What is your hungover breakfast food of choice?
A very large sausage (or just some Kale).
Have you got a video? 
Elections run from March 23rd to March 27th.
You can like Emily's Facebook page by clicking here.