Meet the St George's grad going head-on with the government over the junior doctors' dispute
We spoke to Dr. Nadia who will be fighting alongside four others in the High Court against the Tories
Nadia Masood isn't just any badass anaesthetics registrar. She has been passionately supporting the junior doctors' movement since it started and The Tab St George's had the pleasure of chatting to her.
As it stands, the government and Jeremy Hunt pushed for a contract deemed to be unfair and unsafe by protesting junior doctors last year across England, aiming to stretch them thin with more hours and less resources – ultimately resulting in an unsafe NHS.
By the end of June 2016, the BMA held a referendum in regards to an amended contract where 60% of junior doctors voted against it, however Jeremy Hunt is now trying to still impose the contract contrary to the result. This has lead to increased striking and planned industrial action.
Today and tomorrow, Nadia will be joining her fellow four doctors, known as 'Justice for Health', in legally arguing their case against the imposition of the new contract.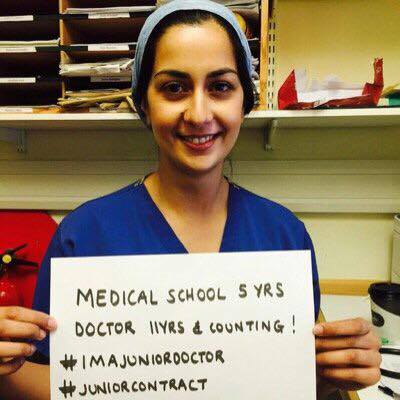 We began by chatting about the imposed junior doctor contract changes and went on to discuss her life at St George's, from which she graduated from in 2004 when the uni was still called 'St George's Hospital Medical School'.
How do you think the current situation will impact on medical students?
It has actually been a real concern for all of us doctors. Our hearts go out to the medical students because if all they can see is conflict and despair then what's to motivate them to continue? They really are the driving force for a lot of us, to give them a better future and we're working hard to ensure that happens.
How are you feeling about going to court?
Quite nervous and excited. For six months straight we've been working really hard, ready for this moment and it's finally happening. There's been a huge amount of work in this last week with last minute preparations. It's kind of like planning a wedding, but just a very sad, stressful wedding. One thing we're worried about is how we present ourselves, we've learnt from watching other people that we need to have clear intentions otherwise they can be very easily misconstrued. We don't want to upset anyone.
What do you think is the best outcome to the situation?
If the judge is in favour on all three key legal arguments to quash the decision to impose the contract then that means the government will stop pushing hopefully and hit the pause button.
What part of the proposed contract do you find the worst?
There's a huge issue of equality and discrimination with working hours and conditions. The contract doesn't recognise that staff already work around the clock 24/7 and we want to stop them from belittling that fact. Many doctors leave their own young kids at home with nannies during the night to go into work to save and help other people's families. We don't want a medal for it or anything, but just not to be devalued, it's such a kick in the teeth.
What do you think are the reasons for 40% of doctors accepting the contract?
I believe it's mainly to do with the political climate. The doctors I had spoken to that voted yes to the contract thought we couldn't get anything more out of the government and that there was too much conflict involved. However, not a single one of those doctors denied there were still problems.
What is different about St George's from what you remember?
I visited a few years ago and I literally just kept getting lost. The SU was very simple back then but now it's like a maze. We also had the OCL – Odd Coffee Lounge – where we hung out, they played R&B and hip-hop music for when you wanted to get away from the SU cheese – I preferred the OCL. At the time the Union was very smoky as the smoking ban hadn't come into place yet. My last and most vivid memory was looking on the board near the cash machines to see whether I had passed or failed medicine, a lot of fond memories made!
What were your favourite spots around St George's and Tooting?
There was a kebab house everybody went to and Lick'n Chick'n – it was absolutely disgusting but we still went anyway. Also Amal's Shawarma House was very popular too. In George's itself, I loved the OCL and SU, but a lot of us spent our time in the library too.
If you could join a society now, what would it be?
Probably rowing, some of my friends were into it back then.
What were halls of residence like for you?
I lived in the halls on St George's Grove, on the top floor of house 16 with seven other girls, whom I shared one bathroom and kitchen with. The bathroom was odd, it was like a narrow corridor which you could only get in by walking sideways. I remember on the first night we all got given rape alarms, but being students, many activated them and threw them out of their windows and ran away laughing and nobody was left with one after that, tragic.
The Tab wishes all the best to Nadia with her upcoming hearing and continued training.