The University Oscars 2016
Welcome to the most prestigious awards ceremony this February
It's that time of the year again, where the most fabulous stars from across the land come together to celebrate the best-of-the-best.
The Academy Awards? Close enough – welcome to the Uni Oscars. We hope you're sitting comfortably.
BEST UNI – Nottingham Trent
Having recently won Best Poly, this is naturally the next step for Trent in their path to world domination. Trent is the envy of every other uni in the UK, without the overbearing academic smugness of "Doxbridge".
Everyone has heard the legends of VKs in Ocean – Trent is loose as fuck and everyone loves them.
BEST SCREENPLAY – Bristol
When second year Zack went out for a few drinks earlier this term, he didn't expect his feats to be recorded in the annals of history. Fortunately for him though, a paramedic was on hand to write a detailed report about how Zack got a pair of handcuffs stuck on his wrists and had to get the fire brigade to cut them off.
No Oscar-winning film this year will end with a more perfect final line than "Barman encouraged not to give handcuffs to members of the public".
BEST ADAPTED SCREENPLAY – Belfast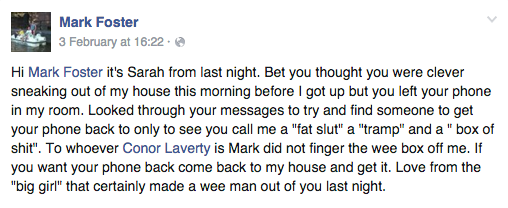 One terrible Saturday morning Mark Foster logged into Facebook – he'd lost his phone the night before, and was horrified. The girl he had spent a night of passion with eight hours earlier had posted a status decrying his foul-mouthed drunken texts about her that night.
Although, of course, she hadn't. It wasn't true, and we were all fooled. Mark's friends had rehashed the status from a previous Facebook prank. It was so convincing- so real – so No Country for Old Men.
BEST VISUAL EFFECTS – UEA
A true visual effects master is hard to find, but whoever managed to make UEA look worthy of The Avengers is just that.
If someone had told you that the likes of Thor and Captain America would be gracing the dingy home of the ziggurats before it actually happened they wouldn't believe you, but sure enough the Sainsbury Centre was transformed into a home fit for Earth's Mightiest Heroes.
BEST ORIGINAL SONG – York girl
We ran a poll and 38 per cent of people literally  said this video made them feel "violated".
BEST LEADING ACTOR – Andy Hoe, Nottingham
Man of the people Andy Hoe has, like Leo, never won an Oscar until today. And he does better deals on Ocean entry at that.
BEST LEADING ACTRESS – Kate Ovens, Newcastle
When Kate Ovens burst onto our screens in 2015, she stole our hearts with her ability to put away serious amounts food in a series of challenges, while retaining humility and a slender frame. Many a metaphorical hat has been raised to her gastronomical success.
She's carried out challenges such as attempting 7lbs of Lonhorns meat, a 27" pizza, and she devoured a 28oz burger in less than ten minutes, with a side of chips. She has truly stolen the heart of the nation and deserves this crown for her many stand-out performances.
BEST CAMEO – Justin Bieber, UCL 
It was a standard Wednesday at Loop, and then Justin Bieber popped in for 20 seconds. He didn't even come inside for a drink and a dance to one of his bangers, but he still absolutely stole the show.
BEST SUPPORTING UNI – Lincoln
Lincoln is unapologetically not centre stage. It's not the one that everyone talks about, or the cool or popular one. However, like all supporting actors, Lincoln plays an invaluable role: the kooky, misunderstood best friend who does their own thing and lets the stars get the attention.
Lincoln doesn't need ketty all-night warehouse raves, it has a great time doing what it does best: being friendly, dancing around to Taylor Swift, and being tucked in bed by 3am.
BEST COSTUME DESIGN – Leeds
Hours of painstaking precision go into the bindis, the harem pants, the bumbags, the Best Vintage jumpers and the perfectly-placed rollies-behind-ears, and for that we salute Leeds.
BEST MAKEUP AND HAIRSTYLING – Liverpool
Even if it's just a trip to St Johns, Liverpool girls always look fabulous. Their hair will be long and loosely tussled, their lashes long and their eyebrows a work of art. Getting ready will be one of the best part of the night, even if you will be covered in Raz juice by 11.
EDGIEST UNI – Manchester
The uni so edgy that they'll do all they can to not even follow trends. You're so Withington.
LEAST EDGY UNI – St Andrews
We should celebrate this with a trough of champagne and a ball. Techno? Heck no, we just want some jazz and an over-priced entry ticket.
We don't need edginess anyway, royalty doesn't need to be edgy. Would Kate and Wills be more popular if they wore drop pants and had their septum pierced? Of course not – now let's have a glass of Cognac and swill it around the glass during Question Time.
FITTEST UNI – Bath
Bath is undeniably just really, really fit. All of them. Bath is a land of fit sporty rich guys and beautiful blonde girls, and the queen of them is obviously Bath's very own Barbie, Amy Duckett.
Who needs the Russell Group when you're that good looking? If anyone can get by in life on their looks it's you, Bath.
FITTEST POLY – JMU
John Moores students are the perfect amount of Scouse glam without the edginess of Uni of. They take full advantage of their free Lifestyles gym membership and the girls unashamedly cake on the St Moriz and heels for a night at LEVEL.
They boys, meanwhile, have got the physique to pull off wearing stash, hoodies and trackies for a day in the lib, and enough self-awareness to gel their hair and keep their stubble the right length.
PRETTIEST CAMPUS – Glasgow
When the sun shines on the majestic St George's square, the mind boggles as to whether there could be a prettier sight. The Hogwarts style buildings, when viewed from the bridge, remind one that there is grace and elegance at a uni – despite what you did at Viper last night.
BEST SET DESIGN – King's
The Round Reading Room is so bloody nice, it was used as Dumbledore's office in the Harry Potter films.
Except, of course, it actually wasn't – and everybody was devastated when they found out.
BEST COMEDY – Exeter
Potentially a winner for best lead, production and soundtrack also.
BEST ABS – Warwick
Have you noticed that everyone in Warwick has a six-pack? Seriously. Everyone has abs. It's not just the rowers or the Ultimate Warwick Ten Matthew Bennett who are buff. It's literally everyone.
The cool kids at Smack, the wasters tucking into a fruity at Kelsey's, the library staff – all of them have impeccable stomachs.
LIFETIME ACHIEVEMENT AWARD – Cambridge
I mean, they don't deserve an award for anything particular, but they'd be angry if we left them out. Plus, they're old.
BEST SPORTS TEAM – Northumbria
Renowned across the land as the loosest society there ever was, how could it be anyone else? Snowsports Northumbria will go down in Tab history with that epic video ringing out proudly.
BEST SOUND – Cardiff
Paul Simon once famously sung "listen to the sound of silence", advice Cathays residents would've willingly taken were it not for seven boys rocking their eardrums all night long.
If a house party earns 37 noise complaints in one night, it's deserving of an Oscar.
BEST FEMALE ENSEMBLE – Royal Holloway
There are no guys at Roho, but that's OK because the girls are killing it.
OUTSTANDING CONTRIBUTION TO LAD CULTURE – Leeds Beckett
Beckett: a place where blokes are blokes. A place where there's no limit to how many VKs/pints/glasses of your teammates' piss you can down, and where the dancefloors of Space, Pryzm and Warehouse are laid out as your own personal watering hole. Just please stop chanting, our ears are starting to hurt.
OUTSTANDING DEDICATION TO THE O2 – Leicester
Leicester would like to thank the Academy. The O2 Academy, that is – for hosting every single night they've ever been out on.
BEST ARTWORK – Reading 
MADDEST UNI – Aberdeen
Our afterparties are like crack dens, and our love of smoking and MDMA rivals no other – for that we'd like to thank the people who decided students should basically be studying  in the Arctic Circle.
What else is there for us to do so far North? May as well stay warm by huddling round the end of this joint.
BEST ACTION – Aberystwyth
On paper, Aber is just another small, idyllic, slightly dull town tucked away on the Welsh coast. But in reality it's a non-stop drama where apocalypses routinely play out. Storm after storm batter the coastline (remember the desolation two years ago?); Tom Cruise would struggle to walk up Penglais Hill when the hurricane winds strike; and a week rarely goes by without yet another blackout.
Yoko's or – heaven forbid – Pier provide the best refuge against the elements, and the scenes in Lip Lickin' can be carnage. The prospective freshers who turn up on bright, sunny Open Days don't know what they're in for.
BEST DRAMA – Rhodes Must Fall, Oxford
Will it fall, won't it fall: who knows? In the end budget constraints meant Michael Bay's finale featuring Cecil Rhodes and Ntokozo Qwabe transforming into giant robots and battling in a historical revisionist purgatory could never come to fruition.
BEST FANTASY – Lancaster
Posters everywhere remind us that we are in the top ten, but are we? Is there any proof anywhere? Do we just flit in for random subjects just before the polls and then dart out again?
No-one knows, but from cobbled streets to redbricks we shall continue to strive.
VISIONARY AWARD – Kent
UKC is a good if not great university, hovering outside the top Russell Groups uni, threatening to break in with the passing of every league table. So what better way than to really put the uni on the map than building a fuck off 250 foot iron statue of the Iron Lady herself.
It remains to be seen whether Maggie will appear any time soon, but the scale of vision, ambition and sheer audacity deserves recognition in itself.
COURAGE AWARD – Sheffield
This guy drank 21 fucking shots of vodka.
BEST HERO – UWE
They told Calum Whytock that he couldn't throw a pool party inside, let alone inside his room in halls. He didn't listen, and he went and made himself a legend. That is what true heroes do – they defy challenges and obstacles and don't know the word "can't".
Dubbed a "monumentally stupid idea", Callum's stunt has made him the biggest hero – as well as the world's best flatmate.
BEST R-RATED FEATURE – Birmingham
Big things happened on 20/02/2016, and going to Fab on a Saturday will never be the same again. Birmingham students were always known to be cool, fun, a bit raunchy, but the couple caught banging in the stairwell took things up a notch.
This kind of explicit content deserves its own award, although parental guidance is advised. Feng, look away now.
BEST CLUBBERS – UCLan
Just by taking a look at any Clubbers of the Week, it's clear that UCLan take the crown of best clubbers. Preston will never give in to the fashion of scruffy trainers, scrunchies and bomber jackets that have taken over other northern unis like Manchester, Leeds and Newcastle, and girl clubbers have the time of their lives in heels and bodycon dresses.
And do you know what? They're fucking fit while they do it.
BEST PROP – Brookes
He doesn't even like Broccoli, but that didn't stop second year Toby Clarke taking one of his five-a-day to MNB. He reaped fame and fortune, posing for pictures and even getting free drinks in exchange for a bite.
RAUNCHIEST UNI – Hull
As a university, Hull is often forgotten about. We're out of everyone's way by the River Humber and on the whole, not a fat lot happens here. Or at least that's what everyone thinks.
We proved everyone wrong in October 2015, when a controversial guest DJ at Tower pulled a shocker of a move. The raunchy chap had everyone dry humping on stage for the chance to win a free holiday. That'll teach you for saying we don't ever do anything: there's a lot that goes on here no one knows about.
EXTRAORDINARY ACHIEVEMENT – RGU
No-one believed we could maneuver revolving doors. When a staff member broke her arm we thought it was all over, we thought we would never make it through and that that building was a waste of architecture since no one could come in or out.
But we proved those disbelievers wrong, we showed everyone, and all it took was a uni-wide email explaining in detail how we should do it safely.
SPECIAL RECOGNITION – Strathclyde
Everyone always forgets you up there, Strathclyde, so this time we thought you deserved a mention.
Awarded by Cloe Fernandez-Barnes, Lauren Raine, Ben Clarke, Bella Eckert, Bobby Palmer, Cat Reid, Oli Dugmore, Daisy Bernard and Craig O'Callaghan